Many media types who cover the Patriots have been making a big deal about this week's preseason game in Washington Friday night. The third preseason game, historically, is the one in which the starting players get the majority of the snaps.
But to players like veteran Leigh Bodden, the approach is no different than for any other game.
"We treat it just like every game. We're prepared to play 60 minutes and just try to win the game," he told reporters Wednesday after practice.
Bodden, who'll turn 28 in a month, joined the Pats as a free agent this past offseason after previous stints in Cleveland and, most recently, Detroit. Beginning with the organized team activity practices (OTA) during the spring and into training camp and the first two preseason games, he's been firmly entrenched as the Pats' starting right cornerback.
That may be due, in part, to his Browns days, when he played for former Patriots defensive coordinator and then-Cleveland head coach Romeo Crennel. Because the Browns ran a nearly identical scheme to New England's, Bodden said he's been able to make the transition much easier.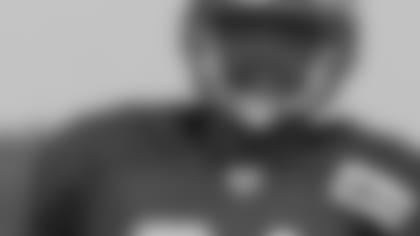 ]()"I've grasped it pretty well so far," Bodden stated. "But it's a new team, new coaches, new everything. So, just being here in the OTAs helped me out a lot, and mini-camps and training camp. I got to know the coaches and what they want out of me in this defense. These are just steps, in the preseason, to get better going into the regular season."
There are several new and/or young players in the secondary joining Bodden in trying to carve out roles for themselves as individuals and in working to forge an identity as a group. From his experience, Bodden pointed out that such a process can take time.
"You know, it depends on the players. How well you gel, the communication between the players in the defensive backfield. You definitely need communication to know how everybody plays and what to look for … if one guy sees something, he'll tell the other guy, and that makes it easier on the whole."
He believes this year's Patriots secondary is making early strides to play develop that necessary bond on the field and off.
"We're coming together great. The OTAs were a great part of the cohesiveness that we have. To be together, train together, just being outside of football really helps because when you step on the field, you know what kind of guy you have and you can depend on him. So, I think we've gelled pretty well, so far."
Bodden was quick to credit his safeties, James Sandersand Brandon Meriweather, for helping create that sense of unity in the defensive backfield.
"Yeah, definitely. I feel like both … are great leaders. You always look to the safety to be like the quarterback of the secondary, because they get to see everything from the back. I think those guys have done a great job being leaders, showing guys the way, working hard, and getting everybody on the same page. That's what makes a great safety."
Reporters continue to ask Sanders questions about how he's handling the loss of Rodney Harrison. And to his credit, Sanders continues to oblige. He said Wednesday that he still keeps in touch with his former teammate, who's now an analyst for NBC's Football Night In America.
"I talk to him from time to time. The last couple of texts I sent him, he responded, but he won't return my phone calls," Sanders laughed. "When I catch up with him, I'll give him a hard time about that. He's big-time now."
Sanders will have his chance to do so twice this season – in Weeks 10 and 13 – when the Pats face the Colts and Dolphins on Sunday Night Football.
Wednesday locker room/practice notes
With Tuesday's release of S/LB Tank Williamsand trade of OL Russ Hochsteinto Denver, the Patriots opened up a pair of roster spots. They filled one by signing rookie LB Tyrone McKenzie. The third-round draft choice has been out of action since rookie mini-camp in May, when he suffered a knee injury. Head coach Bill Belichick disclosed at his daily press conference that McKenzie would be placed on injured reserve at the earliest opportunity.
With the other free spot, New England brought back wide receiver Robert Ortizon Wednesday. The veteran from San Diego State had been with the club on and off the past year, and was with the club as recently as last month.
Ortiz was in uniform for Wednesday morning's practice, but several other Patriots were not. Notable among the missing was DL Richard Seymour, who had been in attendance for the other three practices this week. Rookie WR Julian Edelmanremains absent, having missed every practice since the Cincinnati game a week ago. Meanwhile, WRs Wes Welkerand Ray Ventronemissed their second straight day of practice, as did rookie DL Ron Brace.
Other absentees included rookie WR Brandon Tate(NFI list), CB Shawn Springs, RBs Kevin Faulkand Sammy Morris, OL Mark LeVoir(PUP), rookie DL Myron Pryor, and LB Shawn Crable.
Good news for CB Jonathan Wilhite, who finally shed the red, no-contact jersey he'd been wearing of late.