The Patriots final practice with the Saints before Thursday night's preseason opener may have taken place in just helmets and shells but that didn't prevent the action from being intense on the fields. Obviously with little to no contact the focus was on the passing game, and each team had plenty of reasons to be optimistic when it was over.
Tom Brady appeared to find a better rhythm on Wednesday after struggling for parts of Tuesday's practice. He was sharp early in some 7-on-7 work in the red area, hitting Brandon Lloyd, Wes Welker and Rob Gronkowski for touchdowns. In fact, each of his nine passing attempts were complete, although one likely would have resulted in a sack had there been a pass rush considering the amount of time he needed to find Jabar Gaffney.
On the flip side, New Orleans'Drew Brees was equally effective. He split his time with backup Chase Daniel but was still able to find the end zone three times in just six attempts, finding slot man Lance Moore (with Kyle Arrington in coverage) twice.
Brees liked the idea of going against a different defense during the two days of work.
"It's different in scheme than what our defense does and what we've been going up against here for the last two weeks," he said. "So, as you look at it just from personnel matchups and how you want to scheme them and that kind of thing, there's just some extra thought and effort that goes into that."
Brees also spent some time discussing Brady, a player he's known going back to their college days playing against each other at Purdue and Michigan, respectively.
"I've got a great relationship with Tom and really so much of it throughout our – I mean, we're similar in age, he's only a year older than me – a lot of it's just been for me watching from afar," Brees said. "Of course, there's those times we'll see each other in the offseason, we'll talk, we'll text message here and there. But really it's just kind of admiring from afar.
"For me, I know during the offseason, when I'm looking for things that I want to get better at, maybe trying to introduce new concepts in our offense or just thinking about that next season, I very often turn on the tape of other quarterbacks in the league to watch what they're doing, how they're doing it and Tom has certainly always been one of those guys that I've watched."
Brian Hoyer also liked the idea of evaluating himself against an opposing defense during practice. As Brady's backup he doesn't get many chances to do so under any semblance of game conditions, but the past two days offered at least a simulation of sorts.
"It makes you stick to your rules," Hoyer said of the work against the Saints. "After you see the same thing over and over and over again, you kind of know where to go right away, so now when a new scheme comes in it really tests what you know and how you know the system. You have to stick to your rules and take what the defense gives you."
Hoyer figures to see plenty of action against New Orleans in the preseason opener and will try to maintain that mindset under game conditions.
"I"m taking the same approach I had for the last three years," Hoyer said. "For me I know this is a guaranteed opportunity and I'm going to get a chance to play, so just trying to take what I've done from the meeting room to the practice field and out to the game when the live bullets are flying. You want to prepare for a perfect game but it doesn't always end up that way, so just go out there and try to do the best I can and get the team going when I'm in there and go from there."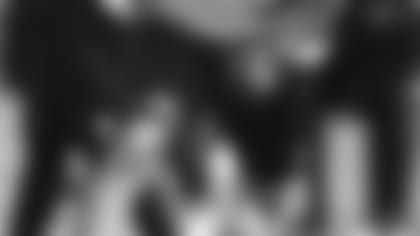 Three of the game's most gifted tight ends were on the field the past couple of days with Rob Gronkowski and Aaron Hernandez and New Orleans' Jimmy Graham. Hernandez was asked for his impressions of Graham and which of the three he thought was best.
Hernandez diplomatically dodged that one, finishing with a Belichick-like "it is what it is," but he did offer some comparisons of the three.
"We're different players and we do different things," Hernandez began. "Him and Gronk are similar in their playing type and I have a different type of way I approach the defenders and approach the game. But I think we all have different qualities that are very good."
It was somewhat surprising to hear Hernandez, who is considered more of an athletic, receiver type tight end, compare Gronkowski and Graham, who appears to have more similarities to him. But the former Florida Gator felt the difference in physicality is what separates them.
"I approach it with speed and quickness, and [Gronkowski] approaches it with just being big and physical," Hernandez said.
The offensive line continues its revolving door. On Wednesday, in stepped rookie tackle Kyle Hill. The 6-6, 306-pound free agent out of Duke was on the field wearing No. 75 in white but did not participate due to CBA rules prohibiting contact for three days for players who haven't been in camp. The latest move was precipitated by a recent rash of injuries to several backup members of the offensive line.
One player who just returned from injury, third-year man Nick McDonald, started games at center for the Patriots last season and has been a guard in the NFL. Of late, though, since coming off the PUP list, he's been forced to take second-team reps at left tackle due to a lack of depth there.
"Feels good to get back. That was my goal, to get as healthy as possible," McDonald said after Wednesday's workout with the Saints. "We just have to do what the coaches say. Every guy has to know multiple positions."
Dan Connolly, another interior player who's been shuffled around this summer, maintains that there isn't any added pressure on the first-team unit – a patchwork group at the moment – knowing that they're protecting the team's franchise quarterback.
"Whoever's in there, it's our job to protect the quarterback… so, whoever's in there, we're going to do our best to make sure he's standing upright," he said.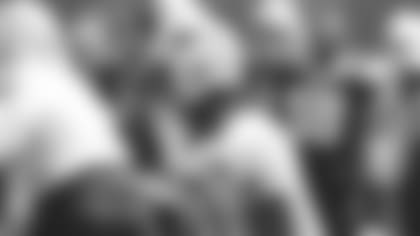 Stock Watch
Buy: Jeremiah Warren – The offensive line depth has forced some juggling on the part of the coaches and Wednesday was the rookie Warren's turn to shine. He took plenty of reps with the first unit at right guard between center Ryan Wendell and tackle Marcus Cannon and seemed to hold his own.
Sell: Dont'a Hightower – Before we start, please do no panic. Hightower is and will be just fine. But like pretty much every other player in the league, he did not fare well the past two days trying to cover New Orleans' Jimmy Graham. The Saints tight end nearly equaled Rob Gronkowski's yardage output a year ago and watching him makes it easy to see why. The man's immensely talented, and despite Hightower's best efforts, Graham was able to make a touchdown catch down the seam.
Play of the day – Wide receiverJesse Holley came up big during a team period when he beat three Saints defenders to get open deep. Hoyer's pass was a bit short, though, and the trio of A.J. Davis, Jose Gumbs and Jerico Nelson were able to make up the ground. But Holley got himself in position and found some open space, leaping among the bodies and making a terrific catch before landing hard on the ground.
There were a couple of small changes in terms of attendance as rookie Dustin Waldron and veteran defensive linemanGerard Warren were added to the list. Rookie Darrion Weems returned to action after missing the previous two days of work. Other than it was status quo with Logan Mankins (knee), Sebastian Vollmer (back),Daniel Fells, Jake Ballard (knee) and Myron Pryor (shoulder) all still on PUP and rookie Markus Zusevics (torn pectoral) remains on NFI.
In addition to Waldron and Warren, the Patriots were without Alfonzo Dennard (leg), Spencer Larsen, Brandon Spikes, Tracy White, Matt Kopa, Kyle Hix, Visanthe Shiancoe, Ron Brace and Jonathan Fanene. Dennard, Zusevics, Mankins, Vollmer, Fells, Pryor and Brace were all seen rehabbing in shorts during the practice.
After taking on the Saints in the preseason opener on Thursday, the team will not practice on Friday or Saturday. The schedule beyond that has yet to be announced.