DENVER (AP) -- Tom Brady overcame a slow start to lead the New England Patriots to a rare win in Denver on Sunday, a 16-3 grinder that dealt a crushing blow to the Broncos' playoff hopes.
Brady missed his first six passes for just the second time his career - the first was way back on Oct. 12, 2003, against the Giants - but he came back to lead the Patriots (12-2) to a record eighth consecutive division title and a first-round bye.
Brady returned to the site of his worst beating, a 20-18 loss in the AFC championship 11 months ago when he was hit a career-high 23 times. This time, he brought a power run game and a much-improved O-line with him.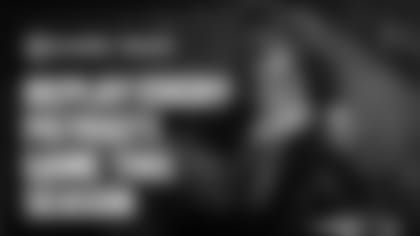 The result was just his third win in Denver in 10 tries, and it was the Broncos' hopes of defending their Super Bowl title that took a beating.
The Broncos (8-6) lost for the third time in four games and were supplanted by the Dolphins for the sixth and final playoff spot in the AFC race with two weeks remaining.
Brady completed just half of his 32 passes for 188 yards with no touchdowns and no interceptions for a passer rating of 68.2. That was actually worse that Broncos' QB Trevor Siemian, who was 25 for 40 for 282 yards with an interception for a rating of 73.1.
Those numbers alone belied the Patriots' all-around dominance of their nemesis.
Behind Dion Lewis' 95-yard effort, New England outrushed Denver 136 yards to 58.
Brady's first completion was a 17-yarder to Julian Edelman a minute into the second quarter, which ignited a touchdown drive that ended with LeGarrette Blount powering his way in from the 1 . That was his 15th rushing touchdown, which set a single-season franchise record and broke a 3-3 tie.
The Patriots put the ball on the ground twice on that drive. Brady was sack-stripped on the first snap with left guard Joe Thuney pouncing on the fumble, and Lewis recovered his own fumble at the Denver 1 just before Blount scored.
The Broncos outgained New England 146 yards to 39 in the first quarter, but Siemian made two bad decisions that thwarted promising drives.
His throw to Emmanuel Sanders from the New England 14 was both poorly timed and poorly placed. Cornerback Ryan Logan picked it off and returned it to midfield, setting up Blount's TD run.
The Broncos reached the New England 31 on the ensuing drive but Siemian was pressured and instead of throwing the ball away dumped it off to running back Justin Forsett for a 6-yard loss that pushed Denver out of field goal range.
Denver trailed 10-3 at the half and had five consecutive three-and-outs before its initial first down, which came with about eight minutes left in the game on a drive that stalled at the New England 30, where the Broncos gave up the ball on downs.
That, and temperatures in the teens, sent the crowd streaming the exits.
PUNT RETURN PROBLEMS:Jordan Norwood, who'd been benched in favor of rookie speedster Kalif Raymond after two muffed punts in a loss against Kansas City last month, muffed his first chance Sunday when Raymond was a surprise scratch.
Norwood allowed Ryan Allen's punt to go through his arms and legs, giving the ball to the Patriots at the Denver 21. That resulted in a 45-yard field goal by Stephen Gostkowski.
Norwood also fumbled away his only catch of the day, with 14 seconds left in the game.
SLOW DOWN: Brandon McManus' 33-yard field goal accounted for Denver's only points. They came in the first quarter, where the Broncos are the slowest starters in the NFL with just 26 points this season. But Denver limited the Patriots to just a field goal in the first quarter, and New England came in with a league-leading 103-point tally in the first 15 minutes of games.
INJURIES:Broncos TE Virgil Green left with a concussion in the first quarter and the Broncos announced early in the second half that DE Derek Wolfe was out with a neck injury. That left Denver with just four D-linemen to defend New England's run game. Patriots DT Malcom Brown went out in the second quarter with a stomach issue.