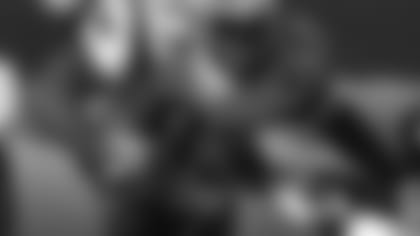 ]()For the last two years, Tom Brady has spread the ball around to a number of different receivers. Since Troy Browns 97-reception season in 2002, there hasn't really been a dominant receiver in the Patriots offense. That's changed in 2005. The Patriots not only have one go-to receiver, they have two.
After seven weeks, Deion Branch ranks tied for second in the AFC with 37 receptions and David Givens ranks eleventh with 31 grabs. Both players are on pace to post career-highs in both receptions and receiving yards.
These kinds of numbers are out of the ordinary for Patriots receivers. Even though they are coming off back-to-back Super Bowl titles, the Patriots never had a receiver put up high reception totals in either year.
In 2003, Branch led the team with 57 receptions and in 2004 Givens was the team leader with 56. Those are extremely low numbers for a team's top receiver. The passing game has taken on a different look so far this season, thanks in large part to the development of Branch and Givens.
Bill Belichick praised both receivers by saying, "They have clearly established themselves as the two best receivers on the team."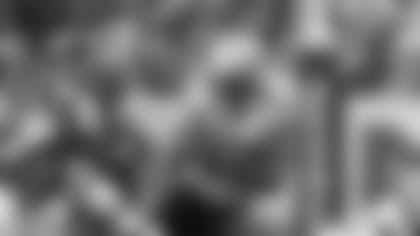 ]()Givens reception total has increased every year he has been in the league, going from nine in 2002 to 56 last season. Entering 2005, Givens believed it was time for him to step up and establish himself as one of the team's top pass catchers.
Of Givens 31 receptions, 19 have gone for first downs and that's something he takes a lot of pride in.
"If it's third down, I'm looking for the ball," he said. "I'm looking to make a play. We all are. As a starting wide receiver, you want to take on the role of putting the pressure on yourself."
Despite their impressive numbers this season, people continue to overlook the Patriots receivers. When you hear of the best receiving duos in the NFL, Givens and Branch are rarely mentioned. Givens said he has gotten used to being overlooked and the only thing that matters is what they do on the field.
"I think a lot of times our receiving corps gets a lot of downplay," Givens said. "A lot of people don't give us the credit we deserve. I think a lot of that has to do with our height, where we were selected in the draft but actions speak louder than words. What we do on the field is all that matters. We just concentrate on going out and making plays when our number is called."
After a strong 2003 season, Branch battled injuries last year and played in only nine games, finishing with 35 receptions. Branch has already surpassed that mark this year.
Belichick credits the rise in production to Branch and Givens finally being healthy and on the field at the same time.
"I think it's due to the fact that they have been out there every week which hasn't always been the case," Belichick said. "They have been out there, not only in games but in practice, and that has helped build chemistry between them and Tom [Brady].
If Branch and Givens keep putting up big numbers for the rest of the year, they won't be overlooked much longer. According to Givens, both players knew they had to take on a bigger role before the season even started.
"We knew there would be a lot more responsibility on us this year and we were up for the challenge," Givens said. "It's a commitment to excellence that we try to achieve every time we step out on the football field."
To read more about David Givens and his rise as an NFL receiver, check out the upcoming edition of Patriots Football Weekly available on newsstands this Tuesday. To subscribe to Patriots Football Weekly, go to www.pfwonline.com.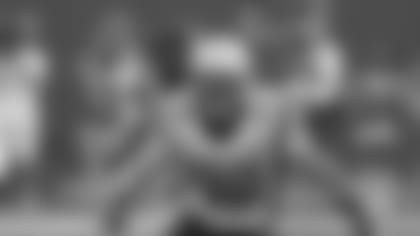 ]()Brown to play on the outside?Chad Brown** has played both inside and outside linebacker in the NFL but there is no doubt he has had a majority of his success playing on the outside. Brown has 78 sacks in his career, more than any other active linebacker.
Now, with the return of Tedy Bruschi, Brown is a man without a position. As the veteran said yesterday, "Today, my job is middle linebacker. Today, my job is to back up Tedy Bruschi."
Brown's job may be changing soon. With Bruschi back in the mix and the Patriots struggling to put pressure on the quarterback, the logical next step seems for Brown to play more outside linebacker.
When asked about the possible switch at his Thursday press conference, Belichick said, "Chad has shown a lot of versatility over his career so I'm sure he could do that if we asked him to."
If the Patriots use a three man rotation of Bruschi, Mike Vrabel and Monty Beisel at inside linebacker, expect to see Brown on the outside doing what he does best: rush the passer.
NotesThe Patriots released their injury report on Wednesday. Kevin Faulk and Matt Light are out. Tyrone Poole is doubtful. Troy Brown, Corey Dillon, Randall Gay, Jarvis Green, Marquise Hill, Larry Izzo, Willie McGinest, James Sanders, Richard Seymour and Duane Starks are all listed as questionable. For the Bills, offensive tackles Greg Jerman is out and Mike Williams is questionable and cornerback Terrence McGee is probable…Belichick said on Thursday that Bruschi has looked okay and hasn't experienced any setbacks in practice. There is still no official word on whether or not Bruschi will play this week against Buffalo…The Patriots are 50-3 under Belichick when they score 21 points or more.