Quietly, Wesley Britt has built a nice career for himself here in New England.
Now in his fourth season with the Patriots, the massive offensive tackle (6-8, 320) from Alabama has gone from practice squad addition to first-teamer (at least for the time being, if not longer).
With incumbent starter Nick Kaczurhaving been placed on the physically unable to perform (PUP) list to start training camp, Britt suddenly finds himself taking the bulk of the snaps at right tackle, the other bookend on a line that includes returning Pro Bowlers Matt Light, Logan Mankins, and Dan Koppen.
Britt, who has steadily gotten game and starting experience the past few seasons, was demure, however, when asked about his apparent increase in workload.
"I'm just trying to put my head down and work. It's a long camp and you can't read anything into anything and just take it one play at a time," he said after Saturday morning's practice.
He insisted that this year hasn't been different than any other, in terms of his preparation for the upcoming season. Even though he's started some games, he has often found himself
"It really hasn't. I just come in and want to get better and take some coaching to do what I can to improve."
Even though he's started some games, he has often found himself on the inactive list for regular season games. But he hasn't let that affect his preparation either.
"I've got to prepare for several positions. I've played tight end, both tackles, some special teams. SO, I've got to prepare and can't get caught in the trap of thinking I'm going to be inactive. You have to prepare as if you're going to play every play of the game."
In a sign of how he's matured since entering the NFL as a fifth-round pick of the San Diego Chargers in 2005, Britt acknowledged that he would have been a little star-struck if he were playing alongside so many Pro Bowlers a few years ago. But now, it's just part of a day's work.
"I've worked with them before," he said of Light, Mankins, and Koppen. "They're great players. My first year, I got caught up a little, looking around, trying to evaluate the situation, and that's not a good thing, when you start counting numbers, trying to figure out where you fit in. In all honesty, all I can do is put my head down and play every play as hard as I can. Let everything fall into place and let the coaches make their decisions."
After being released by the Chargers at the end of camp in '05, Britt wasn't out of work for long. New England scooped him up a day later. San Diego's loss was the Pats' gain, and Britt is grateful for the second chance, particularly having come to a team with a noted offensive line coach in Dante Scarnecchia.
"That's definitely a very fortunate situation for me. Dante has spent a lot of time with me, and even Matt Patricia[the current LBs coach] who was an assistant for Dante when I first came here. They worked with me a ton after practice, when a lot of other coaches may not have had the time or would want to put the time into doing that. I like to think if I keep working, it'll pay off."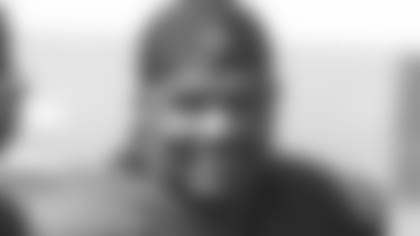 ]()SATURDAY MORNING NOTEBOOK**
Who's Hot: LB Jerod MayoIn just a few practices, he's been showing a lot of that speed and hard-hitting attitude that scouts talked about during the draft.
Who's Not: LB Victor HobsonWhile he hasn't made any noticeably serious errors on the field, he also hasn't done much that has been overly impressive either.
Play of Practice: CB Jonathan Wilhite'sINT of QB Matt CasselDuring the 2-minute drill towards the end of the morning, Cassel was leading the second offensive unit versus the second defensive group in a live-action series. On an out pattern, Wilhite made a nice play to jump in front of the intended receiver and take the INT back for a touchdown.
There was perfect attendance at the morning practice, save the 11 PUP players.
DE Richard Seymour, who had sat out two practices in a row, returned. "Don't be worried about me," Seymour said with a laugh after practice had ended, adding that his absence was, as he put it, a coaches and trainers decision. "For the first week, kind of ease into it and take it from there. We just want to be smart about practice. We still have to get work in, still have a long way to go. Obviously, the more you practice, the better you'll be. You also have to be smart about how you do it. We still have a lot of football left to be played. But no concerns on this end."
During special teams work, WR Chad Jackson, RB Kevin Faulk, and WR C.J. Jonestook turns returning punts. Jackson badly misjudged one kick, which went over his head like a center fielder over-running a fly ball. On his next attempt, a short punt by Chris Hanson, Jackson did a nice job of sprinting up to catch it, but the coverage guy knocked it out of his hands. That earned him another earful from the coaches.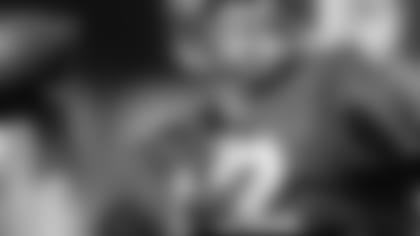 ]()QB Tom Bradyhad a nice deep throw to Jackson, which hit him right in the hands, but he couldn't hang on for the TD. Next play, Brady overshot a wide-open Sam Aikendown the seam. He followed that up with a pump-and-go down the right sideline to Jackson, which was slightly overthrown. Jackson dove, but never had a good chance to make the catch. Brady was visibly frustrated by the string of miscues.
In a one-on-one coverage drill, rookie Matthew Slaterjust made a nice stop-and-go move against veteran corner Jason Webster, got about 5 yards separation from him, and caught a perfectly thrown pass from Brady for a TD.
Rookie CB Terrence Wheatleyand veteran Fernando Bryanttook most of the snaps at corner during 11-on-11 work. In defensive pass coverage drills, Hobson and Mayo frequently lined up next to each other at inside linebacker. Mayo got a lot of work with both the first and second defensive units during the 2-minute drill.
On offense, Britt and guard Billy Yatescontinued to man the right side of the o-line in place of Kaczur and starting guard Stephen Neal (both on PUP).
Continuing what seems like has become a Patriots training camp tradition, there's been an annual offensive lineman retirement announcement. Guard Gene Mruczkowskihas called it a career. Taking his place on the roster is Lav Bauta, a player the team signed a few days ago, only to cut a short time later.