JACKSONVILLE, FLA. – Anyone who has watched Patriots games over the last few seasons knows that Tedy Bruschi seems to always be in the right place at the right time. Week in and week out the Patriots inside linebacker, and one of the teams most active players on Bill Belichick's defense, just gets the job done.
]()But while he makes it look easy on Sundays, those productive results don't tell the whole story. The ninth year leader and veteran of three previous Super Bowls puts a lot of hard work, preparation and considerable thought into what becomes on-field success.
"I think with me being in my ninth year I have sort of put together a formula from Monday to Sunday where I feel I am most prepared on Sunday," Bruschi said Monday in a media session at the Prime F. Osborn Convention Center. "It's a combination in terms of if I should be physically ready during the week and mentally ready later in the week, and putting it all together on Sunday so you can put yourself in good situations, and when the moment presents itself, having the ability to make the play."
It certainly has worked. Bruschi finished the 2004 season ranked second on the New England defense with 128 tackles, adding 3.5 sacks, three interceptions and three forced fumbles. In two postseason games he's added another 16 tackles, a forced fumble and two fumble recoveries.
"Bruschi is a fun player to coach," Patriots Head Coach Bill Belichick said. "He's got great versatility. He has a very high level of energy and enthusiasm that he brings to the team. He is a smart player, who just instinctively seems to do everything right in the right situation.
"He is just a very instinctive football player. You can't go over every single thing that happens, so when something comes up he almost always does the right thing. He just knows how to play. He knows when to play with power. He knows when to try to slip people in the pass rush. He knows when to try to tackle a guy low, when to go for the big hit, when to make the play against the Colts when he stripped the guy on the screen pass. He just has a great sense of how to play football. That goes all way back to his college days at Arizona, where he set all the NCAA and Pac-10 records as a pass rusher. You look at him and you can't even picture him playing defensive tackle and he was one of the best in the country. Along with his skill, which is quickness and leverage, he is a very instinctive player. He just knows how to play."
In knowing how to play Bruschi has developed his "formula" over his time in New England. Adjusting from college defensive linemen, to the pros, to outside linebacker and now finally a home in the middle of the New England 3-4 defensive, the veteran has perfected his personal preparations.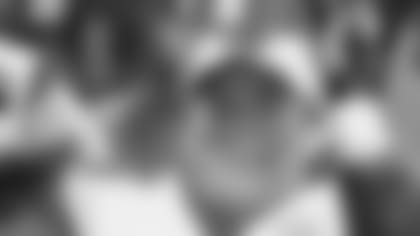 ]()"Early on in the week I try to make it as physical as I can for myself in the weight room and padded practices and extra work in the training room to get rid of the aches and pains early in the week," Bruschi said. "As I'm doing that, I'm doing film study. As the week progresses you sort of trail off on the physical aspect of it, we go out in shells and don't hit on Fridays, and sort of lighten up on the workouts a little bit to take care of your body. There are also other things you can do like acupuncture, a massage, things like that to get yourself ready, and the treatment room is good also. It's a combination of those things and then Saturday is a day you enjoy with your family, because you've done all the preparation and you want to get your mind right because you don't want to get too fired up for the game on Sunday, because then when Sunday comes you have to put it all together."
Put it together he has. That has led to plenty of production and success, and even the occasional media reference as the epitome of the modern day Patriots player.
"I've been asked about that in the last few days, a few times and I will respond to it in this way -- that's a tremendous compliment," Bruschi said. "It's probably the biggest compliment that anyone can give me because I'm just really being who I am, and who I was raised to be. I'm just being unselfish and trying to be a team player. Not only a team player but a good father, a good family man, a brother, and that is just who I am out there with this team also. I'm just trying to make sure that I know that I am not the only one that can do it out there, and that I need help from my friends, and that is just who I am. I'm not looking for the spotlight or individual accolades. I'm just worrying about how to win a football game. That's what I'm focusing on, just being unselfish … I appreciate the compliment every time I hear it and it really doesn't get old. It is really nice to hear."
But for all his production and the key role he plays on one of the best defenses in football, Bruschi has yet to earn national respect in terms of a trip to the Pro Bowl. Not surprisingly, that isn't something this true Patriots team player is worrying about.
Look at me," Bruschi said with a smile. "Do I look like I care?"
Sitting at a podium answering questions about his fourth Super Bowl as a leader of a team being touted as a possible dynasty he sure doesn't. Especially when in the back of his mind he knows he already has the formula for success.