Over 13 seasons, you can make a lot of memories.
You can play in five Super Bowls and win three of them. You can get voted team captain year after year. You can even make the Pro Bowl once … then immediately follow that up by suffering a stroke.
You can think your career is over, only to come back and not only play again, but lead your team in tackles a couple of times. You can come seconds – inches – away from becoming the first team in NFL history to go 19-0. You can do all of these things if you're Tedy Bruschi.
But there's one thing you can't do.
Asked Monday if there's one defining moment that sticks out in his mind, Bruschi paused, smiling as he pondered.
"I'm so glad to be able to answer this question this way," he finally replied.
"No. There is no one moment ... I'm very fortunate to have so many."
Late Sunday night, the Patriots announced that the next morning, they would hold a press conference for "an important player announcement." Word soon spread that Bruschi, the long-time Patriots inside linebacker, was calling it a career.
Monday's event began shortly before 11 a.m. with team owner Robert Kraftgiving a brief introductory statement, during which he cited a pair of what he called "iconic images" that, to him, sum up Bruschi's impressive Patriots career.
First, the interception against Miami in a snowy, December 2003 regular season game at Gillette Stadium. Bruschi returned it a short distance for a touchdown, after which, in spontaneous celebration, fans began tossing snow into the air like so many white fireworks exploding at once.
The other moment came just hours prior to kickoff of Super Bowl XXXIX in Jacksonville.
"Tedy was frolicking on the field with [his sons] Rex and T.J.," Kraft recalled. "For those of us who have children and you want to share special moments with them, that just brought it all together."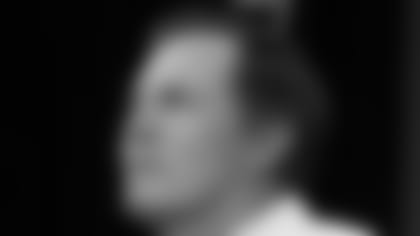 ]()The owner then invited Bill Belichickto share his thoughts. In a rare display of public emotion, the head coach, from the moment he took to the podium, became choked up.
As his voice cracked, Belichick had to pause several times to compose himself as he gave one of the most touching send-offs a coach – especially one of Belichick's stature and public persona – could ever give one of his players. He called Bruschi "the perfect player."
"Instinctively he just… I don't know how to put it other than to say, he always did the right thing," Belichick said with a quivering voice, shaking his head as if in awe.
"[He] knew when to be serious, knew when to laugh, knew when to be tough, knew when to back off and play smart, knew when it was a screen, knew when to strip the ball, knew when to make the tackle."
The coach then recalled the memory of Bruschi that is most vivid in his mind – a 27-yard interception against the Detroit Lions on Thanksgiving Day 2002. It was the Lions' second play from scrimmage that day, and, as Belichick recalled, Bruschi executed it "exactly the way it was drawn up." And as he did so many times in his career, Bruschi returned it for a touchdown.
"One of the all-time classic plays," Belichick added. "There's almost never a play that happens exactly the way you draw it up, especially defensively … it was unbelievable."
As Belichick spoke, Bruschi, sitting at a table with Kraft to the coach's left, listened and did his best to fight back tears.
Relinquishing the microphone to his player, Belichick concluded, "I know he's always a part of us, but we'll still miss him."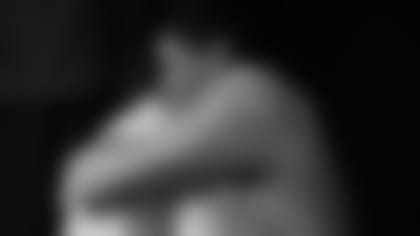 ]()The two embraced as Bruschi approached the podium.
"Every player's career," he said during his opening remarks, "is going to have a beginning, a middle and an end. Today is my end. Today is my end."
He then ran down a long thank-you list, beginning with his wife of many years, Heidi.
"I had moments in my life that were shared in front of these cameras and on that field, whether it was with my kids or coming out of Mass General Hospital, that I'll always remember for the rest of my life, and all of New England and the fans will remember for the rest of my life, and Heidi was with me through all of those moments."
Bruschi said the Patriots owner became more than just "a great boss."
"I developed a relationship with Mr. Kraft early on in my career … I think at around 2005 is when I really started considering him a member of my family."
"My coach" is how Bruschi described Belichick, emphasizing the word 'my,' because he said the two always seemed to be on the same wavelength.
"He turned me into a champion. Yes, I knew how to play linebacker and I knew how to play … but I didn't know how to win until Bill came in here. He taught me how to win. He taught everyone in that locker room how to win, not just go out there and play well.
"Coach, thank you for … Thank you so much for being who you are. I hope that people in New England realize who they have here – who they have in the head coach."
Bruschi went on to thank his teammates, his agent, the Patriots training staff, and, of course, his many fans.
"I have personal relationships with a lot of them and the support they gave me, if I could tell every one of you individually, I would do that," Bruschi proclaimed. "Thank you for the support you gave me in times of good and the highest of highs and those lows, too, you were there for me and it helped. It helped get me back. It helped keep me up."
Bruschi and his family plan to remain residents of New England. However, as emphatically as he could, he made it clear that he has no intention of coming out of retirement to play football again.
"The mantra that [Robert Kraft] always gave me for a long time was, 'Measure nine times and cut once.' This decision I've probably measured 900 times, and today, I'm using the scissors.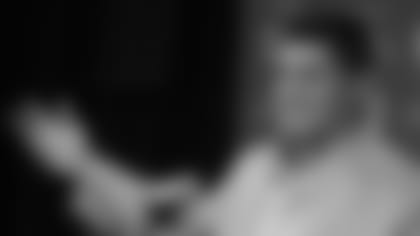 ]()"I'm ready to live life," Bruschi continued. "Whatever comes, I'll listen to it. If I like it, yes. If I don't, no. In the meantime, I'm a 36-year-old father of three and I'm looking forward to playing that new role in my life. If I was in a different situation, there would be a different answer to that. If there was more I wanted to achieve, to come back and do more, then I would welcome that … It would be tougher for me to do this if I didn't have so much that I've accomplished.
"I did my job for 13 years and now my job is done. I'm looking forward to living the rest of my life, I really am."
There may not be one particular memory that stands out to him from his 13-year pro career. But there is one accomplishment of which Bruschi says he is most proud. He shared the following story from his rookie season.
"Heidi was my girlfriend in 1996. We weren't married yet and I got drafted by the Patriots. I looked at her in our little apartment and I said, 'I'd like to stay with this team my entire career.' I was tired of player movement. I was tired of coaches' movement. I was just tired of it. I couldn't keep track of what my favorite teams were anymore. I said, 'I want to be the one that stays there the entire time. I don't care what it encapsulates or what I have to do.' I'm very proud to say I did that."
As the multitude of media filed out of the press conference and into the Patriots locker room to go about their daily business, Bruschi quietly exited the scene. His wife took him by the arm, and together, they walked down the tunnel of Gillette Stadium one last time.