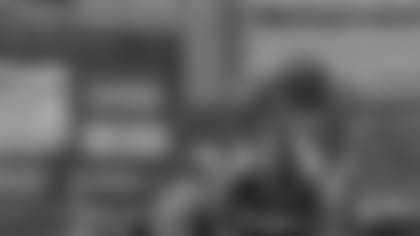 David GivensandAndre' Davisleft the Patriots through free agency and with the futures ofTroy BrownandTim Dwightin doubt, the team needed bodies at the receiver position. The Patriots started to address that problem by signing former Chargers receiverReche Caldwell** on Friday.
Caldwell, 26, will enter his fifth NFL season in 2006 – spending his first four in San Diego. The 6-foot, 215-pound wide receiver has played in 47 career games with 14 starts. He's caught 76 passes for 950 yards and seven touchdowns over his career. Caldwell has proven to be a big-play threat; recording seven catches of 30 yards or longer since he entered the league. Last season with the Chargers, Caldwell established career highs with 28 receptions and 352 yards, while playing in all 16 games with two starts.
Caldwell's overall numbers are a bit misleading, however. In 2004, he was on his way to having a productive season before suffering a season-ending injury in the sixth game of the year. Before his injury, Caldwell had 18 receptions for 310 yards and three touchdowns. He was on pace for 62 receptions and 900 yards that season – numbers that would have been very similar to Givens' stats in New England over the past two years. Now, a full year removed from his knee injury, the Patriots are hoping Caldwell will be able to provide some of the big plays he produced for the Chargers early on in his career.
The Tampa native was originally drafted by the Chargers in the second round (48th overall) of the 2002 NFL Draft out of the University of Florida. As a rookie, Caldwell played in every game and earned two starts while recording 22 receptions for 208 yards and three touchdowns. He showcased his versatility that season by also returning nine kickoffs for 220 yards, completing a 20-yard pass and recording a pair of special teams tackles.
In 2003, Caldwell played in nine games with four starts, catching eight passes for 80 yards. He missed the rest of his second season with a wrist injury, once again limiting his production on the field.
Last season Caldwell played in every game – with two starts - and set career highs in receptions (28) and receiving yards (352). He set a season high with 97 yards on four catches against Philadelphia and added a 28-yard touchdown catch against the Patriots at Gillette Stadium.
New England fans are hoping to see even more touchdown receptions at The Razor now that Caldwell is a Patriot. While David Givens will be missed for his clutch catches in big games, he's never had eye-popping numbers during the regular season. His 59 receptions last season was a career high for Givens. Caldwell's career-high is only about half that but with Tom Brady now throwing him the football – if Caldwell can stay healthy – it's not inconceivable that he will be able to replace Givens' production in the Patriots offense.
Reche Caldwell isn't a Pro Bowl receiver and the Patriots aren't going to pretend he is. However, if New England were to sign someone like anEric Moulds or Keyshawn Johnson, Caldwell would become a very dangerous third receiver for the Patriots. Even if he's the Patriots No. 2 receiver when the season begins, Caldwell could be a pleasant surprise. It's shocking how much better a great quarterback like Brady can make a decent receiver look. Perhaps when the 2006 season is over with, Caldwell and Givens will both be examples of that.