Laurence Maroneyremains an enigma.
He's quietly gone through the summer, watching mostly from the sidelines during New England's four preseason contests. Not exactly what he or his team must have expected when he was selected with the Patriots' first-round pick in the 2006 NFL Draft.
Thursday night against the New York Giants, Maroney actually led all Patriots ball carriers in touches and yards gained (9 carries, 32 yards). His most productive effort may have come in the opener against New Orleans, when he rushed for a pair of short-yardage touchdowns.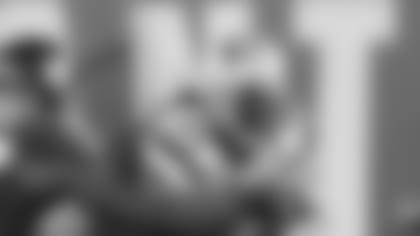 ]()But he hasn't had many opportunities to separate himself from the crowded Patriots backfield that includes 13-year veteran Fred Taylor, 12-year man Kevin Faulk, 11-year vet Sammy Morris, and young players like BenJarvus Green-Ellis, Thomas Clayton, and Chris Taylor. With final cuts looming on Saturday, where does Maroney stand?
"Just one of the guys right now. Just basically being patient and sitting back and seeing how things play out," he told reporters in the locker room at New Meadowlands Stadium after the Giants game.
"Like I said it is just one of those situations to where I am just going to always be prepared for anything for the best or for the worst. Whenever they call my number I am going to always be ready."
Does he expect to start next Sunday?
"Around here," he pointed out, "you can't expect anything. So, all I can do is prepare and prepare to get ready as if I was going to start. If I don't, I don't and if I do, I do."
Maroney acknowledged that he and head coach Bill Belichickhaven't directly discussed his situation or the organization's expectations for him this season.
"Not really. He and I have not had any one on ones. We have a lot of great backs and as a group he expects a lot from us as a group and to go out there and perform. Like I said we definitely have a lot of great backs and so whenever they call my number I am going to always be ready."
To deal with the uncertainty surrounding him, Maroney has done his best to be patient and positive.
"You can't really sit here and be upset about not playing," he said. "I am always a team player. Whether I get all the carries, no carries, or ten carries, I just want to win. I just want to be a part of a winning team and just go out there and help the team in any way possible."
Cuts come early, include Lewis, Ghiaciuc
Belichick fielded reporters' questions via conference call late Friday, as he has done throughout this preseason. Tops on the list of media queries, naturally, was the upcoming cut-down to 53 active roster and maximum of eight practice squad players.
All NFL teams must inform the league by 4 p.m. Eastern Saturday of their final cuts, and can sign players to their practice squad on [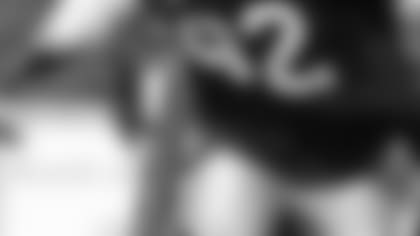 ]()Sunday, but New England got an early start on that process by releasing veteran linemen Damione Lewison defense and Eric Ghiaciucon offense.
"I like a lot of things about Damione," Belichick explained. "He's a solid guy, a good player, he's smart, he works hard. In the end, we felt like we had some other people ahead of him. Really, that's what it came down to. There isn't really anything I don't like about Damione Lewis. I think there are players we like just a little bit better, for one reason or another."
Even after the final cuts are made and practice squad assembled, Belichick indicated that there could additional roster moves made before the Patriots begin in earnest their preparations for next Sunday's regular season opener versus Cincinnati. The coach disclosed that he and his staff have been busy working the phones to gauge the interest of other teams in perhaps swinging a trade and gathering information about which players around the league may become available as free agents in the next few days.
Friday Notes, Quotes, and Anecdotes
* Against the Giants, rookie tight endRob Gronkowski **scored his fourth touchdown of the preseason. He has proven difficult to defend, particularly in the red zone, with his combination of size (6-6, 265), strength, and elusive moves.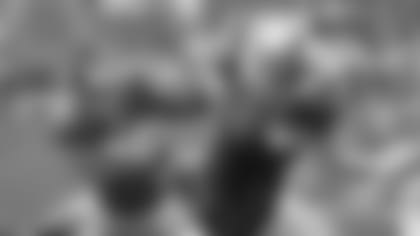 ]()Afterward, Gronkowski remarked about his growing on-field relationship with quarterback Tom Brady.
"You need a good relationship and chemistry with your quarterback. I feel like I need to feel out the quarterback throwing the ball and, of course, the quarterback needs to feel out how I run my routes with my type of speed and everything.
"Going into camp with the team, having all the preseason games, having all the practices, of course I feel a lot more comfortable," he added. "You are never 100 percent comfortable, and during this week of practice, I will be going out there and working hard to be 100 percent comfortable when it comes to the [Bengals] game."
Gronkowski was asked about Brady's recent revelation that his rookie tight end "blacks out" during his animated touchdown celebrations. Does he expect to do so against Cincinnati next Sunday?
"Possibly, but I like it," Gronkowski joked. "It is a good thing when I black out, so, we will see."
* Meanwhile, backup quarterbackBrian Hoyer **had to leave the game toward the end of the fourth quarter after taking a big hit and suffering some pretty bad cuts and scrapes to his head. He was replaced by rookie Zac Robinson, whose comeback effort fell just short in New England's 20-17 loss.
"You always just wish that you could finish with a win," said Hoyer. "I wish I could have been out there on that last drive, but I got scratched up a little bit.
"I have to see the film. I think I got hit and my arms were together so I basically braced my fall with my face. I am sure I will have to see it on film to see what happened."
* The Patriots are still working out what the team's practice schedule will be over the next few days. Belichick said that's part of the weekend process that he and his staff are going through. He vowed that the players will get "some time off," while stressing that preparations for the regular season opener must begin ASAP. It's unclear if New England will come in on Sunday or Monday – or even Tuesday, the typical regular season day off in the NFL – but for sure, by Wednesday, the team will be back to its normal regular season workweek.