When the Patriots returned to their practice field Thursday, there was a player wearing jersey number 10 and working with the wide receivers. Shortly after the media viewing window closed, it was reported by ESPNBoston.com that the mystery player was Austin Collie, a veteran who'd worked out for New England over the summer, but never signed.
Collie's career has been marred by injuries, most notably concussions, which have limited his productivity. But the rash of injuries at the wide receiver position here in Foxborough appear to have necessitated this move (as of mid-afternoon Thursday, the team had yet to announce it officially).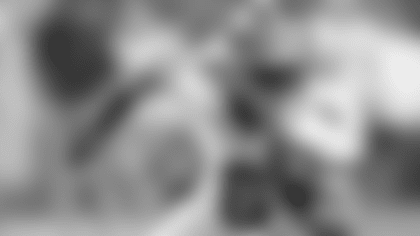 Danny Amendola (right groin) continues practicing, but hasn't suited up for a game since opening day against Buffalo. Rookies Kenbrell Thompkins (shoulder) and Aaron Dobson (neck) were both limited Wednesday in practice, and veteran co-captain Matthew Slater remains out with a wrist injury. Running back Stevan Ridley (knee) also was absent from today's session.
Meanwhile, the club has not yet officially declared Vince Wilfork's season over. The defensive tackle/co-captain suffered a severe Achilles tendon injury to his right foot Sunday night against Atlanta. But clearly, with Collie on the field today, a move has been made on the active roster (Collie does not have practice squad eligibility).
The locker room after practice was a relatively quiet one. Collie did not make an appearance to talk with reporters, and few other of his new teammates did. Cornerback Aqib Talib was one of a handful. He was asked about his hot start to the season, with four interceptions to his credit.
"I just go one week at a time, man," said a mildly subdued Talib. "Last week's last week, the future weeks are the future weeks. This week, we've got Cincinnati, so that's all I'm worried about."
The Patriots finally announced that Wilfork has been placed on IR, and that Collie has been signed. In addition, the club released rookie tight end Zach Sudfeld, meaning New England currently has one open spot on the 53-man roster.
It's conceivable that one of the practice squad defensive tackles, Marcus Forston or A.J. Francis, will get promoted in time for Sunday's game at Cincinnati, to fill the considerable void left by Wilfork on the d-line. It's also possible that Sudfeld could rejoin the club on the practice squad in the coming days.