INDIANAPOLIS - It seems every year there are certain NFL players that draw the attention of the college prospects. Depending on the position, some players cite specific individuals they would like to emulate.
In the past many smaller, slot-type receivers wanted to be the next Wes Welker. In 2013, the offensive linemen apparently admire Logan Mankins.
The Mankins love was apparent on Thursday as several cited the Patriots veteran Pro Bowler as the guy they wanted to pattern themselves after. Some of those players have an obvious reason to watch Mankins since they played tackle in college and are projected to move to guard, just as the Patriots 2005 first-round pick did following his career at Fresno State.
One such example is UCLA's Xavier Su'a-Filo (6-4, 308), who said most teams view him as a guard.
"I watch a lot of the guys I try to pattern my game after. I watch a lot of Logan Mankins, left guard from the New England Patriots. I think Logan, he was a high draft pick, but he's physical. He's a bad-ass, he started from Day 1 in New England, and I love how nasty he is, something about his game that I really try to implement," Su'a-Filo said with a smile.
Nevada's Joel Bitonio (6-4, 307) is listed as a tackle by NFLDraftScout.com and slated to go in the third or fourth round. But Bitonio said he could play guard as well and that teams had discussed a possible move in that direction already.
He also brought up Mankins as a guy he emulates. "We're both West Coast guys, he moved from tackle to guard and I've watched him for a long time," Bitonio said. "I love watching him play and the way he gets after it. He's very physical and tough and that's how I would like to be viewed."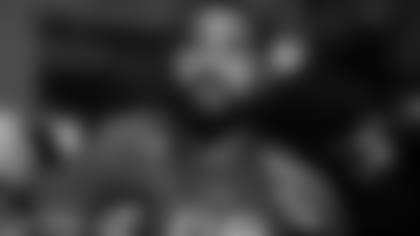 Perhaps the most glaring example of Mankins affection came from Penn State's John Urschel, a 6-3, 317-pound guard who is projected as a Day 3 pick.
"Logan Mankins. That's a guy who really gets after it, plays with a mean streak and that's how I try to play, so that's who I model my game after," Urschel said when asked if he patterned himself after anyone in the NFL.
With ties to Penn State, Urschel spent the last two seasons playing for former Patriots offensive coordinator and current Houston Texans head coach Bill O'Brien. He called the experience the "best two years of my life" and had nothing but praise for O'Brien.
With the connections between O'Brien and the Patriots, and the admiration Urschel has for Mankins, the obvious question is, have the two met?
"No but let me tell you that's someone coach O'Brien really had me study," Urschel said enthusiastically. "Back at Penn State we had access to old New England film. That's a guy I really watched a lot."