INDIANAPOLIS – The Patriots spent the entire 2011 season searching for a suitable partner for Patrick Chung at safety, all the way through to the team's appearance in Super Bowl XLVI right here at Lucas Oil Stadium.
Despite the fact that the absence of a reliable figure at the back of the defense didn't prevent the Patriots from winning it all, it's clear an upgrade at the position is necessary.
There were a few interesting possibilities that were showcased on Sunday at the NFL Combine, and they have varying strengths and weaknesses. South Carolina's Antonio Allen and Notre Dame's Harrison Smith were ranked second and third, respectively, on NFL Draft Scout's list of strong safeties while Michigan State's Trenton Robinson was seventh among free safeties.
Allen (6-2, 210) is a versatile athletic safety who likes to get around the line of scrimmage. He's blitzed effectively off the edge and has shown the ability to provide excellent run support. So much so that at least one team (Chicago) broached the idea of making him a linebacker.
Assuming Allen remains at safety he feels he has plenty to bring to the table.
"I want to show teams that I can run, that I'm a dedicated guy and a hard worker," said Allen, who has been working out at the Athletes Performance Institute in Pensacola, Fla. "I feel like I can bring unbelievable heart to a team and a want to show that I can get back and open up my hips and make plays on the ball when it's in the air."
Smith (6-2, 212) is similar in boy type but is more of a leader and communicator in the secondary. He feels his strength is covering tight ends, which has been a periodic problem for the Patriots in recent seasons.
"That's something I think I'm good at and feel I can bring to a team," Smith said. "I practiced against Kyle Rudolph, who was a high pick last year, and all those tight ends can run, they're tall and they have great hands. It's really all about body position and I feel I do that well."
Smith began his career with the Irish playing for Charlie Weis, who he said conducted his program with more of an NFL flavor in terms of practices, team meetings and film study than current coach Brian Kelley. He said he never met Bill Belichick when Weis was in South Bend but he has meeting set up with the Patriots Monday night. He feels the pro-style experience will help him adapt more quickly to the pro game.
"I think I'm a versatile player who is going to get guys lined up in the proper position," said Smith, who indicated former Broncos safety Steve Atwater was his favorite player and someone he tries to emulate from a physical perspective.
Robinson (5-10, 193) is much smaller than the other two but makes up for that with exceptional speed. So much so that he actually views his potential 4.4 40 time as a possible weakness.
"I'm like to be real aggressive. Speed is my biggest asset but sometimes it can be my biggest weakness too because there are times when I play too fast and get out of control," Robinson said. "It's something I'm working on and I know I have to be more under control at the next level to succeed in this league."
Robinson began his Spartans career as a cornerback before moving back to safety early on. He listed Ed Reed and Troy Polamalu as safeties he loves to watch because "they always play so fast." He also indicated he's comfortable covering receivers in the slot, something he did whenever Michigan State lined up in cover-1, which he said was often.
"I'm going to come in and work hard and I'm someone who is going to learn," Robinson added. "I'll be working on my hips and backpedal, coming out of my breaks and everything like that."
The safety crop is not considered strong with Alabama's Mark Barron widely believed to be the best and the only one listed with a first-round grade. But there are some interesting athletes with versatile skills that the Patriots – and others – will certainly consider.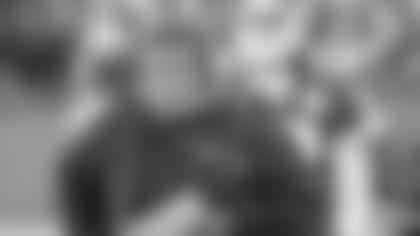 Chiefs head coach Romeo Crennel, the one-time defensive coordinator for New England, entertained reporters' questions at the Combine this weekend in his usual jovial style.
He was non-committal, however, when asked about what he planned to do about free agent wide receiver Dwayne Bowe.
"We'd definitely like to have Dwayne Bowe back. He was the leading receiver for us. We're working to try to get that done. But I can't stand here and say it's definitely going to happen because you don't know what's going to happen in free agency. We're not the only guys who are bidding. There are other people who are involved and they're bidding so we're going to put the best foot forward and try to keep Dwayne."
Would the franchise tag be an option?
"We have to see how that plays out as well. You don't want to show your hand on what you're going to do on this thing," replied Crennel.
He was more forthcoming when asked about the hiring of Brian Daboll as his offensive coordinator. Daboll was an assistant coach in New England when Crennel was in Foxborough.
"I know how hard he works. I know how thoughtful he is. Then what he was able to do with [as offensive coordinator with the Dolphins] and how particularly toward the end of [2011], how that offense did was helpful in making me decide he was the guy.
"The thing about Brian is I've seen his career grow from the time we were in New England when he was just a young whippersnapper and then he got to receivers and moved on to quarterbacks and became an offensive coordinator [in Cleveland and Miami], so I've seen his growth and development and thought he was on a good track and thought he would be good for the Chiefs."
The Chiefs felt that Crennel would be good for them as their head coach, after he took over on an interim basis with three games to go last season and was able to win over many of Kansas City's players.
Crennel, 64, was a head coach one other time, with Cleveland from 2005-08, amassing only a 26-41 record. He acknowledged that he wasn't sure he'd get another head coaching gig in the NFL.
"I'm excited about the opportunity to be the head coach with the Kansas City Chiefs," Crennel continued. "The guys played really good toward the end of the year and I think that was helpful in me standing here today.
"You never really know in this business. I was a long-time assistant before I got the head job in Cleveland. I didn't know whether I would be a head coach [before] I became a head coach. A lot of times you don't get second chances in this business. You just go along and try to do the best job that you can at the job that you have. If you do that and people take notice, then they give you chances. So I've got a second chance and I'm going to try to do it better than I did the first time around."
Crennel said he hopes to learn from some of the mistakes he made in Cleveland – like not having a quarterback controversy, he joked (Crennel went through multiple quarterbacks there). That may prove difficult, however, if Kansas City re-signs free agent Kyle Orton, who took over for the injured Matt Cassel last season.
"We have Matt under contract along with [2011 rookie Ricky] Stanzi. Kyle is an unrestricted free agent so this free agency thing, we kind of have to let that play out. But probably, if not for Kyle, I wouldn't be standing here either, so, I'm very appreciative of what he's done. But until we get another quarterback on the team, Cassel is the guy. If we get Kyle on the team, if he comes back to us, then we'll see how it works out and we'll play the best guy. Until that time, it's all speculation."
Londmeadow, Mass. native Joe Philbin, most recently the offensive coordinator in Green Bay, will be Miami's head coach in 2012. When the Dolphins play the Patriots in Foxborough this fall, it will be a homecoming for Philbin, who also had previous coaching stops in the Bay State at Harvard, Northeastern (when they had a football program), Worcester Polytechnic Institute, and the United States Merchant Marine Academy.
Philbin also did a post-graduate year at Worcester Academy.
"Worcester academy was a special time," Philbin recalled at the Combine this week. "I only spent one year there, [but Dolphins OC] Mike Sherman was an assistant coach on staff. Ken O'Keefe, my receiver coach was the head coach, [Iowa head coach] Kirk Ferentz was an assistant coach on the staff. I had a best friend of mine, a guy who lived right next door to us, flew down to my press conference for 20 minutes in Miami and flew back.
"So, I was very, very lucky [to go there]. My dad always said it was the best money he ever spent. Those guys inspired me to get into the coaching profession, I'm really lucky to have two of them on my staff right now."
As heartwarming an occasion as it might be to go back to Massachusetts, Philbin says he's more concerned about preparing for the Patriots to get caught up in the feel-good aspect of the moment.
"I've got great respect for what they've accomplished in New England, there's no question about that. They've done a tremendous job, but beyond that it's going to be a business trip, we're going to ask our players to treat it as a business trip, so, personal feelings aside, it's going to have to be the same for me. It's going to be one game out of 16-game schedule that we play in Gillette Stadium and we're going to do our best to have our team prepared as best as possible, so it's not really about me, it's about the Miami Dolphins."
The Patriots could very well find themselves in the market for some interior linemen in the draft given the uncertain future of free agents Dan Koppen and Dan Connolly, not to mention the possibility of veteran Brian Waters' days with the team coming to an end.
The crop is deeper at guard than center, but one interesting mid-round possibility at the pivot is Mississippi State's Quentin Saulsberry. The 6-2, 304-pounder has the versatility the Patriots like along the interior having played both guard and center, as well as in varying zone blocking schemes while with the Bulldogs.
He also played with Patriots defensive lineman Kyle Love, and as is the case with most who cross paths with the young behemoth, he enjoyed the experience.
"He's a happy guy and a real close friend of mine," Saulsberry said of Love. "I talk to him every chance I get and admire everything that he did and all the advice he gave me too. I talked to him before and after the Super Bowl but I haven't talked to him much about the Combine and stuff."
He added one other note. As Love's legend has grown in New England and the comparisons with Vince Wilfork have increased, Love explained how people at Mississippit State referred to him as Baby Vince.
When asked about it, Saulsberry laughed: "We called him Love Boat and Love Machine, but I never heard that."
Individual position drills and interviews with players will continue over the next couple of days, but the media interview portion of the 2012 Combine comes to an end Sunday evening.