A major informational piece to the 2023 NFL Draft is now in the books with the conclusion of the scouting combine in Indianapolis.
Although many storylines from Indy center around the conversations that spark movement in the veteran market, the combine still has value for teams to meet face-to-face with prospects, get medical evaluations, and gather athletic testing numbers during on-field workouts.
It's also an opportunity for the media to interview prospects and compile athletic testing data, making it easier to analyze the class accurately. Teams meet with dozens of players throughout the pre-draft process. Although it makes for an interesting nugget, we must also keep the information gathered below in perspective.
Here are our final Patriots takeaways to put a bow on combine week:
1. Patriots Meet With Top Wide Receivers in Indy
The Patriots are expected to be near the starting line for when this year's wide receiver class will begin coming off the board at 14. Needing a top pass-catcher who puts fear into opposing defenses, New England is understandably doing its due diligence on the wide receiver market this offseason, including in the draft.
For example, TCU wide receiver Quentin Johnston told Patriots.com that he had his best meeting of the week with the Pats. Johnston was "feeling the love" from New England's contingent and enjoyed his short time with the Patriots. The TCU wideout is a big-play machine with excellent vertical speed. He also has outstanding contact balance and flashes of quickness to pick up yards after the catch. There are concerns about creating underneath separation and making catches outside his frame. Despite his size (6-3, 208), Johnston doesn't have the ball-winning style of a contested catch receiver. Still, his career mark of 19.0 yards per catch shows his explosive play ability.
The Patriots also met with top wideouts Jordan Addison, who called the meeting "detailed" this week, and Jaxon Smith-Njigba, among others.
*2. As expected, New England is Doing its Homework at Offensive Tackle *
It's not surprising to see the Patriots meeting with offensive tackle prospects at this year's combine. Currently, the Pats only have three OTs under contract for next season, and only one is considered a viable NFL starter (Trent Brown). New England is reportedly bringing back backup Conor McDermott and will hopefully have a healthy Andrew Stueber in the fold after redshirting his rookie season.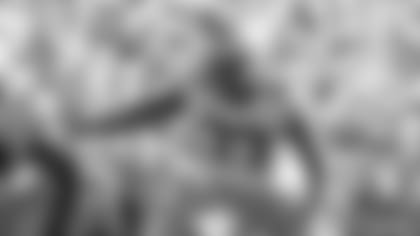 With the need for multiple bodies, including at least one starter, the Patriots met with top tackles Paris Johnson, Broderick Jones, and Anton Harrison, among others. The trio described the meetings as film-oriented, breaking down their own tape and diagnosing defenses. This is considered a strong tackle class at the top, making OT the most-likely position to target on day one.
*3. Patriots Showing Interest in Tight Ends as Well as Wide Receivers *
Along with keeping tabs on the wide receiver market, the Patriots ought to keep their options open when it comes to adding playmakers on offense. As we've seen in the past, you can build a highly productive passing offense around an elite pass-catching tight end. With this tight end class garnering significant attention around the league as arguably the draft's best position group, there's a chance that the next great pass-catcher will be a tight end rather than a wideout.
Notre Dame tight end Michael Mayer told Patriots.com that he had a formal meeting with the Patriots in Indy. Mayer is the consensus top tight end prospect and is considered a lock to go in the first round. The Notre Dame product blends a combination of traditional in-line skill with alignment versatility, excellent hands, ball skills, and is already a plus-blocker from multiple alignments. This draft also features Utah's Dalton Kincaid, Oregon State tight end Luke Musgrave, hulking Georgia tight end Darnell Washington, Tucker Kraft, and Sam LaPorta as projected top 100 picks. It's a loaded class that the Pats could dip into this April.
*4. Draft Experts Predicting at Least 15 Cornerbacks Selected in the Top 100 *
During an episode of Patriots Unfiltered at the Combine, ESPN draft expert Jordan Reid said that evaluators around the league believe a record number of cornerbacks could go in the first three rounds this year. Reid predicted that as many as 15 corners could go in the top 100, and several of those prospects met with the Patriots brass this week. With that depth in the first two days, New England might not need to pounce on a first-round corner since they can take advantage of the draft's insane wealth of talent. Although our draft crush, Maryland's Deonte Banks, likely tested himself into the first round, there are other intriguing day-two options such as Julius Brents, Darius Rush, and D.J. Turner. At some point in the first three rounds, the Patriots should take a corner.
5. Kansas State RB Deuce Vaughn Offers an Intriguing Receiving Back Skill Set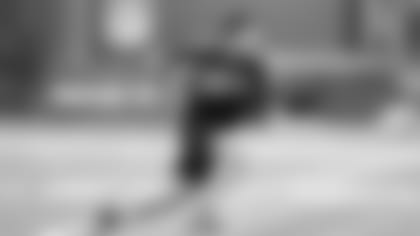 Although the Patriots likely won't be in the running back market at the top of the draft, they're searching for a permanent successor to James White. There's some support for that to be 2022 fourth-rounder Pierre Strong, but Strong's playing style is less jitterbug receiver and more explosive ball carrier. If the team agrees with that assessment, one enticing option is K-State running back Deuce Vaughn. Vaughn's pro comparison for most is Darren Sproles, while the former Wldcat also studies Christian McCaffrey. Vaughn lit up talking about a potential fit with the Patriots, saying loves "everything they represent." We also discussed Vaughn's favorite route, a "Fresno" route, which is an option route where he can break open based on the coverage. Vaughn is projected to land in the fourth or fifth round.
DISCLAIMER: The views and thoughts expressed in this article are those of the writer and don't necessarily reflect those of the organization. Read Full Disclaimer