The NFL wrapped up the Scouting Combine this weekend and we were there for the entirety of the media availability sessions, getting a feel for the hundreds of prospects who will be available later this spring. As always, there is plenty of Patriots intrigue, especially considering that with the 14th overall selection New England has their highest pick since 2008 and a projected 11 picks that could dramatically reinforce the team in multiple areas.
If you missed anything, be sure to check out our wrap-up videos and podcasts from each day, all available on Patriots.com and the Patriots YouTube channel, but here we'll break down our key takeaways from the week in Indy. From the best position groups to some early Patriots fits, the 2023 draft class came more clearly into focus and now it's time to figure out how it might all come together for the Pats in April.
Here are the key takeaways from the 2023 Scouting Combine!
1. Stacked Corner Class
If there's one position group that stood out, and it's one the Patriots need, it was the cornerback class. Through the first three rounds of the draft there are going to be double-digit players selected at the position. If you had to pick a year where you could add a cornerback with length and ball skills this would be it. Do the Patriots consider a first-round option like Christian Gonzalez, Joey Porter Jr. or Devon Witherspoon? Or do they wait a bit later and hope for a shot at someone like Cam Smith, Emmanuel Forbes, Tyrique Stevenson, or Julius Brents? How about the two speed demons from Maryland, Ja'Korian Bennett or Deontae Banks? There's a case to be made that just about any of these players could step in and provide some of just what the Patriots need in their secondary. All heavily pinged my Patriots radar as potential fits.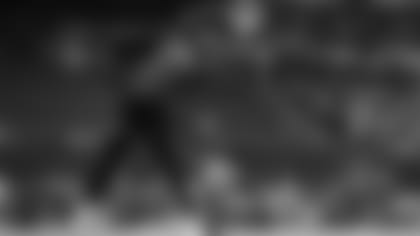 2. Get Strategic at Receiver
There's certainly a lot of appeal in a player like Zay Flowers for the Patriots, who tested well (4.42 40) and is seeing his stock rise, perhaps past my mock draft 1.0 selection, Jordan Addison, whose 40 (4.49) was a bit slower than hoped for. Quentin Johnston from TCU has to be under consideration as well, the tall receiver reminded me somewhat of Cordarrelle Patterson. Our own Evan Lazar spoke with Johnston at the Combine, who said he "felt the love" during a meeting with the team. But if I had to give you my preference now, post-Combine, I think waiting until Day 2 is probably the right move with the class, considering what the offense needs. I'd even consider a tight end at 14th overall now, there could be a couple of really good ones who could help the Pats offense in the middle of the field immediately. However tight end is also a deep group like cornerback that could be waited on. Josh Downs and Jayden Reed are two favorite later wide receivers, but even they could be gone by the Patriots second-round pick at 46th overall..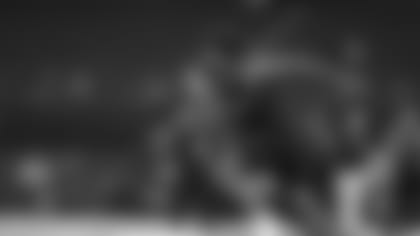 3. Tackle First
We spoke with ESPN's Jordan Reid on the final day of the Combine on our wrap-up podcast and he agreed the Patriots could very well have a shot at one of the top tackles at 14th overall. The duo of Paris Johnson and Broderick Jones check all the left tackle potential boxes but are light on experience. They both looked towering standing behind their podiums. Peter Skoronski is the most experienced but many project him to guard. I loved what I heard from Skoronski at the Combine, he has all the makings of a long-time pro, but seeing him stand beside North Dakota's Cody Mauch and the differences in body type stood out to me. I'm just not sure I'd risk it at 14th overall if Skoronski can't play left tackle, the only spot he really played in college. Anton Harrison is another option to seriously consider for the left side. Again, like the cornerbacks and tight ends, there are other options potentially later, but they might be confined to the right side. Darnell Wright could likely step in immediately on the right side, as could Dawand Jones of Ohio State. There is some added uncertainty because Trent Brown has played both left and right tackle and it's unclear which side he'll land on with Bill O'Brien. Don't forget about Andrew Stueber either. I spoke with Michigan tackle Ryan Hayes during his availability who said Stueber and Michael Onwenu had been helpful with advice during the draft process. My biggest question overall is whether or not Broderick Jones or Paris Johnson makes it to 14. They probably won't unfortunately and then I think we could consider trade down territory.
4. Stack Another Back
Yes, the Patriots drafted two running backs last season but I'm not sure any of us knows what our expectations should be for Pierre Strong Jr. and Kevin Harris. Damien Harris is due for free agency as well, so would anything preclude the Patriots from taking another back this year? The dynamic scatbacks offer some third-down intrigue. So much was on Rhamondre Stevenson last season when Harris was out, they need to find reliable second and third options for 2023 behind him. Deuce Vaughn, Mohamed Ibrahim and Eric Gray are three that could fit a role in the offensive backfield.
5. Specialist Refresh?
We just can't ignore Shrine Bowl MVP kicker Jake Moody who looks like he should be a solid long-time professional football player. Nick Folk has been outstanding but you have to wonder if the Patriots might up the ante as far as his training camp competition this year. There are also some interesting punters, though we're still assuming Jake Bailey isn't going anywhere despite battling injuries the last couple seasons. Perhaps more appropriate are the number of special teams studs that will come on Day 3 of the draft or even in UDFA. Last year rookies made a big impact on special teams with Brenden Schooler, DaMarcus Mitchell and Raleigh Webb leading the way. Safety Sydney Brown made a big impression on me as another potential add in this area.
6. Help Up Front
Okay, the positions I still feel most unsure about are among my favorites, the front seven. There are plenty of interesting interior space eater/nose tackle types, I wrote about local kid Jerrod Clark, a potential late-round option here. But he's one of a few that could compete for Carl Davis' role of the last couple of seasons. Things are less clear along the edge and at off-the-ball linebacker. Certainly the top-ranked guys fit, like Drew Sanders, Trenton Simpson and even Jack Campbell, but are the Patriots really going to make that leap with both Ja'Whaun Bentley and Jahlani Tavai back? Other DL's and edges that caught my attentions were Adetomiwa Adebawore, Tennesee's Byron Young and Keondre Coburn. But again, I came away feeling the least certain about these groups and players. This will be where a lot of my upcoming focus goes.
7. QB Flier?
With Brian Hoyer reportedly expected to be released before the new league year starts next Wednesday, the Patriots will bring in another quarterback or two this spring. Dorian Thompson-Robinson played under the Pats coaching staff out in Las Vegas at the Shrine Bowl and could be a useful developmental option and certainly one that could help them prepare for the bevy of mobile quarterbacks they face every season now. Jake Haener was the Senior Bowl MVP and a favorite of ESPN's Reid if they looked more toward the pocket passer mold. With Mac in Year 3, I don't really see the need for another veteran mentor-type like Hoyer again and continue to believe drafting and developing quarterbacks is a critical ongoing process for every team.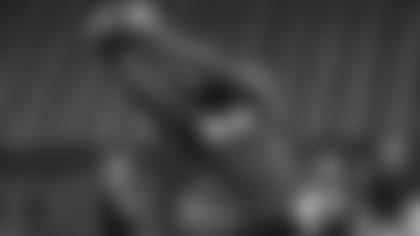 8. My Risers
Important to note my risers are coming off seeing and hearing from the prospects not further film review, at least not yet. This is the group I plan on putting further under the microscope to see if their play is a similar fit to their personalities.
QB Dorian Thompson-Robinson
WR Marvin Mims
WR Jayden Reed
WR Tre Tucker
TE Luke Musgrave
OT Cody Mauch
OT Darnell Wright
OT Anton Harrison
RB Deuce Vaughn
C Alex Forsythe
LB Jack Campbell
DL Keondre Coburn
S Sydney Brown
S Ja'Ayir Brown
S Christopher Smith
CB Cam Smith
CB Juju Brents
CB Deontae Banks