Just over seven months ago, David Thomas reached football nirvana. Basking in glory under a barrage of confetti on a national stage was the culmination of everything he dreamed about since his days hauling in footballs on the fields of Plainview, Texas.
Starring for his beloved Texas Longhorns as they won the BCS Championship, was, he thought, as good as it gets for a football player. It was a Texas-sized dream come true, but now it is a past chapter in his football career. He hopes the next chapter will also include some confetti.
Thomas comes to the three-time Super Bowl champion New England Patriots as the lone member from one of the Lone Star State's premier institutions of higher football education. He arrived in New England with impressive credentials: Two first-team All-Big 12 selections; Texas career marks for catches by a tight end (98) as well receiving yards for a Longhorn tight end (1,367); 10 catches, a Texas single-game record, in the 2006 Rose Bowl.
"It's just a blessing to have that kind of success, and it took a lot of hard work, but I've played with a lot of great players, and the coaches were great there, so it's something that I'm proud," said Thomas. "I'm just thankful for all the opportunities I've had and all the guys I've played with."
During his tenure in Austin, Thomas played in all 51 games, and started every game in his sophomore, junior and senior seasons. When there is a football game, the versatile tight end has been in pads and ready to go. Thomas now looks forward to suiting up in the NFL.
"I don't think there's anything that can get you ready for your first NFL game," Thomas said. "I think the preseason will definitely help out a lot. Once the regular season gets here it will go up another notch."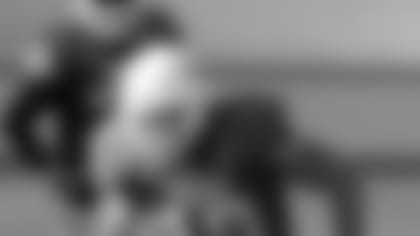 Thomas credits the Patriots' veteran duo of tight ends for helping prepare him.
"Daniel Graham and Benjamin Watson have been great about helping me learn the offense, giving me pointers and just trying to help prepare me for the preseason games. I'm just thankful for those veteran guys that have really taken me under their wings and helped me learn how to work," said Thomas.
Thomas, along with fourth-round pick Garrett Mills of Tulsa, who can play fullback and tight end, give Patriots tight ends coach Pete Mangurian two more versatile weapons to add to Graham and Watson. Each of the four can line up in several positions in the backfield, on the line or out wide, and each can catch and block. The versatility of this personnel group adds a unique element to the Patriots offense.
Count Watson as one who is impressed with Thomas' contributions.
"He's got plenty of talent," said the third-year tight end. "He's going to do great I think. He's coming along pretty good after only playing here a month."
Thomas donned several different hats during four illustrious years in Austin, playing H-Back and tight end. He has the pass catching ability and blocking pedigree (he was rated the best blocking tight end in the 2006 draft by The NFL Draft Report) to flourish in the Patriots' one or two tight end sets, and will be expected to contribute on special teams for the Patriots.
"He's involved in all of the phases of the kicking game. He's playing a couple of different positions offensively - pass protection, run blocking, pass receiving, some plays kind of out of the backfield, some plays on the line of scrimmage," said Patriots Head Coach Bill Belichick. "He's a pretty versatile guy and we'll see how all of that unfolds. But he can do a number of different things and I think that certainly adds to his value."
"At Texas I did play a few different positions. That kind of prepared me, but this is a whole other level. I'm just trying to keep working hard," added Thomas.
If the Patriots' primary downfield threats are double teamed, Thomas could also be called upon to go long. He caught a 60-yard touchdown bomb against Texas A&M his sophomore year before hauling in a pair of 49-yard touchdown passes from Vince Young during games against Arkansas and Rice his junior year.
Patriots tight ends have become accustomed to making big plays. Last year, Watson and Graham combined for an AFC-best total of eight regular-season catches of 25 yards or more.
Thomas is excited about the challenge of serving multiple roles. "Here you have to know every position on the field to be a tight end. It's been an adjustment having to learn all the different spots, but it's something that I've tried to embrace and get better at every day," he said.
Playing and living at the University of Texas is different than New England. The programs and offensive schemes are disparate, but there is one key similarity: winning as the paramount goal.
"I'm excited about being a part of this team. The club, from the owner down, expects to win and they do things right. I think that when you've got a team of hard working guys and the ownership and the coaches all expect to do well, good things will happen," Thomas said.
In addition to fitting in on the team, Thomas, an avid college football fan, is attempting to assimilate to Boston's pro sports-focused culture.
"It's been great here so far," he said. "The people have been great. I'm just trying to embrace everything, and enjoy everything, and hopefully I will learn to be a Sox fan, and Celtics and Bruins fan."
The Rose Bowl, accolades and gaudy statistics are all well and good, but Thomas really wants to be known for his character, which by itself is enough to make him a fan favorite.
"I'd much rather win a lot of games than have a lot of individual credit. More than anything, I just want to see the team do well, and hopefully I can do whatever it takes to help that happen.
"More than anything I just want to be known as a nice guy that works hard and I think that's the most important thing - just being someone that is approachable and being a hard worker," said Thomas.