FOXBOROUGH, Mass. - Derby Academy's Kathleen Malone has been named The Hall at Patriot Place presented by Raytheon Massachusetts STEM (science, technology, engineering, math) Teacher of the Year. She will be honored at the 2017 Massachusetts STEM Summit on Nov. 14 at Worcester's DCU Center and her school in Hingham will receive $5,000 to be used for STEM education. 
"It is such an incredible honor to be named The Hall at Patriot Place presented by Raytheon Massachusetts STEM Teacher of the Year," said Malone, who lives in Norwell. "Thank you to Robert Kraft, the Kraft family and to Raytheon for their continued commitment to STEM education in Massachusetts and their support of STEM programs at Derby Academy."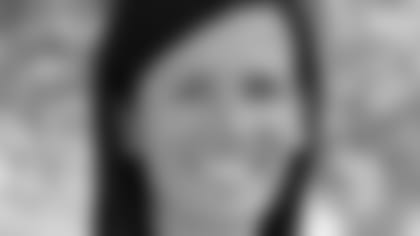 Malone launched her teaching career in Massachusetts five years ago. She has been at Derby Academy for three years, where she teaches math, engineering design, and STEM projects in the Middle and Upper Schools. Last year, she developed the Grade 5 projects course with a focus on authentic project-based STEM applications. She serves on the interdisciplinary planning committee, and as a trip leader for Derby's annual experiential learning trip, bringing earth science scholars to Acadia National Park for the past two years as citizen scientists. She founded and coaches the School's math team and expanded Derby Academy's Math Club, earning Gold Level recognition through the MathCounts National Program. Malone established an annual "Math Club Read-Aloud" event in Derby's Primary and Lower Schools, as well as an annual Family Math Night for Grades 4-8. She established and facilitates an annual Evening of Engineering for Grade 6 students and their families. Malone was recently awarded the 2016 Pre-College Educator Award by the Boston Society of Civil Engineers Section of the American Society of Civil Engineers for the work she has done guiding her students through the engineering design process and connecting their classwork to the industry.
She has been integral to the advancement of STEM programming at Derby, especially as it relates to computational and design thinking, delivering tailored coding, mobile computing, and robotics challenges to her students. Malone volunteers at several outreach events aimed toward bridging the gender divide and encouraging girls to pursue STEM fields, such as the Project CSGIRLS Boston Girls in Tech Program at Boston University. In addition, she leads STEAM (science, technology, engineering, art and math) workshops for her local community and oversees the planning and execution of a weeklong STEM summer camp.
"Enthusiasm and collaboration are the defining characteristics I try to bring to the classroom every day at Derby," Malone said. "Those characteristics support, enhance and help promote what I believe to be three main pillars of an effective STEM Program - student engagement, community networks and professional development. The nucleus of our programming at Derby Academy is the collaboration among our dynamic team of educators. By collaborating to provide early exposure to the design process and supporting students as they adopt failure as an integral part of the learning process, we foster confident and resilient STEM problem solvers.
 "Developing relationships with my students is critical to my work," Malone said. "I use my students' interests as a catalyst for exploration. In return, it is the students who inspire me."
Bryan Morry, The Hall's executive director, congratulated Malone for being named The Hall at Patriot Place presented by Raytheon Massachusetts 2017 STEM Teacher of the Year.
"Kathleen's passion for STEM is so obvious and while she is an innovative classroom teacher who inspires her students, she also works tirelessly beyond the classroom with extra-curricular activities that promote STEM through different grade levels at Derby Academy," Morry said. "She has an impact at all levels -from her students and their families, to her peers and other professionals. We are thrilled to honor her with this year's Massachusetts STEM Teacher of the Year award."
Malone was chosen from a group of five finalists. The other four teachers' schools will each receive $1,000 for STEM education courtesy of Raytheon. 
Kerri Chartier- Acton-Boxborough Regional High School
Rebecca Colo - Longsjo Middle School in Fitchburg
Jacqueline Prester- Mansfield High School
Robert Smith- The Pike School in Andover
"Choosing a winner from among the finalists is always painstakingly difficult," Morry said. "All of the finalists are impressive and committed to their students and to STEM education. Congratulations to all of them for being a finalist and earning consideration for this honor in 2017. All will be recognized at the STEM Summit in November."
Morry also thanked fellow selection committee members Blair Brown, who directs the governor's STEM Advisory Council, along with Allison Scheff and Keith Connors from the Department of Higher Education, and Katie Cross, The Hall's education coordinator, for their work in selecting this year's STEM Teacher of the Year.
"Each of these individuals has shown a tremendous commitment to honoring excellence in STEM education and recognizing and supporting some of the best educators in the state," Morry said. "We could not select a teacher of the year without their time, energy and commitment to this program."
ABOUT THE STEM TEACHER OF THE YEAR PROGRAM
The Hall launched the STEM Teacher of the Year program in October of 2012 when Robert Kraft announced the initiative at the Massachusetts STEM Summit held that year at Gillette Stadium. Malone is the fifth recipient of the award. Kelly Powers from the Advanced Math & Science Academy Charter School was the inaugural winner in 2013. Other past winners include Doug Scott from Natick High School in 2014, Kerry Murphy from Oliver Ames High School in 2015 and David Mangus from Brockton High School in 2016. The STEM Teacher of the Year award is part of The Hall's education program, which offers students in grades 4-12 standards-based educational modules in a fun, entertaining setting. The Hall hosts more than 20,000 school field trip visitors annually. 
ABOUT THE HALL AT PATRIOT PLACE PRESENTED BY RAYTHEON
The Hall at Patriot Place presented by Raytheon is the crown jewel of Patriot Place and the only sports and education experience of its kind. Through a dazzling array of interactive multimedia exhibits and artifacts never before viewable by the public, The Hall showcases the tradition of the New England Patriots, explores the history of football in New England and promotes math and science education for thousands of schoolchildren each year. The Hall's signature exhibit and premier photo opportunity is The Super Bowl Experience. Visitors to the interactive exhibit can re-live each of the team's four Super Bowl championships, view the four Vince Lombardi Trophies and Super Bowl championship rings and re-enact Malcolm Butler's Super Bowl XLIX game-winning interception. Please note that renovations to add the fifth championship are in the design phase. For more information or to purchase tickets, please visit www.TheHallatPatriotPlace.com, visit "The Hall at Patriot Place presented by Raytheon" on Facebook or follow @TheHall on Twitter.
Founded in 1784, Derby Academy is an independent, co-educational day school for grades Pre-K through 8 located in Hingham, Mass.