The Patriots entered Day 2 of the draft with plenty of options to find help for Tom Brady. They instead came away with someone they hope won't see the field for several years.
Sitting tight at No. 62 at the end of the second round, the Patriots sent shockwaves all over New England by selecting Eastern Illinois quarterback Jimmy Garoppolo. It was the highest the team has taken a quarterback in the Bill Belichick era and highest since Drew Bledsoe was taken first overall in 1993.
It was a pick that was equal parts surprising and exciting, depending on one's point of view, but what can't be disputed is the newest Patriot won't be helping the team anytime soon. It's the latter part of that statement that leaves a feeling of overall disappointment with the pick.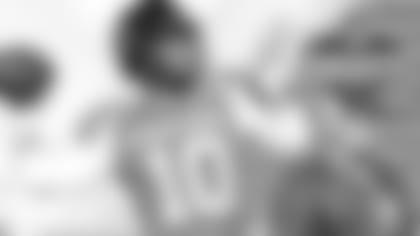 Garoppolo may indeed be one day worthy of taking the reins from Brady, but in the meantime a roster that is on the cusp of being championship ready failed to add a potentially productive piece in the second round. A tight end such as Iowa's C.J. Fiedorowicz might have made sense. A running back to add to Belichick's committee would have as well. This crop of wide receivers is as deep as the draft has seen in recent seasons, and several offensive linemen were available to help the cause too, not to mention several candidates who could have helped on defense.
Instead a developmental quarterback who will be holding a clipboard during Brady's twilight years – assuming everything goes well – got the call.
"We felt as an organization we needed to address that [quarterback] at some point in the future," Belichick said. "You're better off being early rather than late on that position."
Brady has four years remaining on his contract, the final three of which are at affordable dollars. As a second-round pick, Garoppolo will sign a four-year deal, giving him a chance to prove his mettle as Brady's successor in the meantime.
Garoppolo was a tremendously productive quarterback in college, albeit at the FCS (formerly Division I-AA) level. He completed better than 62 percent of his passes for more than 13,000 yards with 118 touchdowns against 51 interceptions. Last year as a senior he passed for 5,050 yards and 53 touchdowns while throwing just nine picks in 14 games.
The questions will be related to his level of competition, and whether or not Brady slips noticeably in the coming years. Brady will enter his 15th season at the age of 37 but has shown very little signs of slippage in recent seasons. Assuming he continues to produce at a high level, Garoppolo may join Ryan Mallett on the sideline as backup quarterbacks who never get a chance to prove their worth.
If that's the case it will be interesting to see how Mallett fares in the final year of his rookie deal. With almost no in-game experience to fall back on, Mallett wouldn't seem to be an attractive trade piece. Despite that, rumors circulated throughout the weekend that the Patriots were poised to move him, perhaps to Houston, and the selection of Garoppolo only heated up those rumors.
If Mallett stays, and Belichick continues to scoff at questions regarding the trade rumors by instructing inquisitors to ask those making the claims, the only drama will be whether or not both remain on the roster. If both stay and three quarterbacks take up spots, something Belichick hasn't done since 2011 when Mallett joined Brian Hoyer, it takes away another potential chip to help a team that's seemingly ready to compete for a Super Bowl now.
"We know what Ryan's contract situation is. We know what Tom's situation is. We have to have more than one quarterback on the roster," Belichick added.
Belichick was enamored with quarterbacks in this year's draft as he either hosted or visited several of the top prospects including Blake Bortles, Johnny Manziel, Teddy Bridgewater as well as Garoppolo. Clearly he was doing more than just window shopping as he invested a significant resource to snag what he hopes will be his quarterback of the future.
But in the present Garoppolo does nothing to improve the Patriots, and unless he finds a way to push Brady out the door sooner than most believe is possible, he may not ever get the chance to do so at all.