Ohio State held their Pro Day on Tuesday, with star quarterback Justin Fields taking center stage with an impressive 4.44 40-yard dash and making a collection of impressive throws that should further cement his place as a first-round pick. Fields was close to a consensus second-overall pick early in 2020, but Zach Wilson's stellar season launched the BYU's quarterback up the rankings and Fields' status has been left somewhat up in the air.
But as Fields demonstrated on Tuesday, he's still an impressive prospect and one who will certainly be called in the early portion of the first 10 picks in next month's draft. It was reported that Patriots front office member Eliot Wolf was in attendance for Fields' workout, though it would appear that it would cost New England significant picks and perhaps players to move into the range where the Buckeye quarterback might be available.
An excellent athlete with the arm to make big-time throws, Fields' performance was a nice reminder of the quality of quarterbacks in this year's class.
Mac Jones throws again
Meanwhile, Bill Belichick and Josh McDaniels were spotted in Alabama, taking in the Crimson Tide's second Pro Day of the offseason. After an impressive performance last week by Mac Jones, the signal-caller had another strong throwing performance on Tuesday, showcasing a variety of off-balance and deep throws.
Jones could be a more realistic target for the Patriots, although the presence of Kyle Shanahan and John Lynch in Alabama could mean the 49ers are considering Jones with their newly-acquired third-overall pick. His fit for the Patriots has been one of the more discussed topics of the draft season, as Jones' pedigree, decision-making and accuracy have drawn comparisons to the skillset of Tom Brady when he came out of college.
The Patriots have a challenging offensive system but Jones would seem to have the right makeup to handle it, both physically and mentally. Surely, Belichick and McDaniels made the most of their time in Alabama but Jones' rising draft stock could put him out of their reach.
The Patriots coaches were also able to take in some of running back Najee Harris, one of the top available backs in this draft at a position of long-term need in New England, along with interior offensive lineman Landon Dickerson. As always, Alabama has so many draftable prospects they needed two Pro Days and many of them could easily translate to the Patriots, with receivers Devonta Smith and Jaylen Waddle atop the list.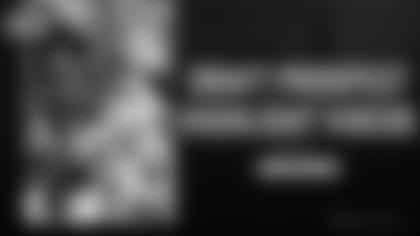 2021 Draft Prospect Highlights
Put your scouting cap on and watch collect highlights of the top prospects entering the 2021 NFL Draft.