Jacksonville, Fla. - The Philadelphia Eagles are fine-tuning a game plan this week devised to stop the balanced New England Patriots attack. Start with quarterback Tom Brady. Or focus on running back Corey Dillon, who is coming off a career season. Or check the Patriots deep stable of established wide receivers. Where does one start in stopping the Patriots?
None of the above, if you ask the Eagles. Philadelphia head coach Andy Reid was confronted with that question Monday.
"Well you better stop that offensive line first," Reid said. "They're pretty good. You better win that battle up front before you worry about that quarterback or the running back or those wide receivers."
The Eagles are viewing the battle for the line of scrimmage as the key to stopping the Patriots, who ranked fourth in the league by scoring just more than 27 points per game. The Patriots ranked seventh overall in total rushing yards, easily the most productive ground game under head coach Bill Belichick, and allowed 26 sacks during the regular season.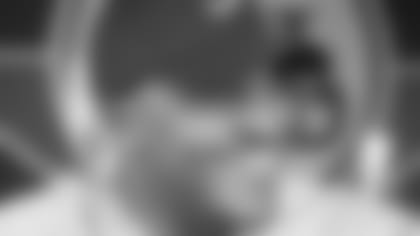 ]()"You talk all you want about what Tom [Brady] has done this season - and he's done a tremendous job - and Corey Dillon has done a tremendous job, but without that offensive line none of this would be possible," said defensive tackle Corey Simon. "They've done a great job. We're going to have to put some pressure up front. Understand that their offense goes with that offensive line."
Philadelphia appears well suited to the challenge. The Eagles have five Pro Bowl players on the defensive side of the ball, while Simon (1994) and defensive end Jevon Kearse (2000-02) are former selections. Simon (5.5 sacks) and defensive tackle Darwin Walker (4.5) both started all 16 games this season, forming a formidable duo inside. Kearse led the Eagles with 7.5 sacks and 21 quarterback hurries from the outside, while fellow ends Hugh Douglass and Derrick Burgess, along with reserve tackle Hollis Thomas, are valuable pieces in the defensive line rotation that helped the team finish second in the NFL with 47 sacks.
While their counterparts don't feature a single Pro Bowl player, the Eagles simply aren't overlooking what they consider a key element of Sunday's game.
"The thing about offensive lines is that it doesn't have to have a lot of high-profile guys to be a good offensive line," Simon said. "If they're not playing well, that offense isn't going to do anything, especially against a scheme like ours when you never know where guys are coming from. They've done a tremendous job all season long. It's going to be a tough challenge, no question about it."
]()The McNabb Factor** It wasn't so long ago that Eagles quarterbackDonovan McNabb was known as a running quarterback. McNabb, who finished the regular season as the NFC's second-rated passer (104.7), rushed 41 times for 220 yards, both career lows, adding three touchdowns on the ground. His quarterback rating best his previous career-best by nearly 20 points has he became the first player in NFL history to finish a season with 30-plus touchdown passes and fewer than 10 interceptions (8). His evolution to a fully capable pocket passer appears to be complete, but he hasn't lost the dangerous dimension. While McNabb is running less and passing more these days, he understands the playoffs call for any measure.
"You have to peel your ears back and get ready to ride," said McNabb. "You have to do whatever it takes in order to win the game. If it's using your lanes or using your arm, I just try to do whatever the defense gives me. If the defense gives me the opportunity to let the ball go and let the guys work, then that's what I will do. But if they cover down on our guys and leave some running lanes, then I will take full advantage of that."
A Ring Thing
Reid held his daily press conference Monday sporting some hardware. The hardware was in form of a 1996 Super Bowl ring worn on his right hand, which he earned as a member of Mike Holmgren's staff with the Green Bay Packers. Reid, who said he wears the ring "year-round," was asked if it serves any motivational purposes.
"It's something the players can see," he said. "Obviously, they're not playing this game for money. That's not what they're doing. They're playing this game for the ring. It's an important thing to them."
They Said It
Reid was asked Monday about the play of veteran Patriots player Troy Brown, who has seen action on both sides of the ball this season at wide receiver and cornerback: "It's an amazing thing. He's a gifted guy. He's a smart guy. It doesn't surprise me that he's doing it, but it's not an easy thing to do. He has to spend a lot of time in both meetings. He makes it look easy, but it's not that easy to do."
Quick Hits
The Eagles conducted a light practice Monday morning after taking the last two days off. All practices this week are closed to the media. ... Reid held a 1:30 p.m. press conference Monday, followed by a media access period with Simon, McNabb, free safety Brian Dawkins, tight end L.J. Smith, center Hank Fraley and strong safety Michael Lewis. ... Reid said tight end Jeff Thomason, signed as a free agent last week after not playing the last two seasons, would see about 15 snaps in the Super Bowl. "We'll see how it works out. That's about what we average with our second tight end." ... Eagles offensive coordinator Brad Childress, who is a finalist for the Cleveland Browns head coaching position that is rumored to go to Patriots defensive coordinator Romeo Crennel, has a supporter in Reid: "I think he would be a great head coach in the National Football League, but again I'm partial to him." ... Linebacker Mark Simoneau, who has missed both playoff games with an ankle injury he suffered in the regular season finale, was able to practice Monday. "He was full-go today," Reid said. "It looks like he's getting better. We'll just see how he does this week. Wednesday and Thursday will be a little tougher practices this week. He'll put a little bit more pressure on that foot." ... A day after saying he hadn't yet spoken with wide receiver Freddie Mitchell regarding his comments towards the New England secondary, Reid was asked the same question Monday. "I'm not going to cover that, but we've communicated." ... Dawkins credited Dillon with one of the best stiff-arm moves in the NFL. "It's just not something he puts out there. He brings the hammer when he puts it in your face."