With the recent additions of Brandon Lloyd, Jabar Gaffney, and Donte' Stallworth and the return of Wes Welker for another year, open spots at wide receiver are becoming increasingly more slim. Good thing Julian Edelman has a few extra tricks up his sleeve.
While Edelman has seen limited action catching passes the past few seasons, he has found a way to contribute as a valuable return man on both punts and kicks. Edelman amassed nearly 300 punt return yards on 28 attempts last season, including a 72-yard touchdown on Monday Night Football in a win over the Chiefs.
Edelman was especially active during this Sunday's training camp session, returning a number of punts and seeing multiple targets at wide receiver. He even got involved on the defensive side of the ball in an open-field tackling drill. Filling multiple roles is nothing new to Edelman, who embraces his versatility.
"It's typical training camp. You're just going out there trying to work on your fundamentals," said Edelman after practice on Sunday. "Doing what the coach asks you to do, going out there playing whatever they ask you to do and trying to do it [to] the best of your ability."
If Edelman is to make an impact on the Patriots roster, it will likely be in the return game. New England ranked 29th in the NFL with a kick return average of just 21.4 yards per return. Special teams coach Scott O'Brien points out that a good kick returner is hard to come by, and that it takes a special set of attributes to have success in such a role.
"It's like having to run through a door and you don't know what's at the other end. That's number one," says O'Brien. "Great vision, instincts, cutting ability. But there's a process."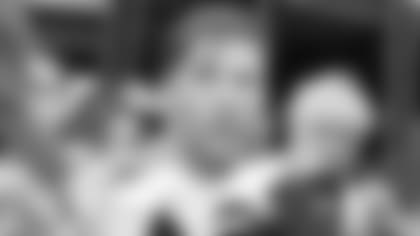 Edelman seems to have made great strides in that process since coming into the league in 2009 as a converted quarterback.
"In Julian's case, he's one example of a lot of examples through the history of the National Football League – had no experience doing it, had some natural instincts, pretty good ball skills," says O'Brien.
"The biggest improvement for him, like all young guys, is not only learning our schemes and what our strategies are for certain situations, but field awareness."
With 11 receivers on the current roster, Edelman knows that there is little room for error. Still, his ability to make an impact in the return game is something he takes pride in, and something he hopes can solidify his spot on the 53-man roster.
"Watching film with Coach O'Brien, just getting experience... Not that I've played in a lot of games and not that I'm at where I want to be and I have a long way to go, but any time you get a lot of reps at something, you're naturally going to get a little more comfortable with it."