Patriots Head Coach Bill Belichick used his opening remarks during his Monday press conference to thank Patriots fans for their support on the road in Sunday's 38-7 win over the Bills. A large contingent of New England fans were in attendance at Ralph Wilson Stadium, many located in one end zone. The fans were a notable presence in the potentially hostile Buffalo atmosphere.
"First of all I would like to thank and compliment the support and the fans that we had at the game yesterday," Belichick said on Monday. "It was pretty impressive when you go on the road and have that vocal of backing behind you. I know a lot of the players and the assistant coaches commented on that after the game. It was kind of unusual for it to be that loud when you are on the road. I just wanted to give a compliment to the fans that make the trip there that were supportive."
The Patriots fans not only made the long trip to Buffalo, but also remained throughout their team's impressive victory. While Bills fans herded towards the exits in the fourth quarter, the large offshoot of Patriots Nation took the opportunity to standout in the empty stadium and enjoy the team's first win in more than a month.
After sleeping on it and having a chance to review the film of the win, Belichick was quick to point out that while it was a key victory, it is just one win. It was extremely important for the team to end its four-game losing streak, especially against a division opponent that it trails in the standings, but there is still a long season to play. While the team never lost confidence in the losing streak, Belichick also said it can't be overly confident after just one win.
"I think it's a real good win for our team," Belichick said. "We lost four in a row. I don't think we lacked confidence but I think that anytime you lose four in a row there has got to be a little bit of doubt in there somewhere and you wonder what it's going to take to turn it around. So I think it is an important game in terms of our football team getting out of that losing streak and winning on the road in the division. I wish it could count more than one win, but it doesn't. It just counts as one. We're going to have to line up and do it again and right now it's the Bears. I don't know really know any other way to look at it. It was an important win, but we're 4-4, we're in third place so big deal."
Belichick went on to say that one of the keys to Sunday's win was the team's much improved performance in the red zone and on third downs.
"I think the big thing was we were better on third down," Belichick said. "That was a significant improvement and we were better in the red area. They got down there into the red zone several times and for the most part we were able to keep them out. So that was probably the strength of our defense overall. I thought we competed hard on defense and in the end where we were making our plays on third down and in the red zone, so that you could say 'well, it was a decent performance and we only gave up seven points.' When you don't make those plays in those two particular areas then, it could be the same performance but when they don't come in those situations then it looks like bad defense. So your really walking a fine line there."
Graham returns, contributes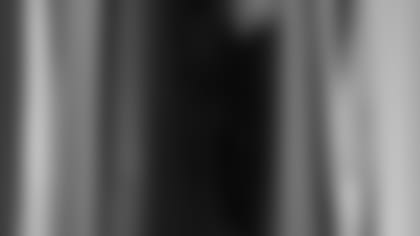 ]()
            Rookie tight end Daniel Graham returned to the field Sunday after missing three games with a shoulder injury. Graham finished the game with 3 catches for 68 yards, including a long of 31 yards on which he showed impressive athleticism and running ability.  

"I thought Dan stepped in and gave us some good plays in the running game in terms of his blocking and he also made some nice runs when he had the ball in his hands," Belichick said of the rookie's performance. "And that was I think just another part of the balance that we had yesterday between the running game, the passing game, with different receivers."
Robinson-Randall back at right tackle
Greg Robinson-Randall got his first start of the season at right guard on Sunday. The tackle started all 19 games for the Patriots in 2001, but had seen limited action early this season and had been inactive for four games as Kenyatta Jones started at right tackle.
Belichick said that the move was based mostly on Robinson-Randall's improvements and preparation in practice last week.
"The decision was just based on the fact that we thought he was a little more ready to start the game based on the week of practice," Belichick said. "I thought, again, overall that the line, there were some problems up there but they did a good job overall and that's everybody working together and being cohesive."
Robinson-Randall and the offensive line played well as a whole on Sunday as they gave up just one sack and led the way for a 100-yard performance from Antowain Smith for the first time this season