Each year the committee gathers to discuss various players and coaches and the group then votes to select the top three. The Patriots media relations staff then tabulates those votes based on a point system (five points for first, three for second and one for third) and that's how we determine the three finalists.
At that point it's out of our hands as the fans ultimately decide which individual is inducted into the Hall. The finalists will be announced by the team April 15 and voting will then take place on Patriots.com.
This year we met at Skipjacks here at Patriot Place – who loves a free lunch more than me? – and the 19-member committee went to work. As part of the process we are asked not to report on the debates that take place as part of the nominations but we are encouraged to share our personal views.
One of my concerns with our current format is the team's recent success could overshadow some deserving candidates, and this year that fear is magnified. First-year eligibles Tedy Bruschi, Rodney Harrison and Willie McGinest figured to dominate the conversation, and all three were discussed.
What I wasn't counting on was the push for some others like Fred Marion, who was a terrific safety for the Patriots during the 1980s. Marion was a solid player but in my view did not measure up to Harrison, who changed the culture for the Patriots both on the field and in the locker room. Perhaps I'd feel more strongly about Marion if I had been around to cover him, but to me Harrison epitomized what a Patriots Hall of Famer should be – and I maintain that belief even when acknowledging his suspension in 2007 for PEDs.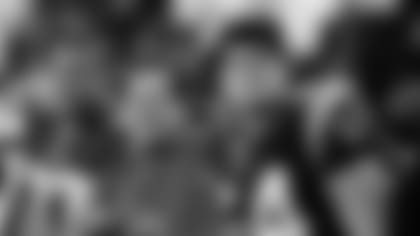 But one veteran I was willing to hear more about was Leon Gray. Gray was a dominant left tackle for some great Patriots teams. Many of the veterans on the committee even felt those teams of the late-1970s were among the most talented in franchise history, and as a young fan at the time I certainly agreed.
One member in particular offered a very convincing case for Gray, citing the words of a Pro Football Hall of Famer who claimed Gray was the best player he went against annually. I have voted for Gray in the past but was afraid he'd never get a chance with all the newbies on the horizon. After Thursday's meeting, I now believe he has a chance.
Bruschi obviously drew the most spirited, and universally accepted, nomination. After all, Bill Belichick himself called the linebacker "the perfect player" when Bruschi retired. Who am I to argue with the coach?
There are no doubt others who are worthy of discussion – coaches Chuck Fairbanks and Bill Parcells warranted plenty of discussion – but I was pretty convinced how I was going to vote. The only thing left to decide was my order, and the Gray conversation caused me to flip-flop he and Bruschi and I wound up with the following:
1. Harrison
2. Gray
3. Bruschi
Bruschi will be the overwhelming favorite among this group and he certainly deserves it for his terrific career. I just felt Gray and Harrison were better players as I tried to leave the external factors and fan adulation, etc., out of the equation.
All in all it was another interesting year of conversations about Patriots past, and I'm already looking forward to next year – and not just for the free lunch.