The defensive line and linebackers kicked off the on-field work at the NFL Scouting Combine by going through athletic testing at Lucas Oil Stadium on Thursday night in Indianapolis.
Although the Patriots defensive front is in good shape heading into the offseason, keeping the cupboard stocked while finding dynamic difference-makers is never bad. According to reports, the Pats have met with several top edge rushers here in Indy. Applying pressure on the quarterback is always a priority defensively, and 2020 draft selections Josh Uche and Anfernee Jennings are entering contract years.
New England might not have an immediate need for edge defenders this offseason, but this year's group in the draft is terrific. Several intriguing options in the first two days stood out in film study, while the top half of the class also dazzled during on-field drills and in the athletic testing on Thursday night.
At linebacker, New England has veterans Ja'Whaun Bentley and Jahlani Tavai under contract. But the team continues to search for rangy playmakers who can play in coverage and travel sideline-to-sideline as the NFL game trends even further toward lighter personnel and space in the passing game. Last season, the Pats tried to get faster at the second level with additions Raekwon McMillan and Mack Wilson, but both are unrestricted free agents this offseason.
In other words, you can always talk yourself into the Patriots selecting a player at any position in the NFL Draft, especially when head coach Bill Belichick has a projected 11 selections.
Here are the prospects who stood out from Thursday night's workouts:
1. Will the Patriots Finally Tap Into the Georgia Defensive Pipeline?
Despite the three degrees of separation between Kirby Smart and Bill Belichick, the Patriots haven't been able to tap into the Bulldogs' pipeline on the defensive side of the ball. Some of that is because Georgia's prospects are drafted before the Pats are on the clock, such as last year when Trevon Walker and Jordan Davis went in the first 13 picks of the draft.
In this class, edge rusher Nolan Smith was projected before the combine to land at the end of the first round. However, Smith will likely skyrocket up the draft board after his workout. The Georgia product ran an official 4.39-second 40-yard dash with a 41.5-inch vertical for an unofficial relative athletic score of 9.2 out of ten. On film, Smith's explosiveness is apparent with an excellent first step to test the edge as a pass-rusher and fire into gaps to make plays behind the line of scrimmage against the run. Smith's size at 6-2, 238 pounds projects as a standup outside linebacker in New England's system rather than a hand-in-the-dirt defensive end in an even front. But his athleticism being off the charts suggests he could easily handle those responsibilities. Depending on how free agency goes, a potential first-round target at 14.
2. Arkansas's Drew Sanders Doesn't Test at Combine, So Who Stood Out at Linebacker?
Our top linebacker didn't participate in athletic testing, but Arkansas linebacker Drew Sanders went through on-field drills and looked very smooth during drills that simulated him dropping into coverage. Some evaluators thought Sanders was a little stiff on film, but he passed the eye test for us once again in that regard. Other than Sanders, consensus top linebacker Trenton Simpson was expected to test well and did with a 4.43-second 40-yard dash at 235 pounds. His 2021 film was better at Clemson, but Simpson switched positions as a junior and wasn't as quick to react to things this past fall. As for Iowa linebacker Jack Campbell, our LB3, due to his excellent instincts, lateral quickness, and recognition in coverage, he had high marks in the jumps with a 37.5-inch vertical, 6.73 three-cone, and ran an official 4.65-second 40-yard dash at 249 pounds; that'll do for a day-two linebacker target. Lastly, Shrine Bowl star Anfernee Orji continues to impress. He has proved that he can cover better than the narrative suggests to go along with a thumping downhill style against the run. Orji ran a 4.53-second 40-yard dash at 230 pounds, projecting as a solid day three option.
3. Auburn EDGE Derick Hall is an Intriguing Second Round Prospect
One player who immediately caught the eye in film study before the combine was Auburn edge defender Derick Hall. Hall's tape shows an extremely powerful, twitchy edge-setter with excellent lower-body strength to anchor, post-up, shed blocks with strong hands, and compress the pocket. Although Hall isn't overly bendy to turn a tight corner, he's flexible in his lower half to play with great pad level, and now his athletic testing backs up his coverage reps, which were plentiful. Hall is a linear athlete who probably shouldn't be trusted with high-stress coverage assignments due to some stiffness in space but has all the makings of a stout edge setter in Bill Belichick's defense that stresses setting the edge.
On Thursday night, Hall posted a relative athletic score of 9.24 out of ten at 6-2, 254 pounds and an arm length of 34.5 inches. This is a long, technically sound, explosive athlete with savvy in approaching engagements at the end of the line. Check, check, and check.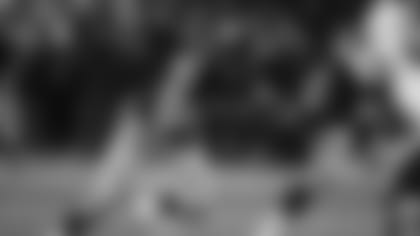 4. Evaluating Iowa EDGE Lukas Van Ness's Fit in the Patriots Defense
Another potential Patriots first-round target that NFL Network's Daniel Jeremiah mentioned in his pre-combine interview is Iowa edge rusher Lukas Van Ness. Van Ness played under Hawkeyes head coach Kirk Ferentz, who has a connection to Belichick. The Pats have yet to take an Iowa player during the Ferentz era, but it's possible that the trend could end. Van Ness didn't test exceptionally well, with only average vertical and broad jumps, but ran an official 4.58-second 40-yard dash at 272 pounds. Van Ness converts speed-to-power into a powerful bull rush that leads to eye-popping reps. But his pass-rush plan is unrefined, as he's lacking counters. He'll need to develop another move that complements his go-to power rushes, and his hand technique and block recognition to defeat blocks in the run game is also raw. For those reasons, Van Ness was used as a situational pass-rusher and didn't start a game in college. Although he has a foundational move and decent athleticism, Van Ness needs some development to become an all-around player. The Iowa product reminds me of Chiefs edge rusher George Karlaftis in last year's draft, who, to be fair, was a difference-maker down the stretch for Kansas City.
5. Highlighting Interior Defensive Lineman Who Caught the Eye on Thursday Night
Interior defensive line doesn't appear to be at the top of the needs list for New England. Christian Barmore, Deatrich Wise, Davon Godchaux, and Lawrence Guy are under contract to anchor the defensive front next season. Still, to add depth, you can never have too many rotational pieces in the trenches, even in the later rounds.
Starting at the top of the draft, the star of the show for the IDLs was Pittsburgh's Calijah Kansey, who ran a ridiculous 4.67 40-yard dash at 281 pounds, the fastest time by a defensive tackle at the combine since 2003. Kansey is an undersized interior rusher in the Ed Oliver mold. The other top 50 talent who could present a best player available situation in the first round is Clemson's, Bryan Bresee. Bresee is a tweener or hybrid end/defensive tackle. He told Patriots.com that teams view him lining up all across the line of scrimmage with Belichick-like versatility. He also plays with excellent pad level, block anticipation, and hand technique, making getting off blocks look easy—just a tough dude to square up for an offensive lineman and a Pats-style player.
Further down the board are three intriguing options who were impressive during Thursday's workout. First, Texas defensive tackle Moro Ojomo, a Shrine Bowl standout, was smooth going through the on-field drill work and had above-average explosiveness scores. There's also Oklahoma D-Tackle Jalen Redmond, who paced the IDL group in both jumps, and Northwestern edge defender Adetomiwa Adebawore. Adebawore was solid at the Senior Bowl and put up an outstanding 9.84 relative athletic score out of ten. There's a decent group of mid-round to later prospects who could fit in New England to keep the cupboard stocked.
DISCLAIMER: The views and thoughts expressed in this article are those of the writer and don't necessarily reflect those of the organization. Read Full Disclaimer