Ends: Michael Johnson, Jared Allen, Greg Hardy
Tackles: Paul Soliai, Aubrayo Franklin
Johnson had a down year, statistically, with just 3.5 sacks after a career-best 11.5 in 2012 – the same number Allen had this past season in Minnesota. Hardy, meanwhile, is coming off a 15-sack season in Carolina, which is the main reason why the Panthers applied their franchise tag to him. At d-tackle, it's mostly an older crop, with Soliai and Franklin among the more productive.
Johnson and/or Hardy would be ideal, with just the right mix of youth and talent, but Hardy is all but out of the picture now. Besides, Allen might be more attractive financially to the Patriots given his age. Soliai is a solid player who could provide necessary depth, and possibly starting competition at d-tackle, especially if Vince Wilfork and Tommy Kelly struggle to come back from season-ending injuries.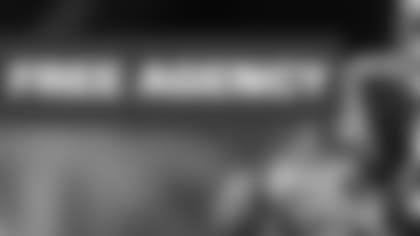 PREPPING FOR FREE AGENCY
Free agency starts today. Get caught up on who the Patriots free agents are and the top free agents the team could target.

Inside:* Brandon Spikes, Darryl Sharpton, Jon Beason, Mark Herzlich*
Outside: Jason Worilds, Dane Fletcher, Brian Orakpo
It's not a great year for free agents at either linebacker position. However, Worilds and Orakpo are two players who had impressive 2013 seasons and could command significant attention when free agency opens in March. Beason is getting up there, but still was a 100-plus tackle guy in 2013 for the Giants.
A pass rushing threat like Worilds or Orakpo would be a tremendous complement to DE Chandler Jones and his 11.5 sacks in New England's front seven. However, Washington used their franchise tag on Orakpo. Like Carolina did with Hardy, the tag is not exclusive (meaning those players can still negotiate with other teams), but the cost to acquire them is probably too much. Meanwhile, Pittsburgh placed the transition tag on Worilds. This is a little less costly for teams looking to bid on the services of such a player, but still probably too much for New England. On the inside, Spikes may have played his last game in New England, so the Patriots may be in the market for a productive veteran and Beason could fill the bill nicely.
Aqib Talib, Chris Harris (RFA), Vontae Davis, Captain Munnerlyn, Mike Jenkins
Talib is once again the most notable name in the cornerback bunch, but where it not for his knee injury in the playoffs and restricted free agent status, Harris might be just as highly coveted. Jenkins can still play, and Munnerlyn, though smallish, has been an asset for Carolina.
Talib, Jenkins, Will Blackmon
Talib, who returned to New England on a one-year deal last season, could be given the franchise tag this time around. If the Patriots let him walk, however, Jenkins (whom they were interested in pre-draft several years back) could be a consideration to fill Talib's role. The well-traveled Blackmon, a New England native, might decide that a homecoming is in order and could provide solid depth at the position.
Major Wright, Jairus Byrd, Malcolm Jenkins, T.J. Ward, Donte Whitner
All five are starting quality players with name recognition who will command serious attention on the market.
Wright, Ward, Jenkins, Whitner
If the Patriots want to go with a young, emerging star to bolster their secondary, they might consider either Wright or Ward, if the price is right for the team. Byrd would be a great fit, too, but may be too costly. Whitner is a player the club is very familiar with from his days in Buffalo. Jenkins is a player whom the team has seen up-close, too, when the Patriots hosted the Saints in preseason joint training camp sessions in recent summers. That familiarity may give Jenkins an edge over the rest.