The Patriots enter this offseason with many of the same needs they've had in recent years: a consistent pass rusher, quality starters in the secondary, plus a big-play, deep-threat wide receiver (among other areas).
With long snapper Danny Aiken having reportedly inked a one-year deal last week, the Patriots have 11 players who are scheduled to become free agents when the new league year begins at 4 o'clock Tuesday afternoon. Here is a look at the most notable free agents across the NFL on offense who could be in New England's crosshairs.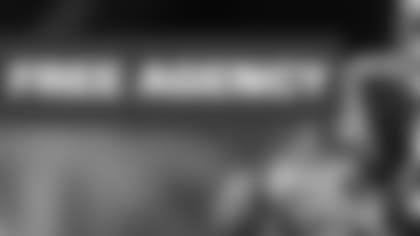 PREPPING FOR FREE AGENCY
The start of free agency is less than a week away. Get caught up on who the Patriots free agents are and the top free agents the team could target.  

Matt Flynn, Matt Cassel, Michael Vick, Josh McCown, Dan Orlovsky
Flynn, Cassel, Vick, and McCown all were competing for starting jobs throughout 2013, with Flynn and McCown acquitting themselves quite well when Green Bay's and Chicago's starters, respectively, went down for long stretches. Cassel, too, showed glimpses of his leadership abilities in sporadic opportunities with the Vikings. Vick lost out early to Nick Foles in Philadelphia, while Orlovsky quietly rode the pine in Tampa, as he's done pretty much throughout his pro career in several NFL stops.
New England obviously isn't looking for someone to compete with Tom Brady, but perhaps a challenge to backup Ryan Mallett would be in order. Mallett has been rumored to be on the trading block, so, if he is dealt, the backup position suddenly becomes a primary need. With that in mind, almost any of the names above could be considerations. Cassel might make the most sense, given his history here in New England and the fact that he's already received a big payday. However, he's reportedly on the verge of re-signing with Minnesota, for whom he played last season. McCown and Flynn would be intriguing additions, too, as backups to Brady and might give the Patriots the leverage they need to entertain legitimate potential trade offers for Mallett.
Tailbacks: LeGarrette Blount, Knowson Moreno, Maurice Jones-Drew, Ben Tate, Darren McFadden, James Starks, Ronnie Brown
Fullbacks:* John Kuhn, Greg Jones*
Blount had a phenomenal run (pun intended) with the Patriots toward the end of 2013. Moreno had a resurgent season as well in Denver, while Jones-Drew proved he's still a threat. Tate and Starks are talented young players who are entering their primes. Brown is still a dependable player, while McFadden has seen much better days. Kuhn is a fan favorite in Green Bay with his blue-collar style, and Jones is a versatile veteran.
Blount, Jones-Drew, Starks, Brown
Blount was reborn after being traded from Tampa Bay to New England last year and seems to enjoy being part of this club. He may get considerable interest from other teams, but might be willing to stay if New England offers something competitive. Jones-Drew may have had it with the miserable seasons he's endured in Jacksonville and Foxborough might be just the tonic, especially if Blount moves on. Starks would be a comparable player, skill-set wise, to Blount. Brown would be a last-resort. Don't expect the Patriots to shop for a fullback, however, after the emergence of James Develin in 2013.
Eric Decker, Hakeem Nicks, Emmanuel Sanders, Julian Edelman, Darrius Heyward-Bey, Brandon LaFell, Jacoby Jones, Anquan Boldin
We're not talking all-time great names like Moss, Rice, or Fitzgerald here, but still a decent list of players who could be interested in changing teams. Boldin is long in the tooth, but all the rest are either in or entering their primes.
Edelman, Sanders, LaFell, Decker, Jones
Edelman had a tremendous year – his first being able to play all 16 games – and might benefit from overpriced offers from other clubs. While Brady is a great player from whom to catch passes, the California native might be tempted if West Coast teams with good, young QBs like San Francisco or Seattle come calling. Sanders is a player whom the Patriots were interested in acquiring last offseason, so, they might try again this spring. LaFell is a talented young playmaker who could give Brady a deep threat, and Decker's experience with offensive coordinator Josh McDaniels makes him an obvious potential target for the Patriots. Jones might be the best combination of downfield threat and affordablility (from a Patriots perspective).
Jimmy Graham, Scott Chandler, Michael Hoomanawanui, Dennis Pitta, Ed Dickson
Clearly, Graham is the cream of this crop as one of the best players in the league at the position, surpassed only by a healthy Rob Gronkowski. New Orleans recognizes this, and recently applied their franchise tag on him. It was a non-exclusive tag, meaning Graham can still be courted by other clubs, but the price tag would not only include a hefty contract for Graham, but also a pair of first-round picks to the Saints. Chandler is a poor man's Gronk, and Pitta and Dickson were Baltimore's one-two punch at tight end in the mold of what the Patriots used to have with Gronk and Aaron Hernandez. Hooman has become a dependable player who occasionally makes plays.
Chandler, Hoomanawanui, Pitta
Graham is clearly not an option for New England, so, Chandler might be more plausible. He's been a thorn in the team's side as a member of the Buffalo Bills and is similar in size to Gronkowski. Pitta is more of a pass-catching specialist who could add a tight end element that the Patriots lacked for most of 2013 (without Gronk). Hooman has ingratiated himself both on and off the field here.
Eugene Monroe – T, Breno Giacomini – T, Eric Winston – T; Zane Beadles – G, John Jerry – G; Alex Mack – C, Brian De La Puente – C
All these guys have been durable, mostly full-time starters for their respective teams, in some cases nearly their entire NFL careers. O-line can be the toughest of positions to evaluate, but these players have stood out. Giacomini, a Massachusetts high school star, was Seattle's starting right tackle before injuring a knee last season.
Jerry; Will Svitek – T; Ryan Wendell – C
Incumbent right tackle Sebastian Vollmer signed a contract extension last spring, but coming off an injury, the team may want better insurance behind him, as Marcus Cannon was underwhelming as Vollmer's replacement. They seemed to like Svitek as a versatile backup at tackle or guard, so he may be a logical re-sign. Jerry would be a win-win, taking a player away from an AFC East rival (Miami) and providing competition for incumbent Dan Connolly at right guard. Wendell may be the most affordable option as the returning center, but adding someone like Mack would be an upgrade. However, the Cleveland Browns have designated Mack their transition tag player for this year, which means he's probably not a realistic option for New England at this point.
Coming tomorrow, analysis of the defensive free agents.