INDIANAPOLIS - Day 2 of the NFL Scouting Combine was dominated by the skilled positions, particularly the quarterbacks. Andrew Luck and Robert Griffin III each delivered impressed performances during their press briefings and wowed the media in attendance.
Also, wide receivers and running backs were on display and many came across in a positive light. One did so while dealing with a potentially disastrous personal crisis.
Notre Dame wide receiver Michael Floyd is considered one of the top prospects in the draft. The 6-2, 220-pound receiver dealt with an alcohol-related suspension while with the Irish and not surprisingly many of the questions he received dealt with that and its aftermath.
To his credit, Floyd did not shy away from the talk and answered each question patiently.
"Just immaturity," he said. "People all the time have mistakes like this. Unfortunately it happened to me on a big stage going across the nation. It's about moving forward."
Floyd said the university had him take alcohol-related classes and maintain a certain GPA in order to be remain on the football team in order to "show I was in the right frame of mind."
With his big frame and strong hands - not to mention his familiarity with the Patriots system from his two seasons playing forCharlie Weis in South Bend - Floyd would make an intriguing possibility for the Patriots at the end of the first round.
"I really like the big frame I am. I'm comfortable at this height and weight and feel I can run very well," said Floyd.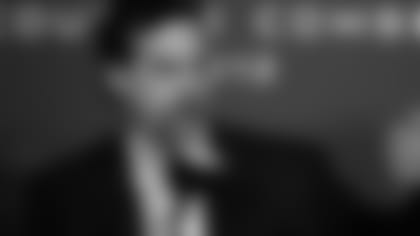 New Rams head coach Jeff Fisher left us a with a couple of items of relevance to Patriots fans.
First, Brandon Lloyd. The free agent wide receiver, who played most recently for St. Louis before Fisher arrived, has been outspoken about his desire to play from now on wherever Josh McDaniels is. And now that McDaniels is back as offensive coordinator in New England, speculation is Lloyd will seek to join the Patriots this spring.
Fisher, though, when Lloyd's name came up, added to the intrigue by saying, "There are a number of UFAs we're interested in keeping. He would b e one of them."
CSNNE's Tom Curran ran into Lloyd's agents, Tom Condon and Ben Dogra, and they indicated they would welcome the chance to speak with Patriots representatives about Lloyd. Dogra told Curran that McDaniels' presence in New England is indeed a huge draw for Lloyd.
Meanwhile, Fisher's Rams will face the Patriots (with or without Lloyd) Oct. 28 at Wembley Stadium in London. Our own Brian Lowe from "Patriots Today" asked Fisher for his thoughts on the contest.
"When it was announced, we were very excited," Fisher responded with genuine enthusiasm. "We think it's a great opportunity."
Fisher then paused, perhaps for effect, as he hit us with his punchline.
"If you're going to play the Patriots, it's best not to play them in North America," he laughed, drawing chuckles from the media as well.
He then added, all kidding aside, "I think it's a great opportunity for us. There were a number of clubs that were disappointed that they didn't get the opportunity. We're in the early stages of evaluating that [trip] and talking to some of the clubs [who've been before] and how they did it and what's most convenient for the players."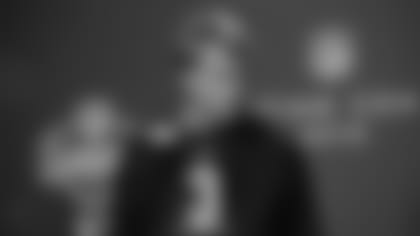 Michigan State quarterbackKirk Cousins was quite impressive in his own right while dealing with the media. Most prognosticators view him as a third- or fourth-round prospect due to his modest arm strength and size (6-2, 209) but he would seem to be an ideal developmental quarterback.
Not unlike the guy he backed up early in his Spartans career - Brian Hoyer. Cousins said he remains quite close to the Patriots backup and was happy to help him out in his playful wagers with Michigan alums Tom Brady and Zoltan Mesko when his Spartans went against the Wolverines.
A Michigan State victory - which happened in each of Cousins' starts against Michigan - Brady and Mesko had to wear green Spartans attire in the Patriots locker room.
"I hear about it," Cousins said. "I'll text Brian every now and then, he'll text me. I know whether it was this year or last year, he had texted me the week of the game. He said, 'Hey, make sure you beat Michigan this week, because I got a bet going with Tom. He said that a few different times. So, we've tried to make him be able to not have to put on any maize and blue in the locker room, which I think has been good."
Many of the more influential agents for players are gathering in Indianapolis at a location away from Lucas Oil Stadium. Our friends and colleagues Shalise Manza Young of The Boston Globe and Mike Reiss of ESPNBoston.com just reported an interesting bit of news from one such player rep.
Carl Poston, the agent for Patriots defensive endAndre Carter, said his client, who underwent surgery in December to repair a torn quadriceps muscle in his left leg, is rehabilitating "ahead of schedule" and that Poston has had discussion with Patriots brass about Carter possibly returning to the team in 2012.
Poston added that Carter was immensely pleased with his 2011 experience in New England. He signed with the Patriots last August after 10 previous NFL seasons in San Francisco and Washington. Carter was the seventh overall pick in the 2001 NFL draft and revealed during the middle of last season that he thought his pro career was over before New England called and offered him a job. Carter went on to tie for the team lead in sacks (10) in 2011, despite missing the final two-and-a-half games of the regular season with the quad injury he suffered at Denver.
Patriots placekicker Stephen Gostkowski suffered a similar injury the year before, in November of 2010, and was sufficiently healed by the start of training camp to reclaim his job. So, it's entirely possible for Carter to be ready to go for the start of next season, if not sooner. Poston cautioned, though, that it is still far too early in the process to say definitively whether or not Carter will be part of New England's 2012 plan.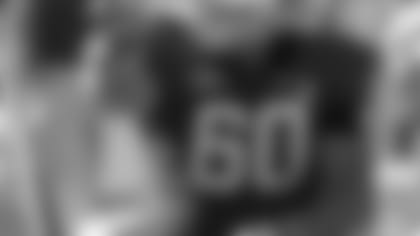 Georgia center Ben Jones has an interesting pregame routine he likes to follow, and he says it's one he intends to continue as a pro. As he and his teammates prepared for each game on the field, Jones did so while barefooted.
"Yes, I do the full warm-up barefooted. I'm definitely a country boy," Jones said. "I don't like wearing shoes or anything like that. I did it in high school because we'd come in after school and take a nap before we walked the field. They'd usually wake me up - I'd be asleep - and I'd just walk straight out there, no matter rain, sleet, snow or what. It kind of stuck with me."
Jones said there was a practical purpose for his rather unorthodox preparation ritual.
"You can tell if the grass is a little slippery and everything - what kind of grass it is, whether it's high or short. It's just something I do now and something I'll do the rest of my life."
"Definitely. That's not a problem at all. My feet have alligator skin. They're tough. I can do it all on my feet."
Jones was one of the more interesting characters of the Combine's first day, but not just because of his quirks. Jones lost his father, who was a forester, at the age of 10 to a helicopter crash and he's done his best to honor his memory.
"They were flying over timber and it was just a freak accident. The plane crashed and that was the main reason I went to Georgia. He graduated from Georgia and he wore No. 60 in high school. My first three years of college, I wore No. 61 because No. 60 was taken. My last year I wanted to dedicate to my dad.
"I remember sitting in there working on a school project with my mom and the preacher knocks on the door with my aunt. I was like, 'Why are they knocking on the front door?' because we have an old farmhouse. We never used the front of the house unless it was Thanksgiving or something. So when I saw that, I ran upstairs, changed and said, 'Why is the preacher here?' I came in, looked and my mom was crying. I knew right away something was wrong. From then on, it definitely sticks with me. It's a time of my life, I've learned from it and it's made me a better man."
Baylor's Philip Blake has an interesting story in his own right, being 26 years of age coming out of Canada in his quest to make it in the NFL. But he also had the pleasure of snapping the ball to RG3, and that was an experience Blake enjoyed immensely.
"He's a great guy, great teammate. Love him. I always say he made me look good, but he always tells us we made him look good, so we're always in battle with that. But he's a great guy," Blake said.
"The play is never over until the whistle is blown. He can make a lot of things happen as we've seen this year - breaking tackles and making plays downfield. So, play to the whistle. It's a lot of fun. You're blocking your man and you look up and see the ball is in air about 30 or 40 yards downfield, and you see someone catching the ball and the crowd is going crazy. It's very exciting."
Kelvin Beachum has a couple of interesting Patriots connections coming out of SMU. First, the tackle was coached for the last three seasons by Adrian Klemm, the first draft pick of the Bill Belichick era. Klemm was New England's second-round pick in 2000 and spent five injury-plagued seasons in Foxborough.
"It was wonderful. He brought the intensity," Beachum said of Klemm, who is now the offensive line coach and running game coordinator at UCLA. "The calm, cool and collected side of things that you need to have in the game, but he also talked about seven seconds of violence, which was our motto for our offensive line. Being able to establish a violent nature for seven seconds and then be able to regain your composure then go out and do it again."
Beachum also played with Patriots rookie Sterling Moore, and he revealed an interesting nickname they had for the corner.
"Man, he was a funny guy. He always had some jokes to go along with whoever he was locking down in practice," Beachum said. "We used to call him 210. He was about 210 pounds and we called him a fat corner. But he dropped the weight. He's done a wonderful job adapting to the NFL and is becoming a real good corner."
Beachum said he tried his best to remain close to Moore during the season but wasn't always able to keep tabs on his former teammate.
"We stayed in contact. Any time I was able to see him play - sometimes in Texas, you don't get all the New England games - any time I was able to see him play, just shoot him a text and say, 'Good game, bro.' He'll text me back and say, 'Appreciate it, just keeping grinding,'" Beachum added.