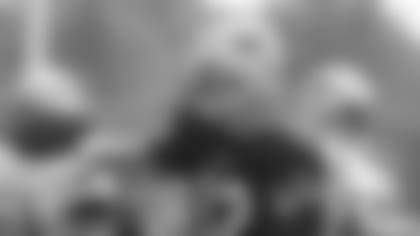 ]()The Patriots concluded their first day of open training camp practices with a lighter Friday evening practice held in shoulder pads, helmets and shorts.
The tempo of the practice remained strong after a physical morning session, but the crispness has not yet been there, a fact that comes as no surprise so early in camp.The passing game, in particular, seemed off all day with passes either sailing past their target, being broken up by the defense or dropped by the receivers.
Second-year cornerback Randall Gay stood out with a couple of nice pass breakups covering both P.K. Sam and Deion Branch. Linebacker Matt Chatham, playing on the inside, nearly intercepted quarterback Tom Brady on a deep zone drop, but couldn't hold on to the ball.
The defense seems ahead of the offense in full-team work although that's to be expected at this point giving the timing necessary to run an efficient offensive attack.
Kevin Faulk was superb out of the backfield, making a fine one-handed grab of a high pass before pulling it down and juking past linebacker Don Davis during a segment where linebackers were covering the backs one-on-one. In that particular portion of practice, the quicker backs had an advantage against the linebackers who were trying to jam the backs and then run with them.
The offensive play of the day came when David Givens ran behind cornerback Duane Starks on a sideline go-route for a would-be touchdown. Tight end Benjamin Watson also showed the burst of speed that makes him an exciting prospect when he caught a short pass and turned upfield while blowing between a pair of defenders and down the sideline.
The depth charts, which change often during camp, remained consistent with the morning work except for some veterans who apparently were given the evening session off. Safety Rodney Harrison, linebacker Chad Brown and tight end Christian Fauria joined the group of players who didn't practice in the morning – a list that included Willie McGinest, Bethel Johnson, Tim Dwight, Chad Morton and Ethan Kelly. Guard Brian Anderson was cut by the team and replaced on the roster by wide receiver Eugene Baker, who practiced in jersey No. 1 during the second workout.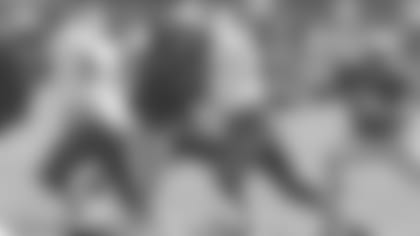 ]()With Harrison out, Guss Scott worked at safety with the ones alongside Eugene Wilson while Mike Vrabel and Chatham saw more action at inside linebacker. Harrison did utilize his officiating experience on a deep out pass from Brady to Branch in which the receiver appeared to keep only one foot in bounds. Harrison, who did an officiating internship with NFL Europe in the spring, jumped off the sideline to call Branch out of bounds while the receiver was making the catch signal.
Troy Brown made the heads-up play of the day after catching a pass over the middle and sliding to the turf. Untouched, he jumped up and raced past rookie safety James Sanders and Scott, but Scott caught him from behind and popped the ball free for a forced fumble. Brown then kicked the ball out of bounds.
Conditioning was a focus at the end of the session. While Bill Belichick said his team is in "reasonably good condition," he did line his players up in one end zone to run a series of three-quarter speed "sprints."
In other notes, Vrabel and defensive lineman Jarvis Green confirmed that they indeed signed contract extensions. Green was set to become an unrestricted free agent at the end of the season while Vrabel's camp number was to climb higher than $11 million in 2006, a prohibitive figure. … A high school team from Bangor, Maine took in the practice and sat in front of the media tent. … The popcorn for sale at stadium consession stands gets a thumbs-up. … Saturday's practice session will be held from 2:30 p.m.-4:30 p.m. Pick up your roster at the Patriots Football Weekly tent located near the entrance to the practice fields. ... Holdout Richard Seymour missed his second practice. ... 3,080 took in the evening session for two-practice total of 8,142 fans.