Patriots fans aren't happy this morning. Waking up to find out that cornerback Aqib Talib had joined the Broncos on a massive contract – yes, the team that wiped the field with New England in last January's AFC title game – isn't exactly a way to springboard into the new day.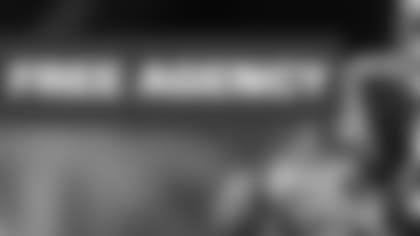 LATEST ON FREE AGENCY
Get caught up on who the Patriots free agents are and the top free agents the team could target.  

Add in the reports that former Cowboys star DeMarcus Ware could also land in Denver and the orange-clad competition feels like it's pulling away in the AFC.
As a born-and-bred New Englander I can understand the reactive emotion that fans are feeling right now. It's only human nature. The rest of the league is throwing around money like Scrooge McDuck and the Patriots are supposedly hosting a complementary receiver and special teams linebacker on free agent visits.
As Bill Belichick would say, the emotion we're dealing with right now is what it is.
And while I may be writing for the team website, I'm not one of those homer honks here to tell you how to feel. I'm not going to just point to the Patriots three-straight AFC title games as some irrelevant, philosophical defense of the events of the last 18 hours.
Unlike some people I'm not going to just say 12-4 and condescendingly sniff blindly at the Patriots obvious greatness dominating the AFC East with regularity over the last decade plus.
Rather I prefer this morning to look at the final four teams playing last January – the Patriots, Broncos, 49ers and Seahawks – to try and figure out how championship contenders are built.
Doing that, from this perspective, it certainly looks like winning is more about building from within than blowing people away at the start of free agency. Other than once-in-an-lifetime free agent Peyton Manning landing in Denver, those four teams last January were very much founded in home-grown talent.
People always like to say you don't win in March, you win in the fall and through February. Really, though, you could argue that you win in May, which is when the NFL Draft is now scheduled on the ever expanding league calendar.
Seattle stars include Russell Wilson, Kam Chancellor, Richard Sherman, Earl Thomas, Golden Tate and cheap-trade addition Marshawn Lynch.
San Francisco lists Colin Kaepernick, Michael Crabtree, Frank Gore, Vernon Davis, Patrick Willis, NaVorro Bowman and Aldon Smith among its core talent.
In Denver it was Demaryius Thomas, Eric Decker, Julius Thomas, Knowshon Moreno, Von Miller among its foundation pieces to last season's Super Bowl run.
And obviously in New England guys like Tom Brady, Logan Mankins, Julian Edelman, Rob Gronkowski, Stevan Ridley, Devin McCourty, Chandler Jones and Jerod Mayo all created the central bloodline for winning.
Sure team building is also about making value-based free agent signings and trades to complement the drafted core. The 49ers did that with Anquan Boldin. For Seattle it included Michael Bennett. Denver Terrance Knighton, Dominique Rodgers-Cromartie and Wes Welker. New England has tried with the likes of Tommy Kelly and the addition of Talib himself two years ago.
So, even though it feels that way, the sky is not falling in New England this morning. There are still plenty of free agency, draft and trade moves to be made. The Darrelle Revis reports are tantalizing. The potential internal improvements of guys like Aaron Dobson, Jamie Collins, Duron Harmon and others are intriguing.
Frustration is normal right now. But all-out anger and giving up on the coming season is unjust, unwarranted and doesn't fall in line with what we've seen as the formula for success in both New England and the rest of the league in recent years.