KRAFT PRODUCES MORE WINS THAN EVERY OTHER PATRIOT OWNER COMBINED**
Today's win was the 226th victory overall under Robert Kraft. He has now produced more victories than every other Patriots owner combined. Under Kraft, the Patriots are 226-110 overall since he purchased the team in 1994. Kraft's predecessors in the owner's office went 225-276-9 in the 34 years prior to his purchase of the team.
PATRIOTS WIN 10TH STRAIGHT SEASON OPENER
The Patriots earned their 10th straight season opener and joined Dallas (17, 1965-1981), Miami (11, 1992-2002) and Portsmouth/Detroit (10, 1930-1939) as the only teams with 10 straight opening day wins. The Patriots ten opening day wins is the longest streak in the NFL. Of the 10 wins, four of the have been on the road including todays' win over Buffalo . The Patriots won at the Jets in 2007, at Miami in 2011 and at Tennessee in 2012.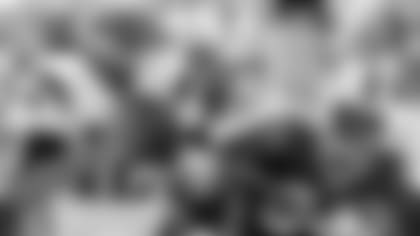 TOM BRADY HAS THE BEST RECORD ON OPENING DAY IN SUPER BOWL ERA**
Tom Brady improved to an 11-1 record as a starting quarterback on opening day, the best record among any starting quarterback in the Super Bowl era.
PATRIOTS FORCE A TURNOVER FOR THE 28TH STRAIGHT GAME
The Patriots have forced a turnover in 28 straight games dating back to 2011, and including all 16 regular season games of 2012 after CB Kyle Arrington forced a fumble that was recovered by DL Tommy Kelly in the first quarter. The NFL record for most consecutive games with a turnover since the merger in 1970 is 71 by Philadelphia from 1985-1990. The last time the Patriots did not register at least one turnover was on Oct. 9, 2011 vs. the New York Jets.
BRADY EXTENDS HIS STREAK TO 49 GAMES WITH AT LEAST ONE TOUCHDOWN
Tom Brady extended his streak to 49 straight games with at least one touchdown in the first quarter with his 9-yard touchdown pass to WR Julian Edelman. It is the second longest touchdown streak in NFL history, behind Drew Braes (54) and the longest active streak.
EDELMAN NOW QUALIFIES FOR THE HIGHEST PUNT RETURN AVERAGE IN NFL HISTORY
EDELMAN BECOMES ONE OF SEVEN NFL PLAYERS WITH A PUNT RETURN AVERAGE OF 12 OR ABOVE
Edelman returned three punts against Buffalo for 32 yards and now has returned 75 punts for 975 yards during his Patriots' career and is first in team history and in the NFL with a 13.0 average. Edelman entered the game with 72 punt returns and needed to reach 75 to qualify for the NFL all-time lead.
EDELMAN HAS FIRST REGULAR SEASON GAME WITH TWO RECEIVING TOUCHDOWNS**
Julian Edelman caught a 9-yard touchdown pass from Tom Brady in the first quarter and an 8-yard touchdown pass from Brady in the second quarter. It is his first regular season game with two touchdown receptions. As a rookie in 2009, Edelman caught two touchdown passes vs. Baltimore on Jan. 10, 2009 in a postseason game when he scored on a 6-yard pass and a 1-yard pass to become the first Patriots rookie to catch two touchdown passes in a postseason game.
BRADY LEADS THE PATRIOTS TO HIS 27TH COMEBACK WHEN TRAILING IN THE FOURTH QUARTER
Tom Brady has now led the Patriots to 27 comeback wins when trailing in the fourth quarter after overcoming a 21-17 fourth quarter deficit in a 23-21 win.
BRADY BECOMES 9TH NFL PLAYER TO REACH 45,000 PASSING YARDS
Brady (44,806) became the ninth NFL player to reach 45,000 passing yards on a 35-yard pass to WR Julian Edelman. He entered the Buffalo game needing 194 yards passing to reach the milestone.
NINKOVICH HAS RECOVERED THE MOST FUMBLES SINCE 2010; RECOVERED HIS 10TH AGAINST BUFFALO
Rob Ninkovich recovered a second quarter fumble that was forced by Kyle Arrington. Ninkovich has the most fumble recoveries of any NFL player over the last four years (2010-13) with ten. Vince Wilfork is second with seven opponent fumble recoveries during that time.
KYLE ARRINGTON FORCED TWO FUMBLES
Kyle Arrington forced a fumble in the first quarter when he stripped Buffalo RB C.J. Spiller at the Buffalo 11-yard line to help set up a touchdown. In the second quarter, he forced a fumble that was recovered by the Patriots at the Buffalo 32-yard line.
PATRIOTS EXTEND STREAK TO 11 STRAIGHT OVER AFC EACT
The Patriots extended their streak to 11 straight wins over AFC East opponents. After losing at Buffalo, 34-31 in 2011, the Patriots won their remaining four AFC East games that year and then finished a perfect 6-0 against AFC opponents in 2012. The Patriots previous longest winning streak against AFC opponents was 9 games, starting on Sept. 21, 2003 with a 23-16 win vs. NY Jets and ending on Dec. 20, 2004 with a 29-28 loss at Miami.
PATRIOTS VS. BUFFALO IN SEASON OPENERS
The Patriots opened the season against the Buffalo Bills for the ninth time in team history and the first time since a 25-24 come-from-behind win vs. Buffalo in the 2009 season-opener on Sept. 14, 2009 on Monday Night Football. The Patriots, who are 65-41-1 all-time against Buffalo, are now 5-4 against Buffalo when meeting in the season opener. Buffalo is the most frequent opening day opponent for the Patriots with nine games. Miami is second with seven meeting on opening week.
SHANE VEREEN RUSHES FOR A CAREER HIGH
Shane Vereen set a career-high with his first 100-yard rushing day after finishing with 14 carries for 101 yards. 14 carries for 101 yards. His previous best was 49 yards vs. New York Jets on Oct. 21, 2012. Last season, the Patriots had five 100-yard rushing performances with Stevan Ridley having four and Brandon Bolden recording one.
WR DANNY AMENDOLA RECORDS 100-YARD GAME
WR Danny Amendola recorded his third career 100-yard game after finishing with 10 receptions for 104 yards. It was his fourth NFL 10-plus reception game.
K STEPHEN GOSTKOWSKI NAILS A 35-YARD GAME-WINNING FIELD GOAL**
K Stephen Gostkowski nailed a 35-yatrd field goal with 5 seconds to play. His only other game-winning field goal was in overtime vs. Baltimore on Oct. 17, 2010 when he kicked a 35-yarder to give the Patriots a 23-20 overtime win.
NEW FACES
The Patriots have 19 players on the opening day roster that were not on the opening day 53-man roster in 2012. Of that group, 13 saw action in their first regular-season game as a member of the Patriots:
2013 Draft picks – LB Jamie Collins, CB Logan Ryan, WR Josh Boyce and DL Michael Buchanan.
2013 rookie free agents – G Chris Barker, P Ryan Allen, TE Zach Sudfeld, WR Kenbrell Thompkins and DL Joe Vellano.
Veteran free agents – WR Danny Amendola, DL Tommy Kelly, RB LeGarrett Blount and LB Chris White.
LEGARRETTE BLOUNT RETURNS FIRST KICKOFF RETURN OF HIS CAREER
RB LeGarrette Blount returned his first regular season kickoff return in the first quarter with a 13-yard return. He returned his first kick ever in the NFL in the first quarter of the third preseason game at Detroit on Aug.22 for a 27-yard gain.
JAMES DEVELIN MAKES FIRST CAREER START
James Develin made his first NFL start when he lined up at fullback to begin the game.