WEEK 11 · Sun 11/22 · 1:00 PM EST
Patriots
New England Patriots
AT
The New England Patriots look to even their 2020 regular-season record at 5-5 with a victory this Sunday at the Houston Texans.
The Patriots will face Houston Texans for the sixth straight year in the regular season and for the second straight time in Houston. Last year, the Patriots dropped a 28-22 decision at Houston in a Sunday Night Football game on Dec. 1, 2019. The Patriots are 4-1 against the Texans over the five previous regular-season games.
SERIES HISTORY
The New England Patriots will face Houston Texans for the sixth straight year in the regular season and for the second straight time in Houston. Last year the Patriots dropped a 28-22 decision at Houston in a Sunday Night Football game on Dec. 1, 2019. The Patriots are 4-1 against the Texans over the five previous regular-season games.
In 2016, the Patriots and Texans played two times with New England taking a 27-0 victory on Sept. 22 and then a 34-16 win in the Divisional Playoffs. Both of those games were played at Gillette Stadium.
Overall, the Patriots and Texans have met 12 times and hold an 10-2 advantage (8-2 regular season, 2-0 playoffs) since Houston entered the NFL in 2002.
The Patriots are 3-2 overall against the Texans when playing in Houston.
Before the Texans joined the league, the Patriots and the Houston Oilers were foes dating back to the days of the American Football League, playing twice a year from 1960-69 and 33 times overall before the Oilers moved to Tennessee following the 1996 season.
LEADER: Patriots lead all-time series 10-2 (8-2 regular season, 2-0 playoffs)
RECORD IN HOUSTON: Patriots are 3-2 overall against Texans in Houston
LAST GAME: 12/1/19: Patriots 22, Texas 28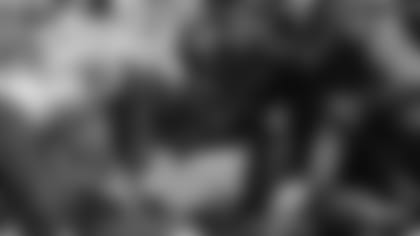 When the Patriots run - Edge: Patriots
Sometimes trying to figure out the best plan of attack for a game can be challenging. Then there are matchups like this that seem to make things quite easy. The Patriots love to run the football behind their physical offensive line. Damien Harris has injected new life into the ground game and is coming off his third 100-yard game of the season against the Ravens. New England ranks third in rushing and appears to be hitting its stride behind Harris' punishing style. Meanwhile the Texans can't stop the run – even when they know it's coming. That was the case when Cleveland took over at its own 3 with just under five minutes left while protecting a 10-7 lead last wek. Despite the obvious situation, the Browns chewed up the remaining time behind Kareem Hunt and Nick Chubb, who ground the Texans to death. It wasn't an aberration, either. Houston ranks last in rushing yards allowed as well as rushing yards per play. Even when the weather conditions made passing quite challenging, Houston still was powerless to stop Cleveland on the ground. Expect Harris to continue to see the bulk of the workload, and Rex Burkhead to continue in his support role as both a runner and receiver. That has become the Patriots formula for offensive success, and Houston doesn't have the horses to do much about it.
When the Patriots pass - Edge: Patriots
The Texans aren't much better against the pass, as evidenced by the 7.35 yards per pass they allow for the season, which ranks 26th. The overall yardage (241.7 yards, 18th) is likely a product of teams being content to run the ball instead, which is why the yards per play number is more telling. The Texans employ Bradley Roby and Vernon Hargreaves at corner with Justin Reid and Eric Murray at safety. Lonnie Johnson and Michael Thomas work as extra DBs, but the group has struggled all season as the Texans pass rush hasn't been as potent as normal. Houston has just two interceptions all year and hasn't been able to slow down most of the offenses it has faced. The Patriots are using the passing game as a complementary piece and lately Cam Newton has done a nice job of protecting the ball. Short throws to Jakobi Meyers and Burkhead have represented the bulk of the passing attack, and Meyers has emerged as an important piece with several strong games in recent weeks. The Texans have the ability to put pressure on the passer with J.J. Watt (4 sacks) and Whitney Mercilus (3 sacks) but neither has consistently done so to the point where the secondary has benefited. The Patriots won't likely be chucking it around NRG Stadium but should make enough plays to augment the rushing attack.
When the Texans run - Edge: Patriots
This is an area where a Texans weakness matches with a Patriots weakness. Houston hasn't been able to run the ball much this season for a variety of reasons. David Johnson was serviceable as the lead back before being knocked out of the lineup with a concussion, leaving pass catching threat Duke Johnson as the main option. Duke Johnson averages just over 3 yards per carry. The Texans also have played much of the season from behind, eliminating their opportunities to run the ball more frequently. As a result they rank 31st in the league, averaging just 87.9 yards per game on the ground. So, the fact that the Patriots have experienced their struggles stopping the run this season should be somewhat mitigated against Houston. In addition, New England is coming off a strong effort stopping the run against the Ravens Sunday night, which should give the group some confidence moving forward. Newcomer Carl Davis has stepped in the contributed alongside Lawrence Guy, who returned to the lineup after a one-game absence. Practice squad call-up Terez Hall has looked comfortable working inside in place of the injured Ja'Whaun Bentley, and the Patriots front should have enough to control the Texans on the ground.
When the Texans pass - Edge: Texans
The Texans do have one very dangerous weapon to deal with on offense and that is Deshaun Watson. Despite the Texans 2-7 record, Watson gives his team a chance to win every week and Houston has had a chance to win virtually every week as a result. Watson has 18 touchdowns against just five interceptions and has a 107 passer rating for the season while completing more than 68 percent of his throws. Will Fuller and Brandin Cooks are dangerous as big-play threats with nine touchdowns between them, and Watson can also do damage with his legs, averaging almost 5 yards per rush. The Patriots secondary has been a bit inconsistent as of late, a fact illustrated perfectly by J.C. Jackson. Jackson has interceptions in a team-record five straight games, but he's also given up his share of plays during the stretch. Baltimore's Lamar Jackson was able to enjoy one of his better passing nights in a monsoon Sunday night, and that followed Joe Flacco's strong night a week prior. The Texans will use Cooks, Fuller and slot man Randall Cobb, as well as Duke Johnson out of the backfield as they try to put points on the board behind Watson. The Texans have trouble protecting him at times, but the Patriots haven't consistently generated much heat this season. Houston has shown the ability to put points on the board, and if that's the case Sunday it will likely be due to Watson's brilliance.
Special Teams - Edge: Patriots
The teams are fairly even in this matchup with Houston's Ka'imi Fairbairn doing a solid job in the kicking department alongside punter Bryan Anger. Fairbairn has missed three field goals, one coming last week in tough wind conditions in Cleveland. Nick Folk missed a PAT last week in the rain but that snapped a five-game stretch of perfection for the veteran kicker. Both have been steady for their teams overall. Jake Bailey continues to turn in great work for the Patriots, consistently creating field position for New England. Neither side is generating anything in the return game. DeAndre Carter was handling both punts and kicks for Houston but was released earlier in the week. C.J. Prosise (kicks) and Fuller (punts) could fill the roles Sunday against the Patriots. Gunner Olszewski has handled both jobs for the Patriots but hasn't gotten much going. Each team has been solid on the coverage units, continuing the even nature of this matchup.
MATCHUP NOTES
QB Cam Newton completed 13 of 17 passes (76.5 pct.) for 118 yards & TD vs. 0 INTs for 114.3 rating & rushed for TD last week. Aims for 3rd in row with 75+ comp. pct. & 95+ rating. Aims for 4th in row with rush TD. Has 5 TDs (4 pass, 1 rush) vs. 1 INT in 2 career games vs. Hou. Ranks 2nd among QBs & tied-3rd in NFL with 9 rush TDs this season.
RB Damien Harris rushed for career-high 121 yards last week. Has 100+ rush yards in 2 of past 3. Aims for 5th in row with 70+ scrimmage yards. RB REX BURKHEAD had 66 scrimmage yards (35 rec., 31 rush) & career-high 2 rec. TDs in Week 10. RB James White had career-high 177 scrimmage yards (98 rec., 79 rush) & 2 rec. TDs in last meeting. Aims for his 3rd in row vs. Hou. with TD catch. Since 2015, leads RBs in receptions (342), rec. yards (2,989) & rec. TDs (24).
WR Jakobi Meyers had 5 catches for 59 yards & 1st-career TD pass last week. Aims for 5th in row with 50+ rec. yards. WR Damiere Byrd has 5+ catches in 4 of his past 5 on road.
CB J.C. Jackson has an INT in 5 straight games, longest active streak in NFL. Has 7 PD in his past 5 on road. Leads NFL with 6 INTs this season. CB Stephon Gilmore has INT in 2 of his past 3 vs. Hou. S Devin McCourty aims for 3rd in row with PD. Rookie S Kyle Dugger led team with career-high 12 tackles last week. Has 5+ tackles in 2 of his past 3. Rookie LB Josh Uche had 1st-career sack in Week 10. DE John Simon had 5 tackles, sack & PD last week.
QB DeShaun Watson completed 20 of 30 passes (66.7 pct.) for 163 yards & TD vs. 0 INTs for 91.4 rating last week. Aims for 5th in row with 0 INTs. Has 2+ TD passes & 105+ rating in 6 of past 7. Passed for 234 yards & 3 TDs vs. 0 INTs for 140.7 rating in last meeting. Has 10 TDs vs. 0 INTs for 149.4 rating in his last 3 vs. AFC East. Aims for 4th in row at home with 2+ TD passes.
RB Duke Johnson rushed for season-high 54 yards last week. Had 90 scrimmage yards (54 rec., 36 rush) & TD catch in last meeting. Aims for his 4th in row vs. AFC East with 90+ scrimmage yards. Since 2015, ranks 3rd among RBs in rec. yards (2,689) & 4th in receptions (293).
WR Will Fuller aims for 3rd in row with 5+ catches. Has TD catch in 6 of past 7. Aims for 4th in row at home with rec. TD. WR Brandin Cooks has 6+ catches in 4 of past 5. Has rec. TD in 2 of his past 3 at home. Had 65 catches for 1,082 yards & 7 TDs in 2017 with NE. WR Randall Cobb had 86 rec. yards in his last game vs. NE (11/24/19 with Dal.). TE Pharoah Brown had 1st-career TD catch in Week 10.
DE J.J. Watt had 5 tackles & TFL last week. Aims for his 4th in row vs. AFC East with sack. DT Corey Liuget had 1st sack of season last week. LB Zach Cunningham led team with 13 tackles in Week 10. Aims for 5th in row at home with 10+ tackles. Ranks 3rd in NFL with 91 tackles this season. LB Whitney Mercilus has sack in 2 of his past 3 at home. CB Vernon Hargreaves had 6 tackles & TFL last week. Had PD in last meeting.
Table inside Article

| 2020 REGULAR SEASON | NEW ENGLAND | HOUSTON TEXANS |
| --- | --- | --- |
| Record | 4-5 | 2-7 |
| Divisional Standings | 3rd | 3rd |
| Total Yards Gained | 3,203 | 3,190 |
| Total Offense (Rank) | 355.9 (19) | 354.4 (20) |
| Rush Offense | 161.1 (3) | 87.9 (31) |
| Pass Offense | 194.8 (29) | 266.6 (8) |
| Points Per Game | 21.0 (27) | 22.2 (25) |
| Total Yards Allowed | 3,180 | 3,682 |
| Total Defense (Rank) | 353.3 (13) | 409.1 (29) |
| Rush Defense | 129.2 (24) | 167.4 (32) |
| Pass Defense | 224.1 (10) | 241.7 (18) |
| Points Allowed/Game | 23.4 (11) | 28.0 (26) |
| Possession Avg. | 30:27 | 25:45 |
| Sacks Allowed / Yards Lost | 16/98 | 26/140 |
| Sacks Made / Yards | 13/90 | 19/123 |
| Total Touchdowns Scored | 21 | 23 |
| Penalties Against / Yards | 29/303 | 39/316 |
| Punts / Avg. | 24/46.8 | 34/47.6 |
| Turnover Differential | 0 (16T) | -4 (27) |
CONNECTIONS
A look at the connections between the New England Patriots and the Houston Texans.
WR Brandon Cooks – (2017)
CB Keion Crossen – (2018)
Interim Head Coach Romeo Crennel – (DC/DL 2001-2004) (DLC 1993-96)
VP of Football Ops Jack Easterby – Team Development and Character Coach (2013-18)
Offensive Consultant Carl Smith – Ast. Head Coach/QBC (1997), Tight Ends Coach (1998-99)
QB Brian Hoyer - (2015)
LB John Simon - (2014-16)
QBC Jedd Fisch - (WRC 2002-03)
TE Jordan Thomas - (2018-19)
Houston wide receiver DeAndre Carter spent time on the Patriots practice squad and took part in training in 2015 and 2016. He was released in September 2016 before the start of the season and was claimed by San Francisco.
Daniel Fells, the bother of Texans tight end Darren Fells played 14 games (including one playoff game) with the Patriots in 2012. He caught four passes for 85-yards including a 35-yard reception in a 24-23 Week 6 loss at Seattle (10/14/12).
IF THE PATRIOTS WIN...
New England will win their 132nd road game since 1994, most in the NFL over that span.
And a player eclipses 100 yards rushing, the team will improve to 54-3 since the 2000 regular season when a player rushes for at least 100 yards.
And the team does not commit a turnover, New England will win its 72nd game since 2008 without committing a turnover. The Patriots enter Week 11 with a 71-9 record in zero turnover games since 2008.
WHAT TO LOOK FOR...
The Patriots have been called for an NFL-low 29 total penalties. The fewest penalties the Patriots have ever had in a 16-game season was 57 in 2008. The fewest penalties in a 16-game season is 55 by the 2012 Atlanta Falcons. The 2020 Patriots are on pace for 52 total penalties.
The New England offense enters this week third in the NFL averaging 161.1 rushing yards per game (1,450 total rushing yards), on pace for 2,578 rushing yards for the season. That would rank fourth in team annals behind the 3,165 rushing yards in 1978, 2,948 in 1976 and 2,605 in 1983.
Damien Harris (3) and Sony Michel (1) have combined for four 100-yard rushing performances so far in 2020, the most since 2007 (5).
The Patriots defense has recorded 11 interceptions entering this week's game at Houston, tied with Indianapolis and Pittsburgh for second-most in the NFL behind Tampa Bay's 12. The 2019 Patriots led the NFL with 25 interceptions.
RB Rex Burkhead has six total touchdowns in 2020 (three rushing touchdowns & three receiving touchdowns), second to the career-high eight touchdowns (five rushing and three receiving) he had in 2017 with the Patriots. He needs one more receiving touchdown to set a single-season career-high with four. The Patriots record for most receiving touchdowns by a running back in a single season is seven by James white (2018) and Larry Garron (1964).
J.C.Jackson has recorded an interception in five consecutive games heading into Week 11, a Patriots record. With his pick last week vs. Baltimore, he broke a tie with Devin McCourty (2019) and Mike Haynes (1976), who recorded an interception in four straight contests. Minnesota's Brian Russell in 2003 was the last NFL player to intercept a pass in six consecutive contests. Oakland's Tom Morrow (1962-63) owns the NFL record with an interception in eight straight games.
With his next interception, Devin McCourty (28) will tie Ron Hall, Roland James and Fred Marion for third all-time in Patriots history with 29 career interceptions.
McCourty has 493 interception return yards in his regular-season career and needs seven yards to become the third Patriot with 500 return yards.
If McCourty returns another interception for a touchdown this season, he will tie the team record with two pick-sixes in a single year. The feat has been accomplished nine times.
Cam Newton has scored nine rushing touchdowns in 2020, on pace for 16 for the season. That mark would set a new NFL record for rushing touchdowns by a QB.
With one more rushing touchdown this season, Newton will become the 11th Patriot to rush for double-digit TDs in a single season and first since RB LeGarrette Blount set a franchise record with 18 rushing TDs in 2016.
Newton is the only QB in NFL history with two double-digit rushing touchdown seasons and with one more rushing TD, he will extend his NFL record with a third season of 10-plus rushing touchdowns.
Newton has three multi-rush TD games so far this season, tied for most by a QB in a single season.
Newton has 80 rushing attempts in 2020, on pace for 142 for the season. The NFL record for most rushing attempts by an NFL quarterback in a single season is 176 by Lamar Jackson in 2019. Cam Newton's single-season career-high was 139 rushing attempts in 2017.
Steve Grogan set a Patriots QB record in 1978 with 81 rushing attempts for 539 yards. Newton is on pace for 142 rushing attempts for 596 yards. Newton needs two rushing attempts this week to pass Grogan for mist rush attempts by a Patriots QB in a single season.
Newton has the most rushing first downs by quarterback in NFL history with 392 and has 33 through Week 10 in 2020. That mark is second in 2020 among QBs behind the 39 by Arizona's Kyler Murray.
James White has 24 touchdown receptions in 85 career regular-season games. Brian Westbrook currently holds the record for the fastest running back to reach the 25-TD reception mark, achieving the feat in 87 regular-season games.
White needs two receiving touchdowns to tie Larry Garron (26) for the most in franchise history by a running back.
Since White became a regular contributor on offense in 2015, he has more receptions (342), receiving yards (2,989) and receiving touchdowns (24) than any other running back in the NFL.
Damien Harris enters Week 11 looking for his first stretch of consecutive 100-yard rushing performances. The last Patriots running back to put together consecutive 100-yard rushing games in the regular season was LeGarrette Blount with 123 yards rushing vs. Miami (9/18/16) and 105 vs. Houston (9/22/16).
Entering this week's game, Gunner Olszewski is seventh in the NFL with a 24.1-yard kickoff return average.
BROADCAST INFORMATION
TELEVISION: This week's game will be broadcast by CBS and can be seen locally on WBZ-TV. Andrew Catalon will handle play-by-play duties with James Lofton as the color analyst. AJ Ross will work from the sidelines. The game will be produced by Steve McKee and directed by Andy Goldberg.
SATELLITE RADIO: SIRIUS: 106 (NE), 136 (Hou) - XM: 384 (NE), 230 (Hou)
LOCAL RADIO: 98.5 The Sports Hub is the flagship station for the Patriots Radio Network. A complete listing of the network's 38 stations can be found here. Play-by-play broadcaster Bob Socci will call the action along with former Patriots quarterback Scott Zolak, who will provide color analysis. The games are produced by Marc Cappello.