WEEK 10 · Sun 11/15 · 8:20 PM EST
Patriots
New England Patriots
AT
NBC / NBC Boston / Patriots App
The New England Patriots will play in primetime for the second straight week when they return to the confines of Gillette Stadium to face the Baltimore Ravens on Sunday Night Football following consecutive road games.
This game marks the second straight season that the two teams will play on Sunday night. Last season, the Patriots were 8-0 when they traveled to face the Ravens in Baltimore and suffered their first defeat of the season in a 37-20 decision.
SERIES HISTORY
The New England Patriots and Baltimore Ravens have squared off 10 times in the regular season and four times in the postseason, including two straight AFC Championship Games in 2011 and 2012, since the Baltimore franchise was founded following the Cleveland Browns move to Baltimore in 1996. All four postseason games have been played at Gillette Stadium. The Patriots are 8-2 against Baltimore in the regular season and 2-2 against Baltimore in the playoffs.
Last season, the Patriots traveled to Baltimore with an 8-0 record and lost, 37-20, in a Sunday Night Football game on Nov. 3. Baltimore last played at Gillette Stadium on Dec. 12, 2016, with the Patriots taking a 30- 23 win.
Sunday will mark the fifth primetime game between the two teams and the second straight Sunday Night game. In addition to last season's Sunday Night Football game, the clubs also played on Sunday Night in 2012 and on Monday Night Football in 2007 and 2016, both Patriots wins.
The Patriots and Ravens first met in the playoffs following the 2009 season, with Baltimore taking a 33-14 win in a Wild Card matchup at Gillette Stadium on Jan. 10, 2010. The Patriots avenged that loss in the 2011 AFC Championship Game with a 23-20 victory over the Ravens at Gillette Stadium on Jan. 22, 2012, to advance to Super Bowl XLVI. The teams again met in the 2012 AFC Championship Game at Gillette Stadium on Jan. 20, 2013, with Baltimore taking a 28-13 decision to advance to Super Bowl XLVII. Most recently, New England overcame two 14-point deficits in a 35-31 win in the 2014 AFC Divisional Playoff at Gillette Stadium on Jan. 10, 2015.
The first meeting between the teams came during Baltimore's first season, when the Patriots prevailed 46-38 on Oct. 6, 1996. The 84 total points scored by both teams in that game rank as the second-highest total number of points in a game in Patriots history to the 86 points in a 43-43 tie with Oakland in 1964.
LEADER: Patriots lead all-time series, 8-2
STREAKS: Patriots have won 2 of past 3
LAST GAME: 11/3/19: Patriots 20 at Ravens 37
LAST GAME AT GILLETTE STADIUM: 12/12/16: Patriots 30, Ravens 23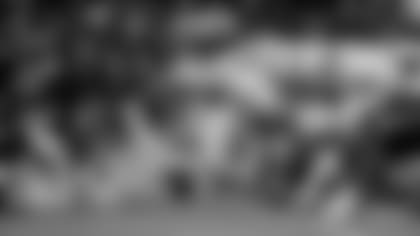 When the Patriots run - Edge: Ravens
Baltimore may not have the scary type of defense it once did, but the current version is pretty solid in its own right. The Ravens front of Derek Wolfe, Brandon Williams and Calais Campbell is excellent, although Campbell strained a calf muscle in the win over Indy on Sunday and will miss the Patriots game. Justin Madubuike will likely take his place. They do a great job of protecting the linebackers, which include L.J. Fort, Chris Board, Malik Harrison and rookie Patrick Queen. Fort (finger) missed the Colts win but could return against New England. When healthy, the Ravens allow just over 100 yards per game on the ground, which is good for eighth in the league. The Patriots obviously want to establish the run game with Damien Harris and Rex Burkhead, which has been their calling card in recent weeks. Harris is coming off back-to-back strong outings but was forced out of the Jets game with a chest injury. If he can't go perhaps Sony Michel will be activated off IR to take his spot. Either way the ground production will need to continue if the Patriots are to pull off the upset. Getting Cam Newton involved on the ground may also be an avenue for Patriots success. After a strong start to the season in that regard, Newton has been largely quiet over the past month and hasn't taken off on as many designed runs as he was previously, although he did find the end zone twice Monday night. The Ravens have been pretty stout all season, however.
When the Patriots pass - Edge: Ravens
Baltimore's secondary has played well also as the Ravens rank 10th in the league, allowing 223 yards per game through the air. The number per pass play (5.8) is even more impressive, ranking second. Corners Jimmy Smith and Marcus Peters are normally joined by Marlon Humphrey, but the latter missed the Colts game while dealing with COVID-19. Terrell Dorsey took his place in Indy, but Humphrey is expected be cleared to return for the Patriots game. That group should be able to contain the Patriots thinning ranks at receiver. Jakobi Meyers has led the way the last two weeks, and Damiere Byrd has been quietly effective when called upon, but N'Keal Harry (concussion) and Julian Edelman IR, knee) have missed the last two games and the Patriots passing game hasn't been overly impressive even when healthy. Meyers is coming off a career game with 12 catches for 169 yards, which makes him the top dog at the moment. Making matters worse, the Ravens pass rush has been effective as well. Baltimore has 24 sacks as a team and they've been spread around rather evenly. That could change with the addition of Yannick Ngakoue, who was acquired in a recent trade with Minnesota. Ngakoue, Matthew Judon and Pernell McPhee are capable of creating havoc off the edge, which will put some pressure on the Patriots offensive line.
When the Ravens run - Edge: Ravens
There aren't many teams the Ravens don't get the edge against when it comes to running the football and the Patriots struggling front seven certainly isn't one of them. Baltimore hasn't been quite as potent running the ball as it was last year, but it remains tops in the league at over 170 yards per game. It all starts with dynamic quarterback Lamar Jackson, who leads the team with 469 yards and a 5.9-yard average on the ground. Mark Ingram is nursing an ankle injury that kept him out of the last two games and his status is uncertain, but Gus Edwards (328 yards, 4.4-yard average) and rookie J.K. Dobbins (297 yards, 5.7-yard average) have more than picked up the slack. Meanwhile the Patriots best run defender, Lawrence Guy, is dealing with a myriad of injuries and missed the Jets game. Ja'Whaun Bentley (groin), the team's lone true linebacker, also missed the Jets game. When healthy the Patriots allow a staggering 131 yards per game on the ground, which ranks 25th in the league, stats that actually improved after the Jets game when New York opted to go after the Patriots through the air. Those numbers don't figure to improve again this week with the Ravens read-option attack set to hit Foxborough.
When the Ravens pass - Edge: Patriots
For as explosive as Jackson is on the ground he remains largely a work in progress through the air. He's completing just under 63 percent of his passes, well under the 66.1 mark he posted a year ago in his MVP campaign. He hasn't been awful, throwing for 1,513 yards with 12 touchdowns and four picks, but those numbers haven't approach the 36-6 TD-INT ratio he enjoyed in 2019. Marquise "Hollywood" Brown is emerging as his favorite target, along with tight end Mark Andrews and slot guy Willie Snead. It's a decent group of receivers but one the Patriots secondary should be able to contain, even if Stephon Gilmore remains on the shelf with a knee injury. The problem for the Patriots will be getting Jackson into obvious passing situations, which he hasn't handled well. He's been sacked 21 times, many coming when he tries to extend plays and can't find his receivers. And the Ravens lost All-Pro left tackle Ronnie Stanley for the season to an ankle injury two weeks ago, adding to the pressure Jackson has seen. But New England hasn't been able to impact the quarterback on a consistent basis all year, and the secondary struggled against the lowly Jets. It will be important for New England to stick with their receivers as Jackson looks to create, and this is a matchup the Patriots must win.
Special Teams - Edge: Ravens
In addition to the quality players the Ravens have on both sides of the ball, Baltimore also has the league's best kicker in Justin Tucker. He's missed just one kick all year – a 61-yarder that he pushed wide right against Cincinnati back in Week 5. Otherwise he's been perfect on his 41 attempts. On the other side Nick Folk was the hero against the Jets with a 51-yarder at the buzzer to win it. He's now gone five games without a miss and really settled down the kicking situation for New England. Both sides have solid punters with Jake Bailey and Sam Koch as each has just one touchback all season. Rookie Devin Duvernay is dangerous on kick returns with a 93-yard touchdown to his credit, but James Proche has been quiet on punt returns. Same can be said of Gunner Olszewski, who continues to take kicks out of the end zone but has a tough time making it to the 20. Both teams have been solid with the coverage units, but Tucker's excellence gives the Ravens the edge.
QB Cam Newton completed 27 of 35 passes (77.1 pct.) for 274 yards & 99 rating & rushed for 2 TDs last week, his 3rd game with 2 rush TDs this season, tied 2nd-most in NFL. Has 8 rush TDs this season, tied-most by QB in team's 1st 8 games of season in SB era. Passed for 219 yards & 2 TDs vs. 0 INTs for 116.9 rating & rushed for 52 yards & TD in his last game vs. Bal. (10/28/18 with Car.). Has 106.7 rating in 2 career games vs. Bal.
RB Damien Harris rushed for team-high 71 yards last week. Aims for his 4th in row with 70+ scrimmage yards. RB James White had 4 catches in Week 9. Had 84 scrimmage yards (46 rec., 38 rush) & rush TD in last meeting. Aims for his 3rd in row vs. Bal. with 80+ scrimmage yards. Aims for his 3rd in row vs. AFC North with TD. Has 261 scrimmage yards (130.5 per game) & 3 TDs (2 rec., 1 rush) in his past 2 on SNF. RB Rex Burkhead rushed for season-high 56 yards & TD last week.
WR Jakobi Meyers set career highs in catches (12) & rec. yards (169) in Week 9. Aims for 4th in row with 50+ rec. yards. WR Damiere Byrd had 5 catches for 65 yards last week.
CB J.C. Jackson aims for 5th in row with INT. Has 6 PD in his past 4 at home. Leads NFL with 5 INTs this season. CB Stephon Gilmore has 5 PD in his past 3 vs. AFC North. S Devin McCourty had PD last week. Has PD & TFL in 2 of past 3. DE Deatrich Wise had 6 tackles & sack last week. DL Lawrence Guy aims for his 3rd in row with TFL. Had 2 TFL, sack & FR in last meeting.
QB Lamar Jackson completed 19 of 23 passes (82.6 pct.) for 170 yards & 97.5 rating & rushed for 58 yards & TD last week. Aims for 4th in row with 50+ rush yards. Has rush TD in 2 of past 3. Passed for TD vs. 0 INTs for 107.7 rating & rushed for 61 yards & 2 TDs in last meeting. Has 16 TDs (14 pass, 2 rush) vs. 1 INT for 133.2 rating in 5 career games vs. AFC East. Has 15 TDs (13 pass, 2 rush) vs. 0 INTs in 5 career starts in primetime.
RB Mark Ingram had 144 scrimmage yards (115 rush, 29 rec.) in last meeting. Has 22 scrimmage yards (110 per game) in 2 career games vs. NE. Has 539 scrimmage yards (134.8 per game) & rush TD in his past 4 on SNF. RB Gus Edwards aims for his 4th in row with rush TD. Rushed for TD in last meeting. RB J.K. Dobbins ranks 5th among rookies with 297 rush yards.
WR Marquise Brown has 3 rec. TDs in 4 career games vs. AFC East. Has 50+ rec. yards in 2 of his past 3 on road. TE Mark Andrews has 15 rec. TDs since 2019, most among TEs. TE Nick Boyle had 4 catches for team-high 46 yards last week.
CB Marcus Peters had 5 tackles, INT & FF last week. Aims for 3rd in row with 5+ tackles, FF & PD. Had 8 tackles & PD in last meeting. Is only player in NFL wit 3 INTs & 3 FFs this season. S Chuck Clark had 2 FR last week, including 65-yard FR-TD, his 1st-career TD. Had 5 tackles in last meeting. Aims for his 3rd in row on road with FR. LB Matthew Judon led team with season-high 7 tackles & had PD in Week 9. DE Yannick Ngakoue aims for his 3rd in row vs. AFC East with sack.
Table inside Article

| 2020 REGULAR SEASON | NEW ENGLAND | BALTIMORE RAVENS |
| --- | --- | --- |
| Record | 3-5 | 6-2 |
| Divisional Standings | 3rd | 2nd |
| Total Yards Gained | 2,895 | 2,776 |
| Total Offense (Rank) | 361.9 (17T) | 347.0 (23) |
| Rush Offense | 159.6 (4) | 170.1 (1) |
| Pass Offense | 202.3 (28) | 176.9 (31) |
| Points Per Game | 20.8 (28) | 28.4 (8) |
| Total Yards Allowed | 2,823 | 2,559 |
| Total Defense (Rank) | 352.9 (12) | 324.9 (8) |
| Rush Defense | 131.0 (25) | 101.8 (8) |
| Pass Defense | 221.9 (9) | 223.1 (10) |
| Points Allowed/Game | 24.3 (12) | 17.6 (1) |
| Possession Avg. | 30:49 | 31:22 |
| Sacks Allowed / Yards Lost | 15/91 | 21/122 |
| Sacks Made / Yards | 11/83 | 24/183 |
| Total Touchdowns Scored | 18 | 26 |
| Penalties Against / Yards | 26/285 | 51/484 |
| Punts / Avg. | 20/47.6 | 31/45.0 |
| Turnover Differential | -1 (18T) | +4 (6T) |
PATRIOTS ON SUNDAY NIGHT
The New England Patriots own a 31-22 record overall on Sunday Night Football and are 0-1 in 2020 on Sunday Night following the 35-30 loss at Seattle on Sept. 20.
CONNECTIONS
A look at the connections between the New England Patriots and the Baltimore Ravens.
DB Jordan Richards – (2015-17) (2019)
DB Justin Bethel – (2019)
DB Terrence Brooks – (2014-15)
DL Lawrence Guy – (2014-16)
LB John Simon – (2013)
QBC Jedd Fisch – (WR/QB Ast. 2004-08)
Ravens linebacker LJ Fort was signed by the Patriots in early August 2015. He was waived before the start of the season and claimed by Pittsburgh.
IF THE PATRIOTS WIN...
New England will improve on the NFL's best regular-season home record since Gillette Stadium opened in 2002. The Patriots enter Week 10 with a 123-25 (.831) record in regular-season games and a 142-29 (.830) overall mark at Gillette Stadium.
The Patriots enter this week's game with a 5-0 record in regular-season games and a 2-2 mark in the playoffs vs. Baltimore at home.
And a player eclipses 100 yards rushing, the team will improve to 53-3 since the 2000 regular season when a player rushes for at least 100 yards.
And the team does not commit a turnover, New England will win its 71st game since 2008 without committing a turnover. The Patriots enter Week 10 with a 70-9 record in zero turnover games since 2008.
WHAT TO LOOK FOR...
The Patriots have been called for an NFL-low 26 total penalties. The fewest penalties the Patriots have ever had in a 16-game season was 57 in 2008. Since 2000, the fewest penalties in a season is 55 by the 2012 Atlanta Falcons. The 2020 Patriots are on pace for 52 total penalties.
The New England offense enters this week fourth in the NFL averaging 159.6 rushing yards per game (1,277 total rushing yards) and is on pace for 2,554 rushing yards for the season. That would rank fourth in team annals behind the 3,165 rushing yards in 1978, 2,948 in 1976 and 2,605 in 1983.
The Patriots defense has recorded 10 interceptions entering this week's game with Baltimore, trailing the 11 interceptions by Pittsburgh, Indianapolis and Tampa Bay. The 2019 Patriots led the NFL with 25 interceptions.
Bill Belichick enters this week third all-time with 276 career regular-season wins, behind George Halas (318) and Don Shula (328).
Belichick's 307 career victories as a heads coach (including postseason) are third-most all-time behind George Halas (324) and Don Shula (347).
J.C. Jackson has recorded an interception in four consecutive games heading into Week 10, tied with Devin McCourty (2019) and Mike Haynes (1976) for most consecutive games with an interception in team history.
With his next interception, Devin McCourty (28) will tie Ron Hall, Roland James and Fred Marion for third all-time in Patriots history with 29 career interceptions.
McCourty has 493 interception return yards in his regular-season career and needs seven yards to become the third Patriot with 500 return yards.
If McCourty returns another interception for a touchdown this season, he will tie the team record with two pick-sixes in a single year. The feat has been accomplished nine times.
Cam Newton has scored eight rushing touchdowns in 2020, on pace for 16 for the season. That mark would set a new NFL record for rushing touchdowns by a QB.
Newton has three multi-rush TD games so far this season, tied for most by a QB in a single season.
Newton has 69 rushing attempts so far in 2020, on pace for 138 for the season. The NFL record for most rushing attempts by an NFL quarterback in a single season is 176 by Lamar Jackson in 2019. Cam Newton's single-season career-high was 139 rushing attempts in 2017.
Steve Grogan set a Patriots QB record in 1978 with 81 rushing attempts for 539 yards. Newton is on pace for 138 rushing attempts for 628 yards.
Newton has the most rushing first downs by quarterback in NFL history with 389 and has 30 through Week 9 in 2020. That mark is second in 2020 among QBs behind the 34 by Arizona's Kyler Murray.
BROADCAST INFORMATION
TELEVISION: This week's game will be broadcast by NBC on Sunday, November 15 at 8:20 PM ET and can be seen locally on NBC 10 Boston. Al MIchaels will handle play-by-play duties with Cris Collinsworth as the color analyst. Michele Tafoya will work from the sidelines. The game will be produced by Fred Gaudelli and directed by Drew Esocoff.
SATELLITE RADIO: SIRIUS: 81 (Bal), 83 (NE) - XM: 226 (Bal), 225 (NE), 88 (National)
NATIONAL RADIO: Sunday's game will be broadcast to a national audience on Westwood One. Bob Wischusen will call the game with Al Groh providing analysis.
LOCAL RADIO: 98.5 The Sports Hub is the flagship station for the Patriots Radio Network. A complete listing of the network's 38 stations can be found here. Play-by-play broadcaster Bob Socci will call the action along with former Patriots quarterback Scott Zolak, who will provide color analysis. The games are produced by Marc Cappello.