FOXBOROUGH, Mass. (AP) -- The Patriots are rolling again, right into a playoff bye.
Tom Brady threw two touchdown passes, the defense had a season-high seven sacks and New England ended a rare slump by dominating the Miami Dolphins 28-0 on Sunday.
"Hopefully, this will be a good game that we can step off from and keep working to improve," coach Bill Belichick said.
Rebounding from two mediocre performances, the Patriots earned the second seed in the AFC and an extra week to savor the win and prepare for their postseason opener on Jan. 13. The Denver Broncos got the top spot by beating the Kansas City Chiefs.
Shortly before the game, the Patriots learned that Houston had lost to the Indianapolis Colts. That meant a win would vault the Patriots over the Texans, who began the day seeded first, and into one of the two byes.
"Coach Belichick just said, "Look, the only people that can improve our position are us, so, regardless what anyone else does, we have to win," Brady said. "And that's what we did."
Stevan Ridley ran for two touchdowns as New England used a ball-control offense and a defense that posted the team's first shutout since a 59-0 rout of the Tennessee Titans 59-0 on Oct. 18, 2009.
The Patriots (12-4) led 21-0 at halftime on Brady's 9-yard touchdown pass to Wes Welker and Ridley's runs of 1 and 2 yards, capping drives lasting 14 and 13 plays. They ended the scoring on Brady's 23-yard scoring pass to Rob Gronkowski, who missed the previous five games after breaking his left forearm.
"It felt good. I haven't gotten hit in a while," Gronkowski said. "I got limited reps (but) you always want to get some reps before heading into the playoffs."
The Dolphins (7-9) finished with a losing record for the fourth straight season.
"We made progress in areas, but we have a ton of work to do," first-year coach Joe Philbin said.
Instead of going into the offseason with three straight wins, the Dolphins leave with the memory of their first blanking since losing 16-0 to the Chicago Bears on Nov. 18, 2010.
"We came in here with the mentality that we needed to finish the season strong," said Reggie Bush, whose 26 yards rushing left him 14 short of 1,000 for the season. "We obviously didn't do that."
For the AFC East champion Patriots, the victory came after they started poorly in their previous two games, losing to the San Francisco 49ers 41-34 before beating the woeful Jacksonville Jaguars 23-16.
But after turning it around against the Dolphins, there are still plenty of mistakes for Belichick to point out.
"He never falls short of having a bunch of things that we need to fix," cornerback Devin McCourty said. "There's no coach that gets you better prepared to go into the playoffs."
New England had trailed San Francisco 31-3 and Jacksonville 10-0 and sputtered at the start again on Sunday, turning the ball over on downs on its first possession and punting on its second.
Under heavy pressure, rookie Ryan Tannehill threw a pass that was intercepted by Steve Gregory, who returned it 13 yards to the Miami 28. Gronkowski gained 19 yards on the first pass thrown to him. On the second play of the series, Brady connected with Welker over the middle for a milestone completion.
Brady moved into second place in NFL history with a touchdown pass in 48 consecutive games, breaking a tie with Hall of Famer Johnny Unitas. And Brady became the first player to throw at least one scoring pass in all 16 games for three straight seasons.
Brady finished with 22 completions in 36 attempts for 284 yards. Tannehill was 20 for 35 for 235.
After each touchdown, fans tossed into the air some of the snow that was left over from an overnight accumulation of about 6 inches.
New England's top-rated offense got plenty of help from an improving defense.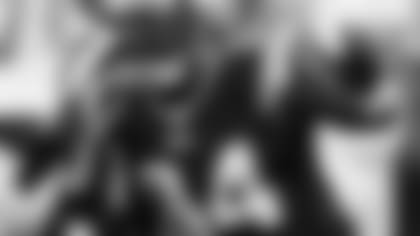 Rookie Justin Francis had three sacks. Another rookie, Dont'a Hightower, recovered a fumble at the Patriots 1 on a botched handoff from Tannehill to Bush.
On the ensuing drive, a pass to Welker popped loose and Miami's Chris Clemons came up with the ball and ran about 60 yards for what officials ruled a touchdown. But the call was reversed and the play was ruled an incomplete pass upon video review.
Just another play that went New England's way.
There were plenty in the first half when the Patriots had advantages of 279-106 in yards, 18-7 in first downs and 18:35 to 11:25 in time of possession.
"This is like our playoff game," Miami center Mike Pouncey said, "and we didn't go out and perform the way we should have."
Notes: The Patriots won their sixth straight game against the Dolphins and finished with 11 wins in their last 12 games. ... Tannehill set Miami rookie records with 282 completions, 484 attempts and 3,294 yards passing ... The Patriots set an NFL record with 444 first downs after getting 28. They began the game tied with the 2011 New Orleans Saints at 416. ... Miami's Anthony Fasano and Kevin Burnett left the game in the third quarter and were evaluated for concussions. No results were announced.