This is Andre Carter's second go-round with New England. He was named to the Pro Bowl - his first ever - after his remarkable 2011 campaign that saw him register 10 sacks in 14 games before suffering a quadriceps injury in December of that year. Following that season, he signed with Oakland as a free agent and was with the Raiders until the end of this past August. Carter originally was drafted seventh overall in 2001 by San Francisco. His dad, Rubin, played for the Denver Broncos and was an assistant on the Redskins' staff from 1999-2000.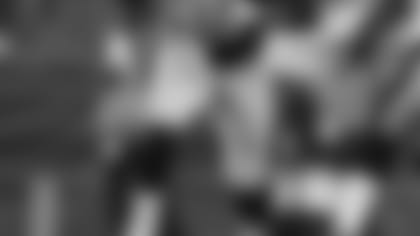 Q: Do you remember putting pads on for the first time?
AC:Yes, I was a sophomore at Palmetto High School in Miami. I'm looking at the guy next to me because this was my first practice. I never played the game, never played Pop Warner. So, I had my football pants on and I'm watching the guy next to me to see how he puts his pads on. He was a wide receiver.
Q: What was your first big play?
AC:I was a junior at Oak Grove High School in San Jose. Had a big sack and at the time, I was still new to the game, so, I just was like, 'OK, back to the huddle,' but everyone was telling me it was a big play! (laughs) I spent one year in Miami and then we moved back to California.
Q: Tell me about first job.
AC:Mowing lawns. Just a neighborhood deal in high school. It was fun! My dad taught me. I did it for kicks – 15 bucks per lawn. It was my only job, because after that it was just school and football.
Q: What was your first car?
AC:Ford Taurus. Everybody mocked it. It was a 1993, teal. Only went 85 miles per hour, top speed. I had to tell people, 'Look, I'm following you to this destination. Do not go fast because this is how fast my car goes.' And of course, on purpose, guys go fast. I'm like, 'C'mon man!' I had it through college, then got rid of it my rookie year.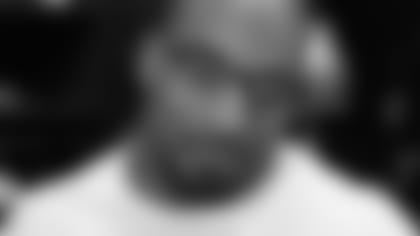 Q: What do you ride around in these days?
AC:I've got a BMW X5, the M-Series. I dig it!
Q: A lot of guys say they're afraid to fly. Are you?
AC:No, I've always been accustomed to flying ever since I can remember, going to my dad's football games or just taking family trips. Our home base was Florida.
AC:Yes I am. Dogs. Love dogs. Unfortunately, I don't have any big dogs because my wife is hypoallergenic, but I love the bull mastiffs and I had a German shepherd when I was a kid. Today, we have a Labradoodle. Boy. My son named him Taco.
Q: I know you're musically inclined, with your piano background, but if I could give you any skill or talent you don't have, what would you want?
AC:Oh, to play the drums. I love music. Just watching the old-school jazz musicians from the '40s, '50s…. those guys could jam all day, all night.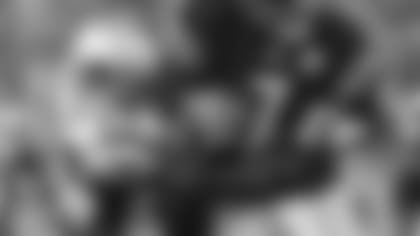 Q: When did you first start playing piano?
AC:My mom got me started when I was 5 or 6 years old. I would've been good, but with moving around a lot and school sports, I just wasn't as dedicated. But for me, it's like riding a bike. If I get on the keyboard again, it'll just kind of come back. I've got a baby grand at home. I play when I can, but I haven't played in so long. It's something I'll take up when I'm done with football.
Q: Now, if you could play a character in a movie, who would it be?
AC:I like Brad Pitt. He's stepped his game up tremendously. I'm actually feeling Ben Affleck in the latest movie he did with Justin Timberlake ("Runner Runner").
Q: If you weren't playing football for a living, what would you want to do?
AC:Probably teaching. My mom was a teacher, and I've always had an interest in working with kids. I love math. Grade school or high school level.
Q: If you could meet anyone from any point in history, who would it be?
AC:Oh, man, Nelson Mandela. Just all that he'd been through in life, and to still be young-spirited and a fighter. I definitely admire that.
Q: Do you have any nicknames? Or have you ever?
AC:They used to call me Deebo, from (the movie) 'Friday.' (laughs)
Q: Do you like to travel?
AC:Yeah, I'd like to go to Italy, anywhere in Europe, actually. Japan, China… me and my wife love Hawaii.