The Utah native (pronounced Silver SEE-ling-gah) is of American Samoan heritage and one of 11 children. He has bounced around the NFL with San Francisco, Denver and Seattle since entering the league in 2011. He's mostly had stints on teams' practice squads, with occasional call-ups to the 53, as he did in November of 2013 here in New England. Since then, Siliga has earned a starting job at defensive tackle and been productive both against the run and in the pass rush.
OK, help me out with your last name …
There's an N you pronounce that isn't there. Explain that to me.
Yeah. It's our Samoan vocabulary. All I know is that's how we say it.
Yeah, like Isaac [Sopoaga], his last name is So-po-ANG-gah.
Is that always the case when there's a vowel before a G?
How do you know when it is or isn't?
It's kind of crazy. I just know how to read it. I don't know why.
Have you ever been to Samoa?
Yeah, when I was a little kid. Been a long time, though. I'm trying to go back this coming year, with Isaac.
What's your earliest football memory?
Probably when my brother first signed me up at the age of 8. We had this little tackling circuit at practice. There were six guys, three levels of two. You run through the first two, then break through to the next to, and after the third, there's a running back you have to tackle. My first experience ever, not knowing anything, I ran everybody over and everyone was on the ground (laughs). That's my funniest memory.
Were you bigger than most kids at that point?**
Oh, yeah. I was a real chubby boy. (laughs)
You're one of 11 kids. Where do you fall in the hierarchy?
I'm the youngest. Now we have 12 because I have an adopted little sister. The oldest is 43, and I'm 23. At one point we all lived together.
People everywhere (laughs), it was hectic, but it was fun. When my parents cooked, it was always a big, big meal. We always had leftovers, but they only lasted an hour. It's pretty cool now, with all the nieces and nephews. One of my nieces is only two years younger than me. And now my dad's a great-grandfather.
My little league coach, his son was one of my best friends. They had a construction business - fix houses, re-sell them. We would rip out the whole inside and then he'd hire people to rebuild. I was in middle school and high school. It was hard work, physically and long hours. By the end of the day, I was dead.
Actually, it was last year. I got a 2013 Chrysler. Before that, I would just hitch a ride with my buddies.
People asking you for rides now?
Who was your first crush?
How about your first date?
Yeah, I went to a Chinese restaurant. It was the worst food I ever had in my life. I got sick that same date and made up a big excuse about having to go home. My stomach was all screwed up. It was that type of night. She was fine, but I just ordered the wrong thing. We were sitting there for about an hour and it just hit me. It was bad.
Yeah, but I never told her (laugh).
I like dogs. I'm allergic to cats, so, I don't like them.
Mike does … I live with Mike [Hoomanawanui]. I've never owned my own dog. One day … probably a British bulldog, so he can be lazy with me (laughs).
So, you're rooming with Hooman? What's that like?
It's cool. We're real similar. I met him when I first came up here. I needed a place and he offered.
Very nice of him. OK, if I could give you any skill or talent you don't have, what would you want?
Sing. I know how to dance, but I'd like to sing to all the girls. I did a little bit of church choir as a kid, but nothing past that.
If you could trade places with anyone for a day, would you, and who would it be?
An astronaut. Even though I'm afraid of heights. That would be cool.
If we made your life story into a movie, who would you cast as Sealver Siliga?
Probably Isaac. He's the best actor in this locker room.
Now, if you could play a character in a movie, who would it be?
I was a big fan of Jean-Claude van Damme, so, any of his movies.
If you weren't playing football for a living, what would you want to do?
I'd be a power-lifter. Like World's Strongest Man on ESPN.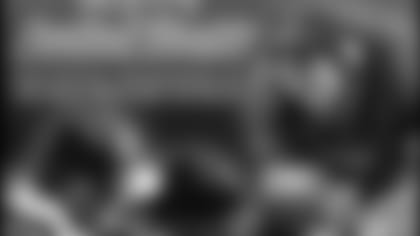 ](/fan-zone/patriots-football-weekly.html)Have you ever been star-struck?
Probably my rookie year, by everybody in the league. First time I met John Elway. And when I went to San Francisco, because I grew up a Niners fan.
Do you have any guilty pleasures?
I like Miley Cyrus songs. The wrecking ball song … just don't tell a lot of people that (laughs).
Too late … And finally, do you have any nicknames? Or have you ever?
In high school, they called me "Silver Bullet." I was also a fan of David Ortiz, so my friends called me "Big Papi."
For more great Patriots content like this, subscribe to Patriots Football Weekly today!