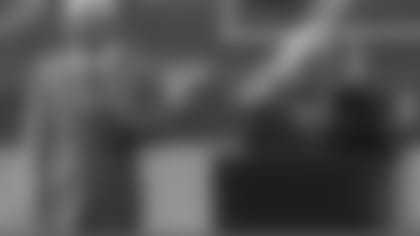 ]()
            The news was hardly shocking following Friday night's report on WBZ that the Patriots new football stadium would be changing names from CMGI Field to Gillette Stadium, but the deal was consummated Monday afternoon at a 5 p.m. press conference held at midfield of the new 68,000-seat facility just before the Patriots held a practice there in front of club seat and luxury suite ticket holders.  

Patriots Chairman and Owner Robert Kraft stood on a podium and raved about the organization's new stadium name sponsor. The deal with the Boston-based company secures exclusive naming rights for 15 years and includes other sponsorship and promotional rights in and around the venue.
"I cannot think of a better name for our state-of-the-art facility than Gillette Stadium," Kraft said. "We originally planned to make this announcement later in the week, but tonight the World Champion New England Patriots will be taking this field for the first time as a team, and we wanted them to take the first step into the new season in their new home under the Gillette brand name."
He then compared the Patriots new stadium to Gillette's business innovations. "The Mach 3 shaving system set new standards for consumers," Kraft lauded, "and the new Gillette Stadium is a major step forward in the design and construction of professional sports facilities."
Kraft confirmed that CMGI officials were part of the name-change process. That company, which originally purchased the naming rights, has seen its stock fall from a high of well over $150 per share to the $.39 per share it was trading for Monday. This name change essentially lifts a heavy financial liability off of CMGI's books.
"CMGI has been a wonderful partner," Kraft said. "They lived up to every commitment; they've paid every obligation. The nature of their business has changed and when an opportunity came along that somebody else may want it, [CMGI] had the ability to yes or no and they were happy for this arrangement to occur.
"This is a three-party arrangement that has worked out in everybody's best interest," Kraft pointed out. "It was like having your special teams work with your offense and defense at the same time. I think everybody is stronger for having this arrangement."
With that, Head Coach Bill Belichick welcomed Gillette chairman and CEO Jim Kilts to the Patriots team by presenting him an autographed Patriots helmet and a personalized jersey sporting the number one.
"Gillette Stadium, quite simply, is a great fit for our company in many ways," Kilts said upon stepping to the microphone. "Our roots in Massachusetts are deep. Gillette was founded in Boston more than 100 years ago and we have more than 4,000 employees in the Greater Boston area with hundreds more working throughout New England. Our company has long been a pioneer in sports marketing.
"From the beginning, Gillette's philosophy for sports marketing has been to equate the excellence of top sports performance with the excellence and high quality embodied in all Gillette brands," Kilts added.
Eric Kraus, Gillette's vice president of corporate communications, stressed the company's relationship with the local franchises as an example of its heavy sports involvement.
"We've had a 10-year relationship with the Patriots. Mach 3 Turbo signage was on the scoreboard prior to us doing this naming association," Kraus said. "We have signage and relationships with all the major sports teams in New England. When you take a look at what a world class facility this is and take a look at the World Champion New England Patriots and the opportunity that was brought to us, it was a perfect fit for our brand.
"We've talked [about stadium naming rights] in the past, but this is the first time it was serious and it just made sense. There's a significant difference between putting the Gillette name on a facility like this and putting it on many other sports facilities in the country, including Schaefer/Sullivan/Foxboro Stadium."
Financial details of the arrangement were not disclosed.