Patriots wide receiver Randy Moss during the evening in-stadium practice at Gillette Stadium on August 11, 2008.


You've probably already fallen in love with his play following the bone-crunching hit Thursday that knocked Ray Rice's helmet into another zip code.
Get ready to gush over his attitude, too.
Despite an impressive debut in last week's preseason loss to Baltimore, New England Patriots linebacker Jerod Mayocontinues to toe the company line in regards to all rookies who play for head coach Bill Belichick.
With an eye toward the future, not on the past, Mayo proved to be his own worst critic Monday when dissecting his performance following the team's morning walkthrough practice at the Dana-Farber Field House.
"There are a lot of things I have to work on," said Mayo, the 10th overall pick in this year's draft. "I made some good plays out there, but at the same time, there are things I have to work on, and that's what I'm focusing on.
"My heart was pounding pretty hard the first couple of plays, but after watching the film, I left a lot of plays out there that I'm trying to get better for this week."
Mayo looked every bit like a first-round pick starting next to veteran Tedy Bruschiat inside linebacker. He made a heads-up play in pass coverage to limit Rice to a 4-yard gain over the middle on Baltimore's opening drive and also brought down the Ravens' rookie running back two more times in the first quarter. His final tackle of the night separated Rice from his own helmet and drew a roaring ovation from the crowd at Gillette Stadium.
Asked if that hit served as his "Welcome to the NFL" moment, Mayo calmly said, "Not yet.
"Maybe during a regular season game, but right now I'm trying to focus on the little things and technique issues I have and trying to get better each day."
Mayo came out relaxed on Thursday thanks to a pep talk from Bruschi, who's entering his 13th season – all with New England.
"The best advice I got was before the game when [he] told me to calm down and play football," Mayo said. "I've been playing football my whole life and he really helped me along the way."
The former Tennessee Volunteer is also benefiting from working closely with fellow rookie linebackers Gary Guyton, Vince Reddand Shawn Crable, who all drew praise from Belichick for their performance against the Ravens.
"We came in together and we're trying to stay here together," Mayo said. "We definitely discussed all the bad – not the good, because we're trying to get better each and every day."
So far, Mayo's following the rookie protocol – work hard, be humble and let your play do the talking.
And then there were two …
Defensive linemen Jarvis Greenand Mike Wrightpracticed Monday night for the first time this summer after spending most of training camp on the physically unable to perform list.
Green opened camp on the PUP list after undergoing offseason shoulder surgery while Wright sat out to rehabilitate a foot injury that forced him to miss seven games in 2007.
Offensive linemen Oliver Rossand Stephen Neal are the only two players left on the PUP list. Neal is still working his way back onto the field after getting knocked out of Super Bowl XLII with a knee injury. Ross – a nine-year veteran who signed with the Patriots on June 2 – has not played since 2006. He missed all of last season with a triceps injury.
Quarterback Tom Bradyparticipated in passing drills at Monday's evening session inside Gillette, marking the first time he has thrown during practice in a week.
Brady, who sat out Thursday's preseason opener against Baltimore, shook off the rust during warm-ups and participated sparingly in the 11-on-11 drills as a heavy rainstorm soaked the playing field.
The two-time Super Bowl MVP hit his stride during the second half of practice, connecting with Randy Mosson a play-action pass over the middle after faking a handoff to Laurence Maroney. Following a quick break for special teams' work, Brady took advantage of a blown assignment on defense and uncorked a bomb to wide-open fullback Heath Evans30 yards down the right sideline.
The time off clearly didn't affect his sense of humor – or competitive edge. With Ellis Hobbsracing down the field on a kick-return drill, Brady jokingly dashed out from the sideline in an attempt to take down the veteran cornerback.
Brady later scrambled for a touchdown during goal-line drills, taunting second-year lineman Titus Adamson his way to the end zone and finishing the play with a fake spike. Adams got his revenge on the following snap with an interception after Mike Vrabeltipped Brady's pass toward the sideline.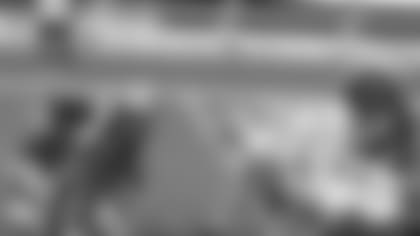 The rain wreaked havoc on the passing game as backup quarterback Matt Casselfumbled a snap from center Dan Koppenduring 11-on-11 drills, forcing the duo to run a lap around the practice field.
Two plays later, rookie quarterback Kevin O'Connelldropped the snap with Dan Connollyat center. They, too, ran a lap with Cassel and Koppen back just in time to take over on offense. For good measure, all three quarterbacks stuck around after pratice with Koppen, Connolly and lineman Ryan Wendell to work on correcting the mistakes.
Wide receiver Jabar Gaffneyalso fell victim to the unfavorable conditions, dropping a pass from Brady despite gaining separation on a curl route. With the passing game in flux, running backs Kevin Faulkand Sammy Morrisgot some much-needed work. Morris, who also did not play Thursday, practiced for the first time in a week.
The rain tailed off toward the end of practice, allowing kicker Stephen Gostkowskito work on field goals.
Not-so-perfect attendance
Seventeen players – including Neal and Ross – sat out Monday night's practice: Safety Rodney Harrison, guard Russ Hochstein, quarterback Matt Gutierrez, tackle Matt Light, fullback Kyle Eckel, tight end Stephen Spach, wide receivers Sam Aikenand Kelley Washingtonand defensive backs Jonathan Wilhite, Jason Webster, Antwain Spann, James Sanders, Lewis Sandersand Mike Richardson. Light did not practice after participating in the morning walkthrough. Gutierrez's absence after attempting a team-high 16 passes in Thursday's loss to Baltimore gave the team's three other quarterbacks an opportunity to work more exclusively with the offense. … Wesley Brittcontinued to fill in for Light at left tackle while Billy Yatesworked with the starting offensive line at right guard, leaving Nick Kaczurat the other tackle position. … Second-year safety Brandon Meriweathermissed an opportunity for an interception with Brady behind center, but made up for it during 11-on-11 drills by picking off a pass from O'Connell, who tried to hit tight end Jonathan Stupardown the left sideline. Meriweather came up with another interception later in practice when he caught a pass from Cassel deflected by linebacker Eric Alexander. … Tight end David Thomascame up with the catch of the night on a leaping grab behind rookie cornerback Terrence Wheatley, courtesy of a quick screen pass from Cassel.