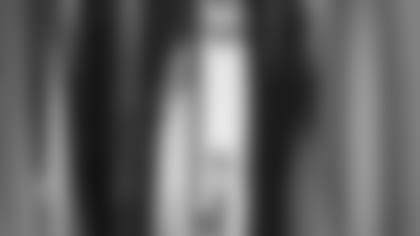 ]()
            Two days ago Rodney Harrison thought he would have a better shot of playing in the Canadian Football League than he would of playing in New England. But after a red-eye flight across the country on Monday night and a very positive meeting with Patriots Head Coach Bill Belichick, Harrison decided the New England defensive backfield was just the place for him.  

"I had no idea that the Patriots were interested in me," Harrison said via conference all Wednesday afternoon. "I felt like I was going to pretty much stay out West either with Oakland or Denver."
But that all changed when New England called. Harrison admitted that he was at first unsure of whether a visit to New England would be a worthwhile trip, but was convinced by Belichick that the Patriots were serious in their interest. The veteran safety said he was also influenced by the team's Tuesday signing of prize free agent linebacker Rosevelt Colvin.
"It was a surprise for me," Harrison said. "But, when people step up to the plate and they tell you that they want you and they show interest, you feel almost compelled to be there. Like I said, it was a good situation for me. I was in the office and I was very impressed with the signing of Rosevelt Colvin. I was in the office as he was leaving and to find out that they signed him and Tyrone Poole makes me understand that they are making a run at defense, I mean that is important. I know they have a great offense and they can score points, which I really haven't been that accustomed to. They have the ability to put points on the board and that was important to me."
Much like Colvin did just one day earlier, Harrison pointed to the fact that the Patriots are just one year removed from a Super Bowl win as one of the factors in his decision to sign with New England. He also felt confident in the coaching staff and players in terms of the team putting together a winning mix.
"First of all, they're one year removed from the Super Bowl," Harrison said. "Secondly, Belichick is considered a defensive mastermind. I've watched Lawyer Milloy for so many years make big plays and roam the secondary and make big hits and really look like he's having a lot of fun back there. To have the opportunity to play on a team just removed from the Super Bowl, a team that went 9-7 and after being with the Chargers for so many years they were 8-8 last year. They're a team with a very good quarterback in Tom Brady and they have a lot of veteran players. That builds a good situation. I came up and sat down with Belichick and he assured me that I don't have to look over my shoulder in terms of my age and wondering if this was a one-year deal. I specifically told him that I didn't want this to be a one-year deal and he assured me that it wasn't going to be a one-year deal. He stepped up and from a financial standpoint, the offer showed a lot of interest. I'm still on the East Coast. I live in Atlanta, so I wanted to be a little closer to home. It was a good situation and my fiancée told me to go for it."
And while Harrison is aware of the unique way in which Belichick used his safeties last season, he isn't worried about finding his role with his new team.
"They said my role could be pretty much anything," Harrison said of conversations with Belichick and the coaching staff. "I know they play split safeties, I know they blitz with the safeties; they have their safeties close to the line. It could be pretty much anything. He just basically told me that he's watched me for years and he likes what I bring to the table. He knows that I play hard and I play intense and that I'm a pro. He wanted my leadership. When he told me that … also, he didn't mention one thing about injuries last year or anything that ever happened with the Chargers. He just said, 'I know you can play football and I want you on our defense.' Once that went down like that, and along with the staff, I knew some of the guys from the Pro Bowl, it was just a good fit for us."
So while the signing may have taken fans and media alike by surprise, from the player's perspective it is simply a good fit. With Harrison and Milloy the Patriots have two Pro Bowl safeties and a new look on defense. The season is a long way off, but so far the Patriots have made big strides through free agency in improving on a sub-par 2002 defensive unit.
Krafts recognized for business prowess
Patriots Owner Robert Kraft and Vice Chair Jonathan Kraft were honored today as Sports Industrialists of the Year by The Sports Business Daily for 2002. And who can argue with the choice, as the 2002 calendar year included such milestones for the Krafts as the Patriots first Super Bowl win and the opening of Gillette Stadium, the team's new $325 million facility.
Kraft received the award at the 2003 World Congress of Sports today in New York City presented by The Sports Business Journal. The Krafts are just one of a large number of major names from throughout the sports world in attendance at the event that is promoted as "the premier event for senior-level executives in the business of sports." Other notable names on the long list of those that will attend the two-day event include MLB Commissioner Bud Selig, Red Sox Chairman John Henry, and President of CBS Sports Sean McManus.
"The Krafts' storybook year is the result of nearly a decade of strategic planning, sound financial management and masterful marketing," Marcus DiNitto, Managing Editor of The Sports Business Daily said in a press release. "The Krafts have taken the Patriots, previously one of the most moribund professional franchises in sports, and made them into a thriving $1 billion sports and entertainment property producing record revenue. By running their sports operations with modern-day business principles, the Krafts have significantly increased the value of their investment, while delivering a quality product and experience for their consumers.
"Robert and Jonathan Kraft have built a sports operation that will remain an indelible part of the sports business landscape. They are influential in league affairs, are active within their community and offer a model for team ownership."
Past winners of the award include the President of ESPN George Bodenheimer (2001), NFL Commissioner Paul Tagliabue (2000), and NBA Commissioner David Stern (1995)