Thursday's practice had a decidedly high energy level overall, and at one point, it crossed a line. During one punt return period, Julian Edelman and Niko Koutouvides starting fighting after Edelman, the return man, spun to avoid a tackle and smashed into Koutouvides, who was on the coverage team. Edelman took offense when Koutouvides shoved him away and the dispute escalated quickly, with both players locked in a struggle with one another while teammates tried to separate them.
Head coach Bill Belichick had seen enough. After three previous brawls this camp – all much bigger and involving more players than this one – he wasn't about to let this one flare up any further.
For the first time in recent history, at least, Belichick kicked both players off the field. The two seemed to think they were safe on the sideline, but then Belichick made his point by sending them off the field altogether and back to the locker.
While Edelman walked straight off, Koutouvides seemed to appeal his case with Berj Najarian, New England's director of football/head coach administration, but to no avail.
Wide receiver Deion Branch was asked if he'd ever seen so many brawls in one camp.
"Yeah, it's more competitive," he replied, but quickly adding, "It's just football… trust me, we've got a lot of love for each other. We love competing, and that's what we're doing. Guys are competing, we're working hard, we're tired, but most importantly, we're still coming out here and getting the job done."
Linebacker Rob Ninkovich was asked afterward if the head coach was trying to send a message to the team.
"Don't fight," the linebacker deadpanned.
There were also several big hits delivered during the team (11-on-11) period. Linebacker Brandon Spikes gave out a number of good ones, while contributing to the high-intensity nature of practice by repeatedly exhorting his teammates when they took on the offense. Rookie defensive end Chandler Jones laid the biggest stick of the day when he shot a gap perfectly and stuffed running back Stevan Ridley for a loss.
Ridley may have been injured on that play. Right afterward, he retreated to the sideline, where he spent the remainder of practice being tended to by the medical staff. Ridley's right knee appeared to be giving him a problem, though he did not receive any ice and walked off the field under his own power after practice, and without any medical staff accompanying him.
Rookie safety Tavon Wilson also sat out practice, right around the same time Ridley was hurt. It appeared that Wilson dinged his left ankle while trying to break up a deep pass to tight end Aaron Hernandez (see today's Play of the Day). Unlike Ridley, Wilson's malady required ice and he did not return to action.
Ninkovich had the best statistical season of his career last year, recording 74 tackles, 6.5 sacks, 2 interceptions, 1 forced fumble and 3 recovered fumbles while playing in all 16 regular season games at outside linebacker.
The 28-year-old hopes to build on that success this season, with one major change: he's been lining up at defensive end.
A defensive transition to more 4-3 sets and the addition of first-round draft pick Dont'a Hightower have combined to push Ninkovich to the defensive line, where he will line up for the first time since his days as a reserve defensive end with the Miami Dolphins in 2007.
While there may be some growing pains as he adapts to his new position, Ninkovich says he feels confident and excited about his new role, especially given his prior experience at the position.
"In college, that was my position, that's all I played. My first couple years in the NFL, I was only a defensive end when I came here and learned how to play outside linebacker. It's kind of something that I'm just adding to the bag of tricks, you know? If you can play end, play outside [linebacker], overall it just helps everything.
"Coming into camp, I knew obviously that there were going to be some changes. There's always changes in training camp," said Ninkovich after Thursday's practice. "So I was able to go to a position I've played before.. it's a little more 'go get the quarterback, go get the ball' type mentality, so it's fun for me."
So far, Ninkovich's transition back to his old position has gone smoothly. Belichick doesn't see his move to the defensive line as a major one, noting that he will still be doing similar things from the defensive end position as he did playing outside linebacker.
"Rob's always played at the end of the line of scrimmage, so that's still where he plays. Some things he's doing this year he's done in the past, maybe in different frequencies or percentages but he's still fundamentally an end-of-the-line player."
Belichick also declined to label Ninkovich as confined to one position or the other, which may speak to his versatility as both a pass-rusher and a run-stopper.
"You can do whatever you want. I see him as an end-of-the-line player – that's the way I would classify him. You can call him whatever you want, it doesn't matter to me."
At 6-2, 260, some see Ninkovich as too under-sized to be on the defensive line, but he aims to prove those critics wrong.
"I mean, I'm pretty strong, I've always been pretty strong, so I think that tight ends, I've been able to handle them pretty well, tackles, both of them at the same time. I should be all right.
"I've been doing it for a long time, and it's just something that you work on, you get your techniques right, you get your hand placement right. Especially in that position, it's more about technique and leverage than it is just brute strength," he explained.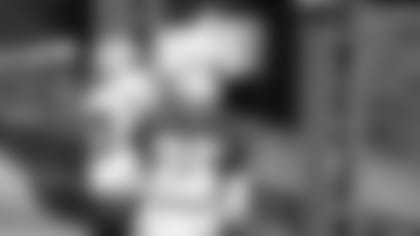 Tight end Rob Gronkowski was back on the field for the second straight day after missing three consecutive practices following the Saints game. He looked no worse off than before, but acknowledged he doesn't like being a spectator at practice.
"Yeah, you definitely never want to miss any practices and obviously there's always a setback when you miss a couple," he stated. "You never want to and that's the number one thing, to always get out there and practice and get your conditioning right and always have the chemistry with the offense.
"Everyday you're going out there and you want to improve. From the beginning of the camp, to this day I feel like I've improved a lot from where I started at. It's just great going out, competing against everyone. Going out there every single day you get the speed of the game down more, you get the chemistry down with the quarterbacks more and just overall you get better just being out there facing competition every day."
Meanwhile, Branch has been for more active in practice since the Saints game than he was prior to it. He even sat out the preseason opener versus New Orleans, which prompted a question about his health.
"It was a coach's decision [not to play versus New Orleans]," he answered. "I come out here, do what the coach asks of me and go from there. If coach tells me to do this, that's what I'm going to do."
And at age 33, how is he feeling at this point in camp, relative to previous seasons?
"Just like everybody else," he replied. "Tired, bruised, but that's training camp. There's nobody out here that's 100 percent. From the point we touch this field, day one, that's when you start declining. It's all about how mentally prepared are you, how physically fit are you. It's all about fighting and grinding through these last couple of dog days."
Buy: Aaron Hernandez – He looks quicker than ever, is getting open consistently, and catching almost everything thrown his way.
Sell: Aaron Hernandez – Despite the above, he continues to wrestle with a nagging right foot injury which requires frequent attention from the medical staff, often in between plays.
Play of the Day: Hernandez catch – During team period, Hernandez ran a seam route and was immediately met down field by safeties Steve Gregory and rookie Tavon Wilson. Quarterback Tom Brady floated a pass in their direction, and Hernandez split the two defenders and "out-rebounded" them for the ball. The play was good for a long gain of some 25 to 30 yards.