FOXBOROUGH, Mass. - Around 500 high school football players left their cleat marks on the Gillette Stadium turf last week hoping their strides might one day land them a spot on a college football roster.
For the second straight year, Gillette Stadium hosted the Massachusetts High School Football Coaches Association's (MHSFCA) annual combine.
Akin to its NFL counterpart, the combine is just one step along the way for high schoolers looking to take their game to the next level. It also provides just one piece to the puzzle for prospective college coaches on the recruiting trail.
More than 30 colleges were also in attendance. Among them was Anna Maria College, led by head coach Marc Klaiman and assistant head coach Bob Frey. Anna Maria football played its inaugural varsity season in 2009, so much of its staff's focus has been simply to get out the word about the program.
"That's been a big part of it," Klaiman said. "These types of events are important for us in that regard. We're putting the finishing touches on our senior class recruiting now, so this gives us a chance to watch some people we might be looking at for next year. Also, it helps our visibility and getting the word out about our program to some kids who might not otherwise know about us."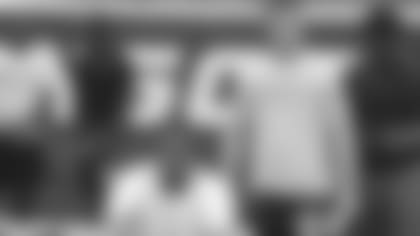 The combine began nearly two decades ago as the result of a collaboration between former Whitman-Hanson High football coach Bob Bancroft and business teacher Richard Davis as a means to highlight local gridiron talent. For most of its life, the combine was held at Xaverian Brothers, but the event shifted to Gillette Stadium last year, when Robert Kraft offered use of the facility at no cost.
Through the combine, the MHSFCA strives to create the essential dossier to put Massachusetts football prospects on the map.
Aside from measuring the athletes' 40-yard dash time, reps on the weight bench and broad jump distance, the publication also serves as a fundraiser. The proceeds from the sale of the prospect guide as well as the $20 combine entry fee are donated to the Shriners Hospital of Boston.
"Events like this are great," Frey said. "You're able to catch up with coaches and get their opinions of someone who you might be looking out for. And sometimes you're watching one person and you see somebody else that you hadn't been looking at before and you see something in them. It all helps in the process."