Torry Holt met with the media on Tuesday, May 11 at Gillette Stadium


Torry Holtsigned with the Patriots this spring, in part, because he wanted to play with a truly top-echelon franchise quarterback like Tom Brady. In doing so the former Rams star is intent on catching passes as a productive aspect of the Patriots offense in his first season in New England.
But the 12th-year veteran who's caught 920 passes over the years, is also quite willing to serve a mentoring role for the young players around him. He did so last season in his only campaign in Jacksonville, aiding in the development of Mike Sims-Walker.
Holt hopes to help out in a similar fashion with New England's young receiving corps that includes second-year slot man Julian Edelman, sophomore speedster Brandon Tate and 2010 third-round pick Taylor Price.
"I think the best way I can help and teach those guys, first and foremost, is being here, being diligent, being precise, being efficient, being on time as much as I possibly can, participating in the drills, participating in the workouts, running routes at the proper depth, being efficient off the line of scrimmage — the detailed things," Holt told reporters Wednesday afternoon at Gillette Stadium. "Most importantly, just leading by example. These guys are young, eager guys who want to learn. They want to be good at their particular craft. I know they're going to be watching me day in and day out."
It's the tact he took last season with Sims-Walker – leading more by example than anything else – as the second-year former third-round pick quadrupled his rookie production in becoming the Jags top target.
"I would like to think I had a pretty good role in (Sims-Walker's) development," Holt said. "Just trying to show by example. Not doing anything out of the ordinary. I'm just showing up for work every day enjoying what it is I like to do and then going out on Sundays and trying to make it work."
Last season that work included 12 starts in 15 games played for the Jaguars. Holt finished third on the team with 51 receptions – behind Sims-Walker (63) and running back Maurice Jones-Drew(53) – for 722 yards. Though he didn't score a single touchdown, he did have a 63-yard reception that was the team's longest on the season. And his 14.2-yard average was second on the team (TE Marcedes Lewis, 16.2) among eight Jaguars with at least 10 catches.
Though Holt may no longer be the dominant athlete he was when he had six straight seasons from 2002-07 in St. Louis with more than 90 catches and at least 1,100 yards, the sage veteran reiterated once again that has learned to maximize his remaining physical skills.
"I've gotten a lot more craftier," Holt said. "What I mean by that is a little bit more savvy, a little bit more smarter in the way I train, the way I train throughout the course of the season and how I play on Sundays. I kind of have an idea how teams are going to play me on Sundays, and like I said before, I can counter that.
"I can get to a route quicker, I can get to my spot quicker, before you even make an adjustment, because I know and I've seen pretty much every defense you can throw at someone. So just becoming smarter, savvier, a little craftier...patience. Wiser. Those are things that you, that come when you get older as you put in the time at any profession, so those are the things I'm leaning on now."
While he's doing all those things in an effort to produce on the field, his new young teammates can lean on Holt off the field to show them the way to succeed as an elite receiver in the NFL. Just as he leaned on his veteran teammates when he was getting his feet wet as a first-round pick in St. Louis.
"I had Isaac Bruce show me that, Ricky Proehlshowed me that, Marshall Faulk showed me that, Ernie Conwellshowed me that, coach [Mike] Martz, the list goes on and on," Holt recalls of learning how to be a true professional. "I was fortunate enough when I came into the National Football League 12 years ago, I had good guys in front of me that worked, that paid attention to the details. Our best players on our team were the hardest workers, so for someone like myself, coming in young, there was no room for me to slack, no room for me to be a prima donna — I had to come in and try to mimic that because that was the standard."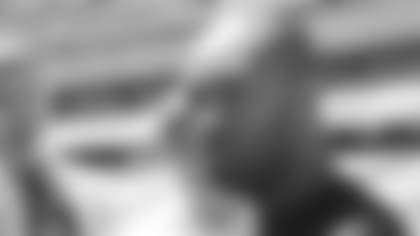 ]()And in a pinch Holt can even show youngsters like Edelman and Price how to take care of their own injuries. The seven-time Pro Bowler showed off a badly mangled middle finger on his left hand that bends in a direction that's clearly not natural, displaying with pride a physical manifestation of his dedication to his craft. Over the year's he's learned to correct the injury literally on the fly.
"One game, we're in Seattle, and I came off the jam and it popped out," Holt said. "If you see the film, I'm popping it back in, running, the ball's thrown, I catch it, get up, give the ball to the ref, make sure my finger's (back in), run out, get it taped a little bit, run back in.
"There's times where it pops out during the play, but I'm so subtle, I pop it back in. I've gotten better than the trainers in terms of popping fingers back in. But, again, it's just a symbol of the work I've put in the National Football League. The reason I like it because it's like a symbol of … I'm representing the old school players."
Something he'll do all season long in New England for his young wide receiver teammates – both on and off the field.