There is no better time than the holidays to give back, and the Patriots have always taken the idea of pouring into the community to heart. There are events that have become traditions for Patriots players and the Patriots Foundation, and there are players new to New England who have wasted no time getting into the giving spirit.
Throughout the month of December, Patriots have been leading with generosity. From shoppings sprees to coat drives, let's see how the Patriots helped people throughout New England feel the love this holiday season.
Kyle and Marissa Van Noy continued their holiday tradition with the seventh annual "Very Van Noy Christmas" event. Through their Van Noy Valor Foundation, Kyle and Marissa work with foster kids and their families, as well as families going through the adoption process. Children and their families were invited to Gillette Stadium on Dec. 3 for a party, complete with cookie decorating, movies, and music.
Families were invited to drive through stations to pick up everything they would need for Christmas, including trees and decorations, but Kyle and Marissa added a new layer to their well-established event.
Kyle fielded questions from the kids and teenagers in front of a curtain. At the end of the Q&A, volunteers peeled back the curtain to reveal presents under more than 30 individual trees for each kid. As the kids ran to find the tree with their name on it, Kyle and Marissa watched on and helped them unwrap the gifts on their wishlists.
"I'm excited for them to enjoy their night. They deserve all those gifts. They deserve joy. They deserve those moments," Kyle said. "It's exciting watching them open gifts. They had no idea they were coming. They thought they were coming in, getting some food, getting a Q&A with me ... That's pretty awesome."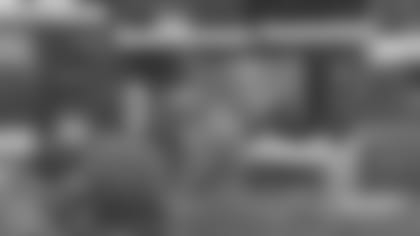 Kyle was back at it again on Dec. 20 with some teammates.
Kyle, Devin McCourty, and Deatrich Wise Jr. teamed up to sponsor a shopping spree for 30 local kids from the Mattapan Teen Center and We Belong. The night is annual event spearheaded by former Patriot Brandon Copeland and his Beyond the Basics Foundation, where he recruits former teammates to host shopping nights for kids in their NFL cities.
Kyle, McCourty, Wise and Copeland virtually joined the event to welcome the teens and introduce what a "December to Remember" is all about.
"I will just add a big thank you to Brandon Copeland. He played here last year. He's on the Atlanta Falcons now, but he started this kind of tradition and it has branched throughout the NFL with friends and people that tolerate him sending out mass text messages to pull all of this together," McCourty said. "On behalf of all the players across the league, it's an honor to serve our community, to help you guys have a special Christmas with your family, with MTC and We Belong, people that care about you."
Each person in attendance was given a $500 Target gift card to use for a shopping spree. Copeland said he was impressed by how his former Patriots teammates showed up to support this night.
"I really got to shout this out because I hate to say it especially when we're recording. New England, y'all do go the hardest out of every team," Copeland said. "Have a great time, go shopping, buy something for yourself, but also buy something for somebody else that you love."
McCourty also brought back an annual event in partnership with the Patriots Foundation: Gifts from the Gridiron. The shopping spree at Bass Pro Shop at Patriot Place is a long-standing Patriots Foundation event. Vince Wilfork originally partnered with the foundation to support the event and then McCourty took it up after Wilfork left New England.
On Dec. 14, 30 kids from local homeless shelter programs were invited to Bass Pro Shop to go on a shopping spree for the holidays. They were paired up with volunteers, Patriots cheerleaders, and Patriots alumni, including Dante Scarnecchia, Joe Andruzzi, Matt Chatham, Jon Williams and more. Each child received a $500 gift card and were encouraged to buy a coat, hat and gloves to get through the winter, a gift for a friend or family member and a gift for themselves.
Also on Dec. 14, Josh Uche brought children from a Providence Boys and Girls Club shopping at a local Dick's Sporting Goods, and the same night, Jonnu Smith hosted a shopping event of his own at another Dick's Sporting Goods. Through his Nu Family Foundation, he treated kids from Boston to a shopping spree. Earlier in the month on Dec. 7, Smith teamed up with Shaws to adopt 40 families in need. Each family received a gift card to go grocery shopping and each child was surprised with a toy.
The "Greedy Twins," Matthew Judon and Carl Davis Jr., teamed up yet again to treat local kids to a special night. After hosting a turkey giveaway event for Thanksgiving, the two hosted "Shop with a Jock" for 50 kids from EDR World Organization, Project RIGHT, Community Schools of Brockton, and Garrison Trotter Neighborhood Association.
Shop with a Jock was put on, in part, but Davis's Trenchwork Foundation. Davis said he wants to use his platform in the NFL to help provide opportunities for kids.
"They're having a blast right now," Davis said. "I'm getting to learn a lot from these kids ... We're just having good conversations."
Kids were paired up to shop at a local Walmart with Judon, Davis, and fellow Patriots teammates, including Jakobi Meyers, Myles Bryant, Brandon King, Anfernee Jennings, and Harvey Langi. Judon said it meant a lot to have their teammates come out and support the event.
"We care. It's not all about us. We're not selfish folks," Judon said. "My teammates, some of them have massages and stuff to do, but just for them to come out, I can't thank them enough."
Davis echoed this saying it spoke volumes about the Patriots locker room this season.
"It just shows about the closeness in our locker room. We're all brothers, honestly," he said. "This team is very special. I can't say I've been a part of anything like this team. It's been amazing to be on the field and off the field with these guys."
The Patriots Walter Payton Man of the Year nominee Lawrence Guy hosted his own "Shop with a Jock" even on Dec. 21. He surprised local kids with $100 gift cards to Walmart to shop for the holidays. Lawrence and his wife Andrea joined a video call during the event to surprise the kids from the Orchard Garden Boys and Girls Club of Boston.
"A lot of you will buy stuff for your mom, dad, brothers and sister," Lawrence said. "Buy something for yourself. You guys earned it, every last bit of it, for all of the hard work you did this year."
Finally, Dont'a Hightower joined in on the holiday spirit. On Instagram, Hightower shared that he was hosting a coat drive for people in need in his native Tennessee. He has five drop off locations for people to bring gently used or new coats, hats, gloves, socks, and kids sneakers. Those not in the area can also donate money via Venmo.
While Patriots players are giving back on their own time, you can follow the Patriots Foundation on Twitter to keep up to date with events and initiatives.