There's an honor that the Patriots bestow upon players who have the best results in their offseason workouts: a front-row parking space at Gillette Stadium.
For the past several years, QB Tom Bradywas one of those players who always won a spot. But not this year.
"No, I gave it up. I didn't compete for it this year," he admitted, before quickly adding, "I am sure if I would have competed I would have won but I chose not to compete."
Some might raise an eyebrow when an historically competitive guy like Brady says he chose not to compete at something. They might further have been surprised to see Number 12 take off his helmet and take a knee when the Patriots offense took the field in full squad scrimmaging versus the defense.
For most of the morning, backup QBs Matt Cassel, Matt Gutierrez, and rookie Kevin O'Connellshared the bulk of the passing chores.
But not to worry, says Brady. He's just playing it smart right now.
"Yeah, because we have another practice this afternoon. For me, I don't think it is important to throw twice a day. I want to make sure the reps I take are good reps. Two practices today is good for arm soreness. Some guys do it but for me over the long term it would be beneficial to pace it."
At the same time, Brady, who'll turn 31 next weekend, claims he feels 10 years younger.
"I feel 21. I feel like I am getting younger. My body feels really good and in great shape. My arm feels good. My mind feels good most importantly. We are ready to attack this season and see what we can make of it."
Head coach Bill Belichickalso didn't seem too concerned about Brady's taking it easy in the first session of the summer.
"We have a long training camp and we will have players doing different things on different days," he observed during his midday press conference. "Some of that is managed as you go and some of that is the way you start camp. Each player is in their own individual situation, whatever that happens to be. Some guys do more than others, some guys do less, some guys are practicing some guys aren't, some guys are practicing at different positions and so forth and so on."
Brady was also candid when pressed further about his offseason workouts, or the relatively relaxed approach he seems to have taken to them this year.
"I think there are other things that have come up in my life that I had to make choices on. One of the choices was to spend time away with things that I don't get the opportunity to do in the off-season. It was not all vacation though."
Belichick added that he felt his franchise quarterback is as prepared as he needs to be to start the new season, with one caveat.
"I think Tom did everything he can to be ready for the season. I'd like to think that everyone else did that as well. I think he will be ready to go, but he still has a long way to go too just like everyone else."
And though last season didn't end the way everyone expected, Brady maintains that he's just as excited about 2008 as he's been about any other season.
"It was a short off-season because we played all the way to the end. We were all disappointed with the way it ended. There's no doubt about that. That is part of competition. You can't always control the outcome. You control how much you put into it and I know this team put everything it could into it.
"I think that is part of what helps you move forward is to say 'OK we did the best we could do and it didn't turn out the way we would have liked but sometimes that happens.' We are moving forward with just as much energy and excitement as we always have."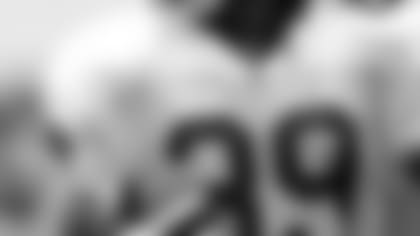 ]()EVENING PRACTICE NOTEBOOK
Who's Hot - RB Laurence MaroneyThe running game was a focus of both sessions on opening day of camp, and Maroney got plenty of reps. He also looked good catches passes out of the backfield a number of times.
Who's Not - WR Chad Jackson
The third-year receiver got off to a slow start today. He had trouble staying on his feet on the slick surface inside the Pats' practice bubble and couldn't quite hang on to all the passes thrown his way.
Play of the Day - Brady to Moss TD
In 7-on-7 work, Brady threw a nice, 40-yard TD pass to WR Randy Moss, who was double-covered on a fly route down the left sideline. The ball was perfectly lobbed over the heads of the defenders into the waiting arms of Moss, who then tip-toed to stay in bounds with the catch.
Brady threw quite a bit during the evening session, making up for his easy workload in the morning. It wasn't all pretty, though. Brady threw a pick to CB Antwain Spannin one-on-one passing drills. TE Stephen Spachwas the intended target on the out-pattern, but Spann read it well and jumped in front to make the INT.
In addition to the 12 PUP players who missed the morning session, DL Richard Seymourand TE Marcus Pollardwere not spotted on the field in the evening session. Both took part in the morning practice.
Jackson got some reps in the punt return drills. Impressively, he was holding a ball in one hand and catching the incoming punt with his other.
After missing the morning session while his contract details were ironed out, rookie LB Jerod Mayo saw his first action of training camp in the evening practice. In full-squad scrimmaging, he snuffed out a screen pass by darting into the backfield at just the right moment. At the end of the play, he came up a bit gingerly and the trainers went to work on his right leg. After several minutes of treatment, he was back up and on the sidelines.
Tedy Bruschiand Tank Williamslined up at inside linebacker when the first defensive unit faced the offense in 11-on-11 work at the end of practice. Victor Hobsonand Eric Alexander rotated in with the next unit. Fernando Bryantand rookie Terrence Wheatleymanned the corners, but there was a lot of substituting at that spot, with Jason Webster, Lewis Sanders, and Mike Richardsongetting reps as well. Rookie Jonathan Wilhiteand Spann alternated at the nickel spot.