Even though his numbers – and general lack of playing time – suggest otherwise, Chad Jacksonstill managed to learn a lot last year by watching from the sidelines.
That acrobatic touchdown catch in Friday's preseason loss to Philadelphia? He borrowed that one from Randy Moss' playbook.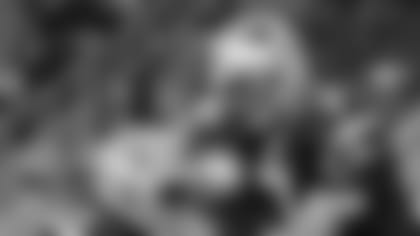 ]()"He's always making magnificent plays, so I wanted to make one, too," Jackson said Monday.
Emulating Moss certainly can't hurt his chances of making the opening-day roster. Now in his third season with the Patriots, Jackson is no guarantee to survive the final cut. He played in only two games last year and failed to catch a single pass. With pressure to show progress this summer, Jackson looked lost at times on the practice field during training camp and barely registered a blip on the radar in each of the team's first two preseason games.
Friday's breakthrough is a step in the right direction. After two underwhelming performances against the Ravens and Buccaneers, Jackson caught his first touchdown pass of the preseason – and his first at Gillette Stadium – by out-jumping safety J.R. Reed in the corner of the end zone on a well-placed lob from quarterback Matt Gutierrez.
"It felt great," he said, "I don't know what happened to the ball – I wish I had kept it – but it gave me a lot of confidence to go out there and show everybody I can make plays and help this offense progress."
One play won't save his job, but Jackson did enough Friday to earn more opportunities in Thursday's preseason finale against the New York Giants.
"It's your last chance to pretty much show what you've got," Jackson said. "Most of the starters aren't going to play and most of the primary guys – the big-name guys – are not going to play, so it's a good chance to go out there and show everybody what more I can do."
Asked to clarify, Jackson said, "More like what happened last Friday. Once the ball is in my hands, I can make plays."
Jackson is aware of his situation. He admits he was nervous in the preseason opener against the Ravens, especially because he hadn't been on the field since January, and understands his time is running out to make a positive impression on the coaching staff.
"I've had some ups and I've had some downs," he said. "I had the up last week, so I'll just continue to go out there and everything will go all right."
With the final cut-down date slated for Aug. 30, Jackson is focused on taking another step forward in Thursday's game at the Meadowlands. Absorbing more tips from Moss would be a good start.
"Now that I've got everything down, I'm just making sure I know everything during the week," Jackson said, "because in the games the game plays change every week, so you have to know all the plays during camp. We only use certain plays during the game, so you have to make sure you learn those plays and stay on top of those plays."
Cornerback Jason Websteris another player running out of time to plead his case before final roster cuts are due.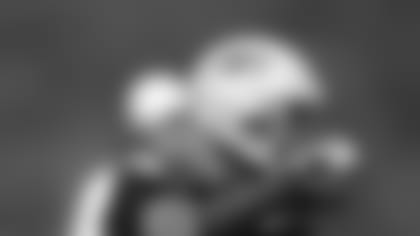 ]()Despite returning to the field for warm-ups Monday, the ninth-year veteran has missed a substantial amount of practice time this summer and has yet to play in the preseason. Since the Patriots are thin at cornerback, he still has a chance to earn his spot if he can get back on the field in time for Thursday's game against the Giants.
"My whole goal is to go out there and be the best I can be," Webster said before practice Monday. "I'm doing my best to be out there as soon as I can."
If Webster does not play Thursday, Patriots head coach Bill Belichickwill have to rely on other forms of evaluation to make his final decision, which may include thumbing through Webster's resume. The veteran cornerback has spent time in San Francisco, Atlanta and Buffalo. Last season, he played in only game for the Bills before breaking him arm in September.
"You can't judge him on practices that he hasn't been at," Belichick said. "You have to take what you have on film from Buffalo, which wasn't a whole lot from last year, or before that and take it on the spring practices, the [off-season training activity] and the practices that he had here at training camp."
Webster has been in this position before. In addition to missing 15 games last season, he sat out nine games for the 49ers in 2003 with a knee injury and also missed 15 games over a three-year span with the Falcons due to a reoccurring groin injury.
"I've learned that playing in the NFL, injuries are a part of the game and you can't do anything about them but try to prepare and train my body so that they won't happen as often as they could possibly happen," Webster said. "I just train and work hard and hopefully I'll be out there soon."
With another short week ahead of them, the Patriots are working hard to prepare for their preseason finale in addition to getting ready for their Week 1 showdown against Kansas City on Sept. 7.
]()Thursday's game at Giants Stadium will mark their third game in 12 days, beginning with their loss at Tampa Bay on Aug. 17.
"We are trying to put three days into two," Belichick said Monday. "Obviously, we still have a lot of work to do and we only have a few practices left from now until the start of the regular season and one more preseason game. We want to try to take advantage of those opportunities, make the most of them and gain as much ground as we can as a football team to get ready for Kansas City."
Coming off their third consecutive preseason loss, the Patriots clearly have work to do with the opener less than two weeks away. After Thursday's game, they'll have a full week to prepare and iron out the remaining details before the Chiefs to come to town. The results haven't been favorable so far, but the team remains upbeat.
"If you have a lack of confidence, you shouldn't be in here, because that's what drives you and that's what gives you the competitive edge," running back Kevin Faulksaid. "If you have confidence, you're going to get the job done.
"I think we have to get a lot of things done and we have to get ourselves going offensively and defensively if we want to be a good football team and we want to be where we need to be at the start of the regular season."
Webster was one of four players back on the practice field Monday during limited media availability. Tight end Stephen Spach and offensive linemen Matt Lightand Billy Yatesalso returned, leaving only 13 players on the absentee list: safety Brandon Meriweather, cornerback Mike Richardson, fullback Kyle Eckel, wide receiver Wes Welker, tight end Benjamin Watson, wide receiver Sam Aiken, defensive lineman Le Kevin Smithand offensive linemen Ryan Wendell, Dan Connolly, Ryan O'Callaghan, Russ Hochstein, Stephen Nealand Oliver Ross. Watson is a new addition, while Neal and Ross are the only players left on the physically unable to perform list. Quarterback Tom Bradytook part in warm-ups and agility drills after telling WEEI 850 AM earlier Monday morning he will be ready for Week 1 even if he does not play in Thursday's preseason finale. … Belichick on coaching bubble players to remain focused on their responsibilities with final cuts looming on the horizon: "Everyone has to do their job. I have already told the players and I constantly tell them, 'There isn't anything more you can do than prepare to play and play when you get the opportunity to play.'"