FOXBOROUGH, Mass. - Abington High School's James Kelliher (37th season) has been named the New England Patriots High School Coach of the Week in recognition of his team's 3-0 start in 2010 and his 200th overall win as head coach. Kelliher notched his 200th victory in a 20-12 win over Bishop Feehan last Friday.
Kelliher and his captains, Connor Fraser and Ryan Southerland, were guests at Gillette Stadium on Wednesday and will be featured on the team's weekly television magazine show, Patriots All Access, which airs at 7 p.m. on Friday, Oct. 1 on WBZ-TV in Boston and later on Patriots.com.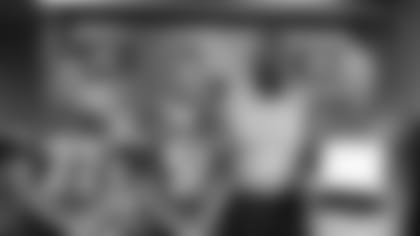 ]()The New England Patriots Charitable Foundation will donate $1,000 to Abington High School's football program in Kelliher's name in recognition of his selection as Coach of the Week.
This season marks the 15th year in which the Patriots have joined the National Football League in conducting the High School Coach of the Week program, which recognizes outstanding high school coaches and promotes youth football throughout New England.
Patriots and NFL Hall of Fame linebacker Andre Tippett, the team's executive director of community affairs, oversees the program as part of the New England Patriots Charitable Foundation's commitment to youth football initiatives.
"The Patriots congratulate Coach Kelliher and his entire team for a great win and his 200th victory, a rare milestone," Tippett said. "It's obvious that Coach Kelliher stresses the importance of teamwork and playing with resiliency. We are proud to present Coach Kelliher with this week's New England Patriots High School Coach of the Week Award and are happy to reward his team and the many supporters at Abington High School with a donation to the football program. We wish him continued success throughout the season."
At the conclusion of the season, a high school coach will be named the New England Patriots High School Coach of the Year and will receive an additional $2,000 contribution toward the school's football program.
The New England Patriots Charitable Foundation, Inc. is the non-profit through which the Patriots support charitable and philanthropic organizations throughout New England. This support comes in the form of direct grants, in-kind donations and player appearances. The foundation assists a variety of charitable organizations and programs throughout New England by supporting their educational, family and health initiatives.