Foxborough, Mass. - Ted Johnson has heard the talk. After nine seasons in a Patriots uniform, an undercurrent of talk persisted during training camp among pundits that Johnson's career might be winding down. How many times, they asked, could he return from injuries to be the player he used to be?
To the untrained eye, or those who were unfamiliar with Johnson, the whispers carried an aura of believability. Maybe his best days were behind him. Maybe the 100-plus career games and thousands of collisions had left the 6-foot-4, 253-pound linebacker less than the player he once was.
Most heard it. Some believed it. Johnson wasn't one of them.
The story has been told a number of times. Certainly, Johnson has been at this point before in his career. But for any player, just because he is sidelined by an injury doesn't mean the door has closed on his playing ability. Johnson is a reflection of said statement.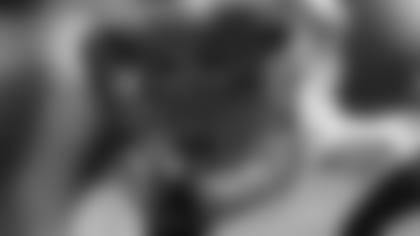 ]()"For me, it's always been about being healthy," Johnson said. "It's out of sight, out of mind. If you're not healthy and you can't contribute, then you're not the player that you once were, in some people's minds. I've always believed in myself. It's a story that has been done a number of times, but there's a reason why I'm still here. I feel fortunate that I can still produce at a high level and I get the opportunity to."
Johnson is getting that opportunity this season because his body has allowed him to, and the previous production level he had grown accustomed to has returned. He has played in all 11 games this season, starting 10 after regaining his starting inside linebacker spot in Week 2 against Arizona. According to statistics from the coaching staff, Johnson is tied for second on the team (Tedy Bruschi) with 81 total tackles, trailing only safety Rodney Harrison (106). He's had three games with double-digit tackles, as many as any other player, including a season-high 14 against Pittsburgh.
To this point, Johnson has returned to his status as a run-stuffing force in the middle of the Patriots defense. He's having as a good a season as he's ever had and is comfortable talking about where he has been compared to where he is today.
"You know what, it feels like forever since I've had this kind of production," Johnson said. "The season no one really mentions is 2002. We were 9-7 and didn't make the playoffs. I didn't dress for two games, started off slow that season for different reasons, and finished second on the team in tackles. That in itself was a very satisfying season for me. No one is going to say or talk about it. But for me that was a rewarding way to finish that season. I started off in this league a productive player and considered one of the better linebackers, and due to different circumstances it's been awhile since I've been able to produce at a high level. But I just keep showing up."
Johnson has had about as many injuries as you can expect from someone who makes a living slamming their body into moving 300-pound linemen, challenging fullbacks head-on and pulling themselves out of scrums of tangled bodies after a play. It's what inside linebackers do, and their body pays the price.
"It's beat up," Johnson said when asked about the condition of his body. "I've been doing it since I was a kid. That's okay. The older I get, the more time I spend in [the trainer's room]. I never leave this place. It's constant maintenance all the time. That's what football is in this league. It's a ton of collisions. I do a lot of prep work, but most of my work is getting my body to feel good for that next game."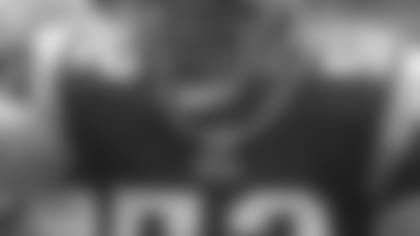 ]()For the record, Johnson has played two full seasons, in 1996 and '97. He missed four games as a rookie in 1995 with a sprained knee. In 1998, he started the first 13 games of the season before tearing a biceps muscle. His 1999 season ended before it began when he tore his left biceps muscle during the team's first scrimmage of the season. He then played in 12 games in 2001 and 14 games in 2002 before a broken foot forced him to miss eight games last season.
As a veteran, Johnson admits to being smarter and listening to his body, which includes massages, weight training and stretching to elongate his muscles. The desired result is injury prevention, including decreased muscle pulls and increased speed. At this point in his career, it's his focus during the week between games.
"I'll try anything if I think it can help me," Johnson said. "I'm always looking for an edge. The older you get ... if you want to play, and you want to stick around in this league, you have to find ways to get an edge. I have a team of guys. I spend a lot of time and lot of money doing it and it's all worth it. I feel like its part of my job and what I'm supposed to do."
The unforgiving side of the business is that an injured player is sometimes quickly forgotten.
"You can't control injuries," linebacker Don Davis said. "[That is what it's] all about in the NFL, it's just the way it is, it's always 'What have you done for me lately?' Did you see Kurt Warner? I don't care how many Pro Bowls [you've been in]; I don't care if you were the MVP of the league. It's what have you done for me lately. That's just the unfortunate side of this business."
In all reality, Johnson's 2004 season should not be considered a renaissance. In his eyes - as is the case with most players who battle back from injury - he's back to doing the thing he's always done when health isn't an issue. The only thing that's changed in the equation is that Johnson is healthy this season.
"Any time a guy has a few injuries - which he's going to [when] he's up in there in the trenches hitting all the time - they're always going to say that about you," Davis said. "You see this year he's having one of the best [seasons] of his career and he has a few years left in him. As a football player, he is the utmost middle linebacker."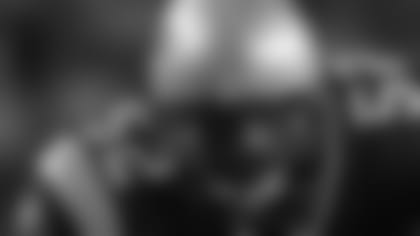 ]()Indeed, Johnson is a throwback player. He looks, talks and acts like you would think a linebacker would. He says he has found a niche with his style of play, one that harkens back to the days when linebackers took on blocks head-on, used their hands, and disengaged from blocks to make the tackle. He doesn't make many tackles in pursuit. Unlike some of the new breed of younger linebackers, if he's being blocked, it doesn't mean he's out of the play.
Johnson, who is responsible for calling the play in the defensive huddle, admits to being more "reckless" as a younger player but says his style hasn't changed dramatically over the years.
"I play the game the way I've always played it," he said. "I'm a conservative guy by nature. I think that transcends to how I play football. You wont' see me take a lot of risks. But what I do try and do week in and week out is play consistent at my position. If I'm fortunate enough to have a big play here and there, great. But I want to be sound at what I do. I know it's not sexy, but that's just my style and it's the way I'll always be."
Davis, a fellow linebacker, instantly recalled a story when asked about Johnson's throwback style. The story earned a grin from Johnson as he overheard when passing by.
"He's a tough guy," Davis said. "I'll never, ever forget Ted Johnson when he split that helmet [last year]. He came in and hit an offensive linemen and his helmet split in half last year. I don't know if that even went noticed through the media. It was in [the Miami] game. I'll never, ever forget that. [Jamie Nails] comes off and it's just normal and Ted Johnson head butts him and the crown, it splits open. I've never seen that."
Any way you look at it, injuries have certainly played a part in Johnson's career. They've interrupted success and challenged perseverance. You can't separate the two. As is the case with many of us, age, experience and life have certainly changed his perspective. If you've ever heard a veteran player offer a career synopsis in one statement, Johnson offered it by reflecting on his career.
"I used to look long term, but that's when I thought I was indestructible," Johnson said. "Football has been great to me, and I've enjoyed [it]. I've had some great highs, and I've gone very, very low. There's been team success where I haven't had personal success, so I had to deal with that.
"I wouldn't trade those experiences in for anything. I hope I look back when I'm older and say the same thing. I've always wanted more? Yeah, but at the same time I think what has happened to me will really serve me better in my life down the road, and so for that I feel fortunate."
His ability to simultaneously look at the past and the future has left Johnson at a point to enjoy the present.
"It's great," he said. "I don't take it for granted. Believe me. I do not take it for granted. Everybody knows it can change in an instant. So you don't take these moments for granted. You enjoy them and take it for what it's worth and maybe reflect on it at the end of the year. But while you're in it you don't make more out of it than what it really is."