2002 was an up-and-down season for Patriots right tackle Kenyatta Jones. The 6-3, 310-pound former South Florida standout won the starting job in training camp, unseating 2001 starter Greg Randall. Then thanks mostly to some rather inconsistent play and Randall's improvements in practice, Jones spent the second part of the year as a part-time starter, part-time sub and three-time game inactive.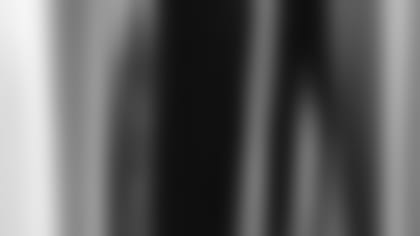 ]()
            Now, less than a year later, opportunity seems to be all that is in front of Jones. Randall was traded to the Houston Texans in early March. After playing in five games as a rookie in 2001 and starting 11-of-13 games played a year ago, the third-year player would appear to have the inside track to once again winning the job as New England's starter at right tackle. And while there have been some bumps along the way, Jones looks back on his first two NFL seasons as a definite progression.  

"I improved from my first year," Jones said of his play in 2002. "It was my first time playing on the right side ever. So it was a new position and a new challenge for me. It was a learning process. I don't think I did great and I don't think I did terrible either. My expectations were much higher and I know the coaches' expectations of me were much higher. This year I just have to step it up a little bit more from what I did last year. As far as my play, at times I showed great play and at times I showed poor play. I know that and that is something I have to change. I have to be more consistent. I know it comes with the years and the experience and things like that. I just have to take it day-by-day and game-by-game."
Far from a seasoned veteran, Jones noticed a definite difference in his own approach to the game from year one to year two and expects similar positive strides this season.
"I picked up on things a lot more," Jones said recently at Gillette Stadium. "I knew the plays a lot more crisply. It was just the whole game, recognizing defenses. Then again like I said, I played on a whole other side that I had never played on before. I had to really almost learn the game all over again from another point of view. It was a challenge. It's still going to be a challenge. Like I said, each game, each week, each time I go in the classroom I just have to try to make myself much better each day. My first year I didn't know how to do that. My second year I learned a little bit more of what I am supposed to listen to, when I really need to pay attention to this, what I need to apply, what I don't need to apply from the classroom to the field. It's only going to get better, I believe."
And while Jones knows that on the surface the Randall trade would appear to practically hand the job to the third-year player, he doesn't see it that way. From his perspective, regardless of who the competition is, he must go out and earn the starting job.
"Pretty much I'd like to be solidified," Jones said. "Once that challenge is over I will be much more comfortable and able to do what I need to do and prove people wrong. Like I said, playing the right side was something new to me so I never really thought I was going to be comfortable over there. I proved myself wrong. I can make something of myself over there. That's my plan, just to stay on the right side. Being that I can play the right side now, it means I can play any position on the line pretty much now. So it only helps my game. Like I said, now I just have to challenge myself to be the best that I can be at the right tackle."
Jones also knows that as a unit the New England offensive line has taken some heat over the last year or so. Much like his feelings on his own play, he feels that as a group the linemen must become more consistent. Jones thinks he and the other linemen have shown the ability to be a successful unit, now they must maximize that ability on every play.
"I don't think we have to prove anything to anyone, because we showed that we could pound the ball (on the ground) last year at times," Jones said of the Patriots ability to run the ball. "We just have to show that we can do it all the time. I don't think we have to prove anything and run it. Everybody knows that if we are on our A game we are going to be able to do what we want to do. We just have to prove to ourselves that we are going to be on our A game every game. We can't have those down weeks and up weeks or one play this week and not the next. Sunday has to be the day. We don't have to prove anything to anybody. I think it is all on us. We know what it takes to be successful in the running game and what it takes to be successful in the passing game. We have to take everything that we know that can get us to where we need to be and apply it on the field and not worry about what people are going to say or what the outcome is going to be. If we do what we are supposed to do, the outcome will be what we need it to be."
For more from Kenyatta Jones and his thoughts on the offseason and the upcoming season look for the June issue of Patriots Football Weekly on newsstands June 4.