Devin McCourty's reputation in New England isn't just relative to football. Given his storied career, that is saying something, but he has always been more than his performance.
As a leader in the Patriots locker room and a veteran in the league, McCourty knows his voice carries weight. When there is a cause or an organization that he cares about, McCourty doesn't hesitate to redirect the spotlight shown on him as an NFL player to highlight their great work.
Aug. 13 is McCourty's 34th birthday, so to help Patriots Nation celebrate him in a fitting way, we've complied a list of organizations McCourty has worked with over the years. Read about them. Make a donation in his honor. Sign yourself up to volunteer or simply share their work with friends and family. It's what Devin would do.
Tackle Sickle Cell
This is the initiative Devin and Jason started together as their NFL careers took off. After seeing their aunt live her entire life with sickle cell disease, as well as an uncle, they knew they wanted to shed a light on it. Their father also carried sickle cell trait, and they themselves carry it as well.
As valuable as the money undeniably is, their work to raise awareness about sickle cell disease is invaluable. In the United States, sickle cell disease predominantly impacts African Americans, and there is a stigma associated with the disease.
The McCourtys being advocates for sickle cell disease research breaks down those barriers. You can learn more about Tackle Sickle Cell here.
The Players Coalition
McCourty's involvement with the Players Coalition is extensive and continually evolving. Through the organization, he has become an advocate for criminal justice and education reform, as well as the intersection of both: juvenile justice reform.
Through his work with the Players Coalition, McCourty helps illustrate to a football audience the ways in which so many of these issues are intertwined. He has advocated for bills in front of Massachusetts state legislature, written op-eds, hosted debates and documentary premieres all with the backing of the Players Coalition.
As kids returned to school in the fall of 2020 with the pandemic raging on, McCourty also used a grant from the Players Coalition to try and close the digital divide for students without access to technology during remote learning.
Boston Uncornered
Boston Uncornered is an organization that McCourty dove headfirst into. The nonprofit uses education to end systemic poverty and violence in cities, turning to community leaders to give them the tools they need to end the cycles.
The organization identifies young people in local city communities, with a focus on gang-involved youth, and through mentorships and programming, teaches them necessary skills to "uncorner" themselves and their community.
Over the last few seasons, McCourty has spotlighted the organization during My Cause, My Cleats, and they celebrated him in return last year as a champion for the cause. You can learn more about Boston Uncornered here.
Bottom Line
Bottom Line works with first-generation college students from low-income backgrounds to help them succeed in an educational setting. This demographic has low graduation rates, and the organization actively works to fight that. By pairing students with mentors, they have individualized support throughout everything their collegiate journey brings.
The organization is all about authentic relationships and continuous learning. For his work with the Players Coalition, McCourty was honored by Bottom Line and has remained involved with their mission. Last year, he and Jason hosted a fundraising event and offered advice to the students in the program.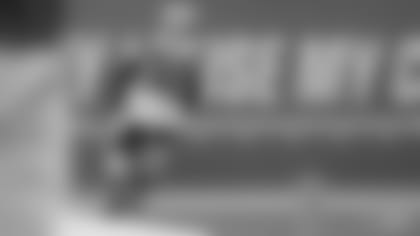 The TEARS Foundation
The TEARS Foundation is an extremely personal one for McCourty.
He and his wife, Michelle, were expecting their third child, but they were thrown into grief when Michelle gave birth to their daughter, Mia, who was stillborn. Like all families who experience the loss of a child, the McCourtys were heartbroken, lost and devastated. The TEARS Foundation became a resource.
The organization is dedicated to providing support to grieving families -- from emotional to financial support and everything in between.
McCourty honored Mia and the organization during My Cause, My Cleats last season. He happened to return a block field goal for a touchdown, and the score was a surprise to everyone but him. With Mia on his cleats, he knew before the game started that he was destined for a moment in her honor.
Positive Coaching Alliance
The Positive Coaching Alliance knows how fundamental coaches can be to the lives of the athletes they work with. So many children go through youth sports looking for connection, guidance and positive reinforcement to help them grow as people.
By encouraging athletes with positivity, the organization helps them be open to corrections when necessary, allowing them to blossom in their game. The goal of the Positive Coaching Alliance is to help kids stay connected to sports through positive experiences. The idea is the longer kids stick with sports, the more life lessons and skills they will acquire.
Hello World
McCourty recently joined the board of Hello World. The nonprofit aims to change the way students are evaluated, pushing back on testing techniques that often leaves kids behind, as well as the selection processes for jobs.
Hello World works with youth from all around the world in all socioeconomic brackets to help more diverse talent be selected in the workforce and education. While the well-connected have a leg up, Hello World looks to level the playing field and offers practical guidance so people are more prepared when applying for jobs.
We Belong Youth Leadership
Finally, McCourty has been involved with We Belong Youth Leadership based out of Boston. The program focuses on leadership development of local kids and teens, empowering them and pushing them to grow to their fullest potential. It also aims to help youths form lifelong, positive experiences with community police officers to create trusting relationships.