A 26.2-mile journey. A grueling 16-week schedule. Tom Brady and Bill Belichick have often compared the endurance-testing challenge of running a marathon to the taxing trial that is an NFL football season, but for a handful of former Patriots, that metaphor has become a reality.
The Boston Marathon, set to be run for the 123rd time on April 15, is one of the most historic and celebrated events in its city and a rich part of New England culture – perhaps why it makes for a comparison so frequently referenced by a football team from Foxborough.
But Patriots of the past like Tedy Bruschi, Doug Flutie, Ryan Wendell and Eric Alexander have turned to the event as their next big goal after their playing careers ended – a goal they've been able to achieve while also serving an altruistic purpose.
The Boston Marathon's charity program allows local non-profit organizations to enter athletes into the race who pledge to raise funds for their cause. Bruschi, who suffered a stroke in 2005 at the age of 31, decided to form Tedy's Team in an effort to raise awareness and help others who had been similarly affected by strokes and heart diseases. He ran his first two marathons in 2012 and 2014, and will take the starting line yet again this Monday.
"The Boston Marathon brings everybody together like that, in my opinion, where there's a goal," Bruschi said. "You feel like you're making a difference, you feel like you're doing something for yourself, and you could also be remembering someone."
Although athletes like Bruschi may have completed entire football games without running more than a mile, being a part of a sports town like Boston made it easy to draw comparisons between the two feats.
"I always tell my runners, 'It's the Super Bowl of road races,'" he said. "It's a 26.2-mile stadium where everyone is cheering for you. I hold my two marathon medals up there with my Super Bowl rings."
Fellow Patriots alum and Super Bowl Champion Joe Andruzzi also turns to the Boston Marathon as a way to raise awareness and funds for a cause close to heart. While the former offensive lineman opts to play the role of cheerleader over long-distance runner, he has been represented on the course by the Joe Andruzzi Foundation (JAF) marathon team for the past nine years.
After being diagnosed with non-Hodgkin's Burkitt's lymphoma in 2007, Andruzzi and his wife, Jen, founded JAF as a way to provide financial assistance to patients and families affected by all forms of cancer. Jen Andruzzi will run Boston for her third time this year.
Karen Glass, Vice President of Marketing and Communications for JAF, said that the marathon has become a way to not only raise funds for cancer care, but to spread the foundation's message through its runners.
"It's a chance for people to understand why they're running, who they're running for, and it's very personal in a lot of cases," she said. "Unfortunately, cancer is one of those diseases that touches just about everyone."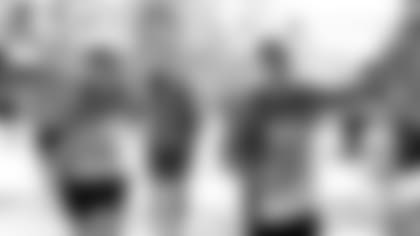 Last year, the Andruzzis' mission touched yet another former Patriots offensive lineman when Ryan Wendell completed the 26.2-mile trek through rainy, windy conditions on behalf of JAF.
"Running, I don't know why people do this for fun," Wendell jokingly told Patriots.com last spring. "I'm doing this to support Joe's foundation and because [Patriots head strength and conditioning coach] Moses [Cabrera] said I couldn't do it. I love Joe and Jen, I love the work that they do, and the ability to support the team is awesome."
Joining Bruschi and Wendell in the group of Patriots alumni to have taken on the historic race is Doug Flutie. The former Boston College and New England quarterback has run the 26.2 miles himself for the past four years, but he's also been represented annually by The Doug Flutie, Jr. Foundation marathon team.
Flutie and his wife, Laurie, founded The Doug Flutie, Jr. Foundation in 1998 when their son, Doug, Jr. was diagnosed with autism at the age of three. The money raised by the team's marathon runners goes directly to helping families affected by autism live life to the fullest.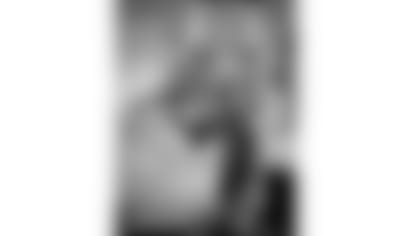 "It certainly makes us proud as an organization because it's what we stand for," said Nicole Guglielmucci, Director of Marketing and Events for the foundation. "It takes a village and certainly that resonates with Dougie's team."
As far as Patriots-related marathon teams go, Bruschi, Andruzzi and Flutie are certainly not alone. The Patriots Foundation itself has a team for its 11th straight year, as does Rob Gronkowski's Gronk Nation Youth Foundation team, Tom Brady's TB12 Foundation team, Matt Light's Light Foundation, and the Bill Belichick Foundation.
Overseeing most all of those organizations when it comes to recruiting runners, assisting in the training process and organizing fundraising events is a group called Charity Teams, founded and operated by Susan Hurley, a former Patriots cheerleader.
"Bringing this opportunity to [the athlete charities] is a great opportunity because they're so busy, they don't have a lot of time to put on huge events, and their charities are relatively small," Hurley said. "This works well because as athletes, they really understand the athletic component of it."
Not only does the Boston Marathon allow these players to continue making an impact in the community from an athletic standpoint, but it's become an opportunity to continue on in their charitable efforts as well.
"I know the Patriots teach philanthropy to their athletes and they're very generous with volunteerism," Hurley said. "They all volunteer their time for different initiatives, but this gives them an opportunity to really help build their legacy in our community here. It's really allowed them to continue in the community in a positive way, similar to what the Patriots taught them."
It's those exact pillars that the Patriots Foundation's very own marathon team is built upon – celebrating, supporting and encouraging volunteerism in the local community. Twenty runners including six team employees will take part in the Boston Marathon on behalf of the foundation this year.
The funds raised by the marathon team go directly to the organization's Myra Kraft Community MVP Awards, which provide grants to 26 nonprofit organizations representing all six of the New England states.
Josh Kraft, President of the New England Patriots Foundation, ran the race himself in 2014, and said that getting the organization involved in an event like the Boston Marathon was a simple decision.
"The marathon is such an important part of Boston and New England tradition and culture and getting the Patriots brand involved in it is just a no brainer," Kraft said. "It's just an honor to be a part of such a great tradition."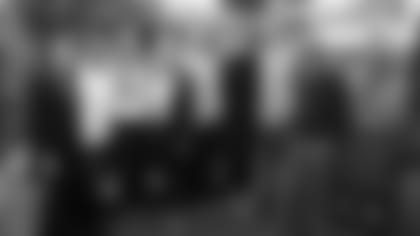 It's only fitting that one of the city's most celebrated events with representation from players, employees and fans alike takes place on Patriots Day each year.
"Not only do they feel like they're running for each individual foundation, but they kind of see it as the stadium effect of the Patriots organization," said Linda Holliday, Executive Director of the Bill Belichick Foundation.
So on the same day that the Patriots head back to their Gillette Stadium facility to begin offseason workouts, the first official mark of a new season with a long journey ahead, runners will take their marks on the blue and yellow painted pavement on East Main Street in Hopkinton, Massachusetts.
"We're starting a marathon. It's going to take a lot of good football to get where we need to be," Brady said at the start of last year's campaign that ended with a Super Bowl victory.
"They all have a long way to go," Belichick added a few years prior." "They are taking their first step in a 26-mile race."
An NFL football season and the Boston Marathon are seemingly opposite athletic endeavors, but bonded in New England by the Patriots organization and a shared common goal of giving back, they're one in the same.