After tearing his ACL in rookie mini-camp a year ago, 2009 third-round pick Tyrone McKenzie was a forgotten man as a rehabbing rookie. But now healthy and competing for playing time at inside the linebacker No. 44 made his presence felt Friday morning – and no one felt that presence more than running back Laurence Maroney.
McKenzie made the play of the day when he had a huge hit to stand up and stuff the running back short of the goal line in a full-speed team drill. After the collision McKenzie's helmet flew off as he celebrated his big play, one of the biggest one-on-one hits of recent camp memory.
Afterwards McKenzie downplayed the significance of the hit.
"That was just one play. You have to be consistent on what you do every day. So that's all I'm trying to do right now," McKenzie said. He also downplayed the idea that he might be a bit sore after going nearly two years without padded contact.
"I'd have to say my body is getting used to hitting again. I think it's just natural. I've been playing football since I was nine. So just getting out here and working hard every day is just part of the game."
But clearly, after a year rehabbing and learning behind the scenes, the former South Florida star is just enjoying being back on the field and banging heads.
"Last year was rough sitting around watching," McKenzie said. "This year I'm just happy to be out here with my teammates just getting a chance to…I mean I know it sounds weird, but just to be out here in the grind, to be out here with your teammates. Because it's different when you're in the grind by yourself, rehabbing and now you get a chance to come out here with the guys on the team."
And though the 6-2, 245-pound, well-built McKenzie looks the part of a run-stuffing thumper of an inside linebacker, he wasn't quite willing to pigeonhole himself into the role he flashed in Friday morning on the goal line.
"I'm just trying to do whatever I have to do," McKenzie concluded. "You have to ask Bill [Belichick] what kind of linebacker I am because he got me here. So whatever they need me to do, I'll work my hardest to do it."
Message wall
One of the big stories heading into training camp 2010 was Troy Brown'srecent revelation that Bill Belichick had taken down all the photo reminders in the Gillette Stadium football offices from Patriots teams and championships past.
"The walls needed painting," Belichick deadpanned in his Friday morning press conference.
After offering their own jokes, his players admitted there might be a bit more to it.
"The walls were dirty, I guess," Kevin Faulksaid before becoming more serious. "Hey, Bill's just trying to make a statement. As a coach you have to do those things sometimes and as a younger player you have to understand why he's doing it. That's just it. No matter what he does, you still have to come out here and work to perform on the field."
Though Faulk was a big part of the glory years once displayed in the now-removed photos, the young players on the roster got the unspoken message as well.
"Just that it's a fresh start. We had nothing to do with those Super Bowl rings, none of those championships. It's a fresh start," Darius Butler said. "We have to make our own mark. That's why we come out here working every day."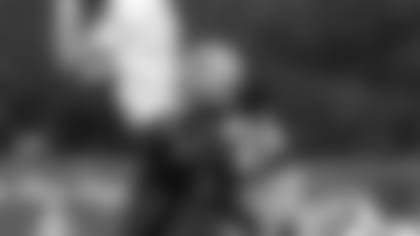 ]()A year ago about this time seventh-round pick Julian Edelman was engulfed in the potentially overwhelming conversion from college quarterback to NFL wide receiver. Part of that included a role as a potential return man. Weeks before Edelman would return a preseason punt for a touchdown, he was dropping his first two practice punt return reps. As such, he can empathize with the pressure and spotlight that's shining on this year's rookies as they try to build their careers.
"You got to have a short memory," Edelman recalled. "Obviously you are a little frustrated. You have a little crowd out here. You have the little game atmosphere. It was your first day out. You just have to come out here and get better after that. Of course you have those butterflies. You have people watching you and you're trying to make a team. I'm still trying to make a team."
*Who's hot: *Randy Moss – Four practices into camp feels like the right time to acknowledge the efforts of the best athlete on the practice fields. Moss looks smooth as ever, has been toying with the likes of Darius Butler and Devin McCourtyand even has spent an extraordinary amount time signing autographs for fans over the last two days. If this really is his last year in New England, fans should appreciate and enjoy it.
Who's not: Torry Holt– The veteran receiver hasn't done much to stand out for the positive during the first two days of camp and then had a fumble during today's afternoon session. He also had a drop earlier in the day. It's still extremely early, but both the young, unproven receivers -- Brandon Tate and Taylor Price -- have done more to stand out in the first four practices of camp than the free agent addition.
Play of the Practice: During one-on-one work between the corners and wider receivers Tom Brady hit Brandon Tate for a big gain down the left sideline, beating the there-but-didn't-make-the-play coverage of Leigh Bodden. It was a beautiful throw and a nice job of running under the ball and hauling it in from the second-year receiver.
Notes
Those not in full pads for the afternoon workout included Wes Welker, Ron Brace, Darnell Jenkins, Thomas Clayton, Matthew Slater, Bret Lockett, Kyle Love, Nick Kaczurand Ty Warren, as well as camp absentees Logan Mankins and Derrick Burgess. … After taking reps at right defensive end in the morning session, Vince Wilfork also saw action in Warren's usual left defensive end spot in the afternoon. Throughout the practice Wilfork, Gerard Warren and Mike Wright actually all alternated jobs along the three defensive line spots. … Butler gave up a couple completions to Moss in one-on-one work, continuing to give the All-Pro a lot of respect in his cushions. … Rob Ninkovich continues to take backup long snapping reps in pre-practice work and got a couple snaps in team punt work with Zoltan Mesko this afternoon. … Mesko continues to be inconsistent, but showed off his big leg with a bomb. … In afternoon workout it was Gary Guytonwho had a big hit on the goal line, banging heads with Fred Tayloron the far end of the field in a team goal line drill. But according to the celebration of the offense, Taylor bounced off the hit to break the plane for the score. … Practice closed with an "opportunity" session for the young players while the veterans did some conditioning on the other field. The highlight of the extra action was a Zac Robinson bomb to Price down the right numbers, beating Sergio Brownfor the big play. … The Patriots will return to the practice fields at Gillette Stadium on Saturday for another pair of sessions, the first running from 9:30-11:15 a.m. and the second from 3:45-5:30 p.m. As always be sure to check Patriots.com for any last-minute schedule changes or updates.