After Tedy Bruschi's entertaining and emotional induction into the Hall at Patriot Place presented by Raytheon, the attention turned inside Gillette Stadium for the Patriots annual season-ticket holder practice on the team's game field.
More than 20,000 fans filled the seats to watch New England's fourth training camp workout, and second straight in full pads. The practice took place under comfortable conditions, despite some seriously mean looking clouds passing to the north of Foxborough.
The session included plenty of work on both the running and passing games, although it certainly wasn't the most crisp workout of the summer, especially for the offense. Way too many footballs hit the ground in the passing game and the defense closed out the night with a pair of late interceptions in team action.
Though the crowd brought what some players referred to as a game-like atmosphere under the lights, the results on the field didn't quite live up to those standards.
Beyond that, here are one man's observations of the practice from the press box view high above the Gillette turf:
--The same six players who've previously been absent from practice – Rob Gronkowski, Julian Edelman, Mark Harrison, Armond Armstead, Nick McDonald and Cory Grissom – were once again missing for the night practice. All but Armstead were seen on the field in sweats.
In addition, running back Brandon Bolden was not spotted on the practice field during the workout. Bolden missed most of the spring with a reported ankle injury, but had taken part fully in the first three days of training camp.
Devin McCourty continues to work in a red, non-contact jersey as he works back from offseason shoulder surgery.
Dan Connolly was once again on the field in full pads and helmet, but did not take part in the workout. He's been limited throughout the spring and summer as he returns from shoulder surgery.
After the practice, New England issued a statement regarding the health status of Armstead, who's missed the start of camp on the non-football illness list.
"Armond Armstead had surgery to treat an infection. Armond is in good condition and is expected to make a full recovery. A timetable has not been set for his return to football."
--Four different Belichicks were on the field for the workout. Bill Belichick and Patriots assistant Steve Belichick were joined by the family's youngest son Brian, as well as daughter Amanda, a women's lacrosse coach at Ohio State.
--After his induction ceremony, Bruschi was on the field wearing his newly-donned bright red Hall of Fame jacket during stretching. Belichick, who actually took part in the ceremony in the plaza outside the Hall at Patriot Place presented by Raytheon while his team was already on the field working out, called the team together to hear a few words from the franchise legend. After Bruschi sent the current players back to their work, the crowd began to chant "Tedy," as had been heard so many times earlier in the day during the Hall ceremony.
--While Belichick appeared on stage at the Bruschi Hall induction ceremony wearing jeans and blue button-down shirt, he made an apropos Superman-like costume change into his traditional Patriots coaching attire.
--Tim Tebow lined up as the punt team personal protector in some pre-practice special teams action.
--While we've gotten used to Aqib Talib and Brandon Spikes wearing bright red cleats, Kyle Arrington turned up the color a bit on his own footwear Monday night by sporting fluorescent green Nike spikes.
--Director of player personnel Nick Caserio was displaying his still very impressive arm in group drills when he was throwing deep balls for the defensive backs.
--Brandon Spikes looked intent on blowing up a running play up the gut in a 9-on-7 drill until Marcus Cannon came across center from his right guard spot and lit up the middle linebacker.
--Michael Hoomanawanui had a solid practice, particularly with his blocking. The versatile tight end continues to have a strong camp as he looks to expand on the versatile role he established for himself late last season. Hoomanawanui got some run at fullback during team action, even getting a handoff. Though he lined up in the backfield with some regularity last season, he didn't get any carries. Later in group work Hoomanawanui made one of the more impressive catches of the day with a one-handed, left-handed grab on a short out in the right flat.
--Punt return was the special teams focus of the night. Leon Washington took the first return rep followed by Danny Amendola and Kenbrell Thompkins. After Amendola and Washington skillfully hauled in their attempts, Thompkins fumbled a Ryan Allen boomer that got over his head and had him scrambling.
The vice guys on the return unit included Ras-I Dowling and Kyle Arrington on the right side with Tavon Wilson and Aqib Talib on the left side.
Tebow worked as a personal protector on the scout punt team throughout the drill.
--For what it's worth, Jake Bequette got the edge on Nate Solder in a one-on-one pass rush drill. Bequette is looking to vie for playing time after serving as essentially a healthy scratch for nearly the entirety of his rookie season.
--Joe Vellano won battle of the 64s in the same drill when he swiftly swam by center Chris McDonald.
--James Devlin lined up as an offset fullback left in front of Shane Vereen to open up a team drill midway through practice in a down-and-distance situational segment. Not a traditional set for the Patriots too often in recent years.
--After two reps in the drill, Sebastian Vollmer was replaced by Will Svitek at right tackle. That's a similar type of rotation that's been going on to open camp as Vollmer works back into shape after offseason knee injury. After practice Vollmer basically said that he goes in and out of the reps as he's told to, and there is nothing more to it than that.
--Daniel Fells, who's been dubbed Big Smooth by PFW due to his work early in training camp, had an early look at the play of the day when he caught a deep ball from Brady. He got behind the defense for the would-be touchdown, working from right to left across the field.
--Thompkins' issue with the football continued into a team drill when he let a Brady throw on a slant bounce off his chest.
--Devlin continued to get some run later in team action with a handoff up the middle in a power set with only Josh Boyce at receiver lined up to the left.
--Elvis Fisher appeared to injure his right leg in team action. He flexed the knee gingerly and then left the field under his own power with a member of the training staff.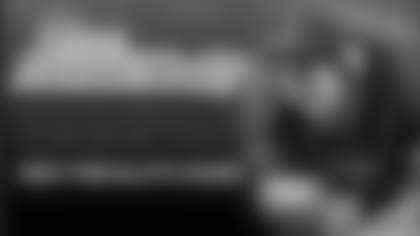 ](/fan-zone/patriots-football-weekly.html)--Jerod Mayo and Dont'a Hightower met at in the backfield at Tebow in team action for what would have been a sack in a game. Given the practice conditions, Tebow continued the play and scrambled to the right side to cheers from the crowd.
--It's only a practice and no one is tackling, but Leon Washington certainly has a spark to him in the kick return game. The veteran looks poised to add a spark to what's been a lackluster New England return game in recent years.
--Tom Brady spent some time chatting with Aaron Dobson after the pair worked during a team drill. Brady seemed to be gesturing some head fakes and route running details to the rookie receiver. Clearly Dobson is getting a lot of time working with Brady and building a relationship with No. 12 early in his time in New England. That's clearly a very good sign for his development at this stage.
--Talib cut in from Thompkins to pick off a Brady pass late in practice for what would have been pick-six down the left sideline in a team segment.
--Not long afterwards Duron Harmon intercepted an overthrown Ryan Mallett pass down the left sideline.
--Rob Ninkovich and Vollmer remained on the field well after all the other players were done working out. The duo work on one-on-one pass rush/protection together.
After practice Vollmer said, "It's good for both of us to get some extra work in, work on your craft."
--A large number of players met with the media after practice including Tommy Kelly (who said Belichick does a good job not letting players "get too high or too low."), Adrian Wilson, Vollmer, Solder, Amendola, Shane Vereen and others.
One national reporter asked Amendola if, considering all the comparisons, he'd ever met Wes Welker. Amendola had to inform him that he had indeed met the man whom he also followed on the field at Texas Tech.
--After the session all the Patriots players went to the stands to sign autographs for the fans.
--New England returns to the regular practice fields at 2 p.m. on Tuesday.